---
Democrats Mull "Goofy, Gimmicky" Gas-Tax Holiday To Alleviate Americans' Pain At The Pump
As crude oil prices in the US hold above $90 a barrel (driven there in some part ironically by the Biden admin's war rhetoric), with energy analysts at many of the investment banks foresee oil surpassing $100/barrel - or even $120/barrel - in the not-too-distant future, the White House and top Democratic lawmakers are reportedly considering a federal gas tax holiday, in a desperate attempt to alleviate some of the pain consumers are feeling at the pump (and potentially help boost President Biden's rock-bottom approval ratings).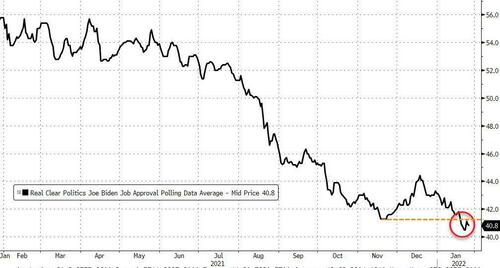 The  plan has coalesced just days after a group of vulnerable Senate Democrats introduced a bill that would suspend the gas tax (to the tune of roughly 18 cents per gallon) for the rest of the year. Some believe the price of gasoline will hit $4/barrel by the spring.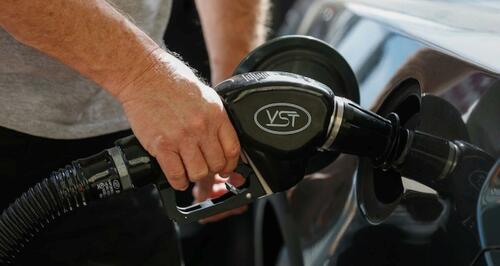 Democratic lawmakers are expected to discuss the plan during a lunch on Tuesday. Asked about the proposal, the White House responded that "all options are on the table" while the administration reveals that growing financial burdens.
For now, the White House hasn't offered any official explicit endorsement of the policy as aides debate whether it would really offer any "meaningful relief". Some senior officials also fear the policy might be difficult to end later, since no politician would want to be seen as raising prices.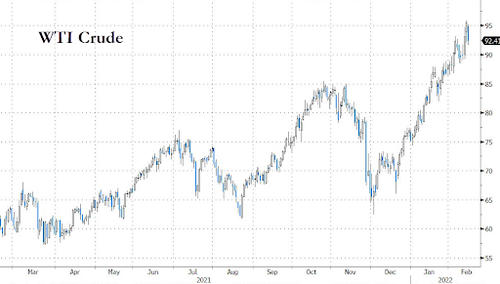 Rising crude prices and surging demand have both helped to drive prices of gasoline at the pump even higher so far this year: the average price has topped $3.48/gallon last week according to data from AAA.
That's roughly $1 more than the average price from this time last year.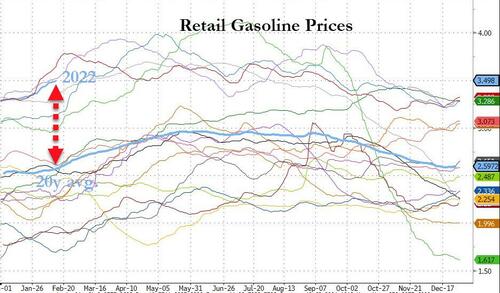 And judging by the current crude and wholesale gasoline prices, retail pump prices are going higher in the next two weeks, no matter what...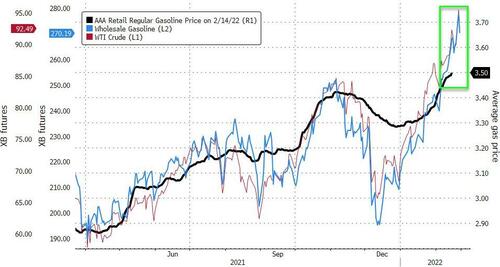 American families are facing other financial shocks: Headline inflation climbed 7.5% in January, compared with the same month in 2021, as inflation continued at its most rapid clip in about four decades.
Unsurprisingly, plans for the gas-tax holiday have angered climate change warriors, who are against anything that would encourage the use of fossil fuels (even though fossil fuels are essential to powering most cars and the bulk of the American economy. Even all-electric vehicles like Teslas rely on fossil fuel-burning power plants).
But there are enough Democratic lawmakers in purple states who are concerned about their re-election prospects to make the gas-tax holiday palatable.
The looming risks prompted Sens. Mark Kelly of Arizona and Maggie Hassan of New Hampshire, two Democratic lawmakers facing tough reelection fights, to unveil a bill last week that would suspend the tax until next January. Their backers include Sens. Debbie Stabenow (D-Mich.), Catherine Cortez Masto (D-Nev.), Raphael G. Warnock (D-Ga.) and Jacky Rosen (D-Nev.), who similarly face tough midterm contests entering November, when the party's majority in the House and Senate could be at risk.
Mark Kelly of Arizona plans to pitch his fellow Democratic senators on the plan during a Tuesday luncheon. Following President Biden's release of 50M barrels of crude from the strategic petroleum reserve (which had no lingering effect on the market and did nothing to alleviate the financial pain being borne by various consumers)
And while governors consider gas-tax holidays of their own, there's one notable voice who has denounced a gas-tax holiday as "short-sighted": Harvard's Larry Summers, who angered his fellow Democrats when he (correctly) predicted the inflationary surge that would follow the trillion-dollar COVID recovery packages.
But Larry Summers, a former treasury secretary and top White House economist under prior Democratic administrations, called the idea of a gas tax holiday "short-sighted, ineffective, goofy, and gimmicky." A high-profile critic of the Biden administration on the issue of inflation, Summers said the policy's impact is at best unclear because it may boost demand in other parts of the economy.

"It's terrible policy at a moment we've labeled climate change as an existential threat," Summers added.
Whether it happens, or not, should be decided soon enough.
Over in the UK, the British government has devised a plan to alleviate the financial pressure from surging LNG prices: the government will directly subsidize the heating bills of tens of millions of Britons, thanks to decades of energy policy mismanagement.