---
The EIA Vows To Improve The Accuracy Of Its Oil Data
In August 2022, amid soaring pump prices and plummeting approval ratings, questions were raised about "very crooked numbers" regarding gasoline demand that helped hammer the price of oil lower ahead of The Midterms.
And while we previously highlighted the 'strange' seasonal adjustments across plain vanilla economic data, we now see outlier levels of 'adjustment' hitting the arcane EIA crude inventory data (coincidentally as Europe's ban on Russian imports and Washington-led price-caps hit).
All of a sudden, US crude inventories have soared for 10 straight weeks - up a stunning 62 million barrels over that time (only comparable to 2020's global lockdown demand collapse)...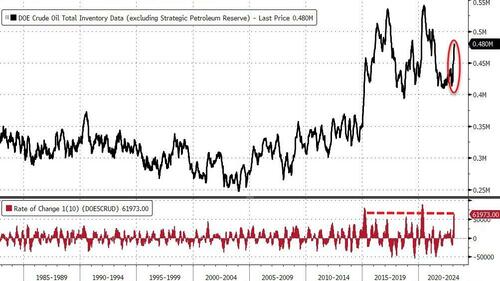 But... along with this sudden and shocking surge in reported inventory builds, the so-called "adjustment factor" used by EIA spreadsheet-builders to manage their data has exploded to record outlier highs week after week...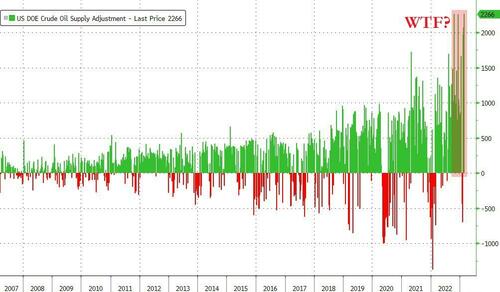 Oil prices have refused to follow this data, trading sideways as - according to the 'reported' data - supply is very much outpacing supply...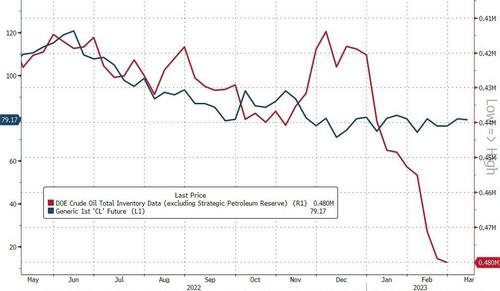 As OilPrice.com's Tsvetana Paraskova reports, The EIA has baffled the market and analysts with high adjustments in its weekly and monthly U.S. oil data in recent years.
The so-called adjustment in weekly and monthly crude oil data, or "Unaccounted For Crude Oil" as it was previously referred to, has been used to balance the difference between oil supply entering the market and oil disposition, or oil leaving the market.
In the latest weekly petroleum status report, the data from the Energy Information Administration showed last week that the adjustment – the balancing item – was at 2.266 million barrels per day (bpd). That was equal to the highest adjustment since reporting data in that form began in 2001. U.S. crude oil exports were also the highest on record in the weekly data for the week to February 24—at 5.629 million bpd, per EIA data. 
However, as the EIA itself says, data collection for these numbers has been imperfect for years and needs a change of methodology to represent U.S. oil supply and demand data more accurately. 
The latest Petroleum Monthly Supply report also showed growing adjustment figures to explain the gap between supply and disposition. 
"In our Petroleum Supply Monthly, the crude oil supply adjustment more than doubled from Q1 2022 to Q4 2022. In the same time frame, the adjustment tripled in our Weekly Petroleum Status Report," EIA Administrator Joe DeCarolis said in a Twitter thread on Friday.  
Last year, up to 4% of oil supply was unaccounted for, or "adjusted," according to EIA data. "Or this might be smaller if disposition is overstated," DeCarolis said.
The official offered explanations why such high adjustment levels have been seen in recent months and years. EIA analysis pointed to crude oil blending and under-reported production as the two principal contributors to the discrepancy in supply and disposition data.
Following a 90-day assessment of the high adjustment figures in EIA's weekly and monthly crude oil data, the Administration is confident that some of the reported U.S. crude oil exports include other products, likely natural gasoline and naphthas (light hydrocarbons). These could be blended into crude or reported as crude exports, EIA's DeCarolis says.
"That would mean that the amount of actual U.S. crude exports is slightly less than what is reported, or in other words, that disposition is overstated."
There is a strong correlation between the jump in U.S. crude oil exports since 2016 and the increases in EIA adjustments, which hints at a relationship, the official noted.
The issue is further compounded by the fact that products that the EIA believes are being blended with crude oil also show up as product supplied, the proxy for demand. 
"So those products are being *double counted* on the disposition side of the equation," DeCarolis said.  
Under-reported crude oil production is the second contributor to high adjustments. Field condensate is often collected in gas gathering lines or at the inlet to gas processing plants and introduced into the crude oil system as "light hydrocarbons". Production data on these liquids is not collected in the current natural gas or crude oil surveys by the EIA. So they largely go unaccounted for as they enter the crude oil system, EIAs DeCarolis said. 
The EIA needs to update its surveys to better capture the changed U.S. oil production with the shale formations which are producing a "hydrocarbon soup," with producers separating and processing those resources at multiple steps, DeCarolis said. 
"There always will be an adjustment in our petroleum data," he noted. 

"But making changes to account for crude oil blending and under-reported production get us closer to balance, which will present a more accurate representation of the crude oil market."   
The EIA will make changes to its surveys to account for the light hydrocarbons, which will take time. The Administration will also change its accounting methods for crude oil blending to get more accurate data on U.S. crude oil production, DeCarolis said.  
The EIA will publish on March 22 a This Week in Petroleum article that will provide more details on the findings and specific next steps to address the issue of more accurate representation of U.S. oil market data.  
Loading...