---
European NatGas Prices Explode 40% Higher
In a stunning move, reminiscent of the first few months of Putin's invasion of Ukraine, European NatGas prices exploded a stunning 40% higher today (oil and coal prices are also rising) as the possibility of worker strikes at some LNG plants in Australia threatens global supply....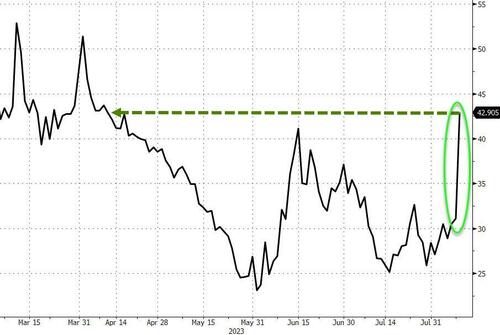 US NatGas is also getting dragged higher...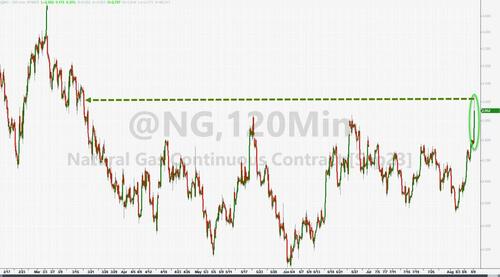 For context, here is EU NatGas (energy equiv) compared to WTI and US NatGas...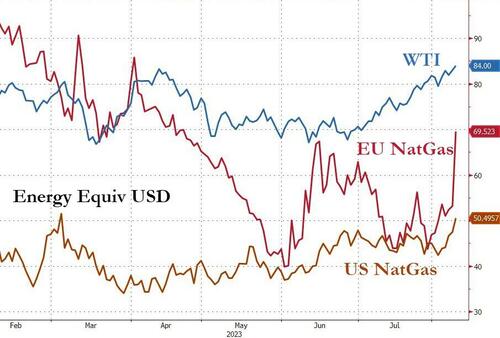 As Bloomberg reports, aorkers at Chevron Corp. and Woodside Energy Group Ltd. facilities in Australia voted to strike, which has the potential to affect liquefied natural gas exports from the country, tightening the global market for the fuel. The exact timing of the industrial action - if it goes ahead - wasn't immediately clear.
Asian buyers "are likely to bid up LNG imports" to replace Australian volumes if there are disruptions, which would affect Europe as well, said Nick Campbell, a director at consultant Inspired Plc.

"LNG has become a baseload supply in the European gas supply mix, therefore any signs that this flow is at risk leads to support in price."
The US-EU Nattie Arb is widening out again, back above its historical range...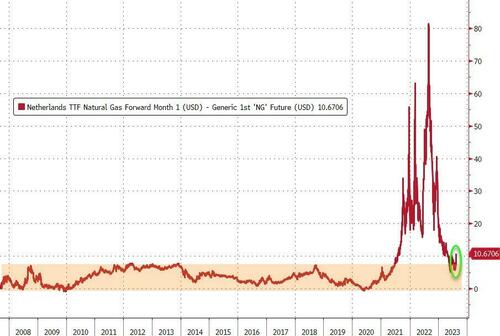 Additionally, potential delays in Norway's seasonal maintenance, a drop in LNG imports to Europe last month, increased flows from the region to Ukraine, and the weather are all factors in the price jump:
"Strength appears to be driven largely by a further extension of hot temperature forecasts well into the 3rd week of this month as well as by a broadening of hot temps across a larger portion of the US than had been expected at the start of this week," says Ritterbusch & Associates in a note.

"As the heat continues with the associated warming of water temperatures across the Atlantic heightening concerns over hurricane activity, the speculative shorts appear to be scrambling to cover positions."
It's also possible that this week's price surge caused a wave of position-covering by investors who previously bet on further declines in gas. Similar moves caused an extreme volatility in June.
More problematically, winter gas contracts also gained, albeit at a lower pace, as German utility EON SE warned of more risks during the upcoming heating season.
"The crisis is not over," though the likelihood of a repeat of last year has diminished, Chief Executive Officer Leonhard Birnbaum said in an interview with Bloomberg Television.
Winter is coming... and so is re-inflation.
Loading...