---
US, Germany Continue To Allow Gas Transactions With Russia Despite SWIFT Ban
As Russian banks closed down both ATMs and then, later, open market trading, to avoid or contain the fallout from the Russian incursion into Ukraine, it's becoming increasingly apparent that the West doesn't have the right tools to sanction Russia  - not that they could even if they did.
The problem, as we have said many times before,boils down to Russia's control over Europe's energy supplies. But even as a growing number of Russian oligarchs release messages claiming that their sympathies lie with the Ukrainians (not that any of them have actually committed to doing anything that might undermine the war effort), Russia's position remains unassailable.
And now, a German economy ministry official has confirmed that despite the sweeping sanctions Imposed on Russia, including the removal of it banks from the SWIFT system, that German companies will still be able to find ways to pay their energy bills to the Russians to keep the gas flowing.
Here's more from a brief Reuters note on the subject"
There are still channels by which Germany's gas bills can be paid despite the exclusion of Russia from the main global payments system SWIFT, an economy ministry spokesperson said on Monday.

At the same time, it is impossible to estimate the total impact of sanctions against Russia on the German economy at the moment, the spokesperson said.
A few hours later, the US jumped on that bandwagen
Still, the intensity of the panic and the dramatic scenes from the front have been enough to send the price of natural gas in Europe to soar more than 40%.
This isn't a surprise: Putin and Russia have been well-prepared for the international sanctions and have long been busy devising ways to circumvent them. What's more, Russia's oil and gas resources are simply too tempting for buyers to turn down.
According to our most recent report, dated to Saturday evening, the US and its European partners had agreed to the following regarding Russia:
Commit to ensuring that "selected Russian banks" are removed from the SWIFT messaging system: "This will ensure that these banks are disconnected from the international financial system and harm their ability to operate globally.
Commit to imposing "restrictive measures that will prevent the Russian Central Bank from deploying its international reserves in ways that undermine the impact of our sanctions."
Commit to "acting against the people and entities who facilitate the war in Ukraine" by taking measures to limit the sale of citizenship, so called golden passports, that let wealthy Russians connected to the Russian government become citizens.
Commit to launching "a transatlantic task force that will ensure the effective implementation of our financial sanctions by identifying and freezing the assets of sanctioned individuals and companies that exist within our jurisdictions."
Stepping up or coordination against disinformation and other forms of hybrid warfare.
European Commission chief went ever further.
In coordination with 🇺🇸🇫🇷🇩🇪🇮🇹🇨🇦🇬🇧 I will now propose new measures to EU leaders to strengthen our response to Russia's invasion of Ukraine and cripple Putin's ability to finance his war machine. https://t.co/iU2waDzo9s

— Ursula von der Leyen (@vonderleyen) February 26, 2022
First, we commit to ensuring that a certain number of Russian banks are removed from SWIFT.⁰
It will stop them from operating worldwide and effectively block Russian exports and imports.

— Ursula von der Leyen (@vonderleyen) February 26, 2022
She also took some shots at Russia's central bank.
Second, we will paralyse the assets of Russia's central bank.

This will freeze its transactions.

And it will make it impossible for the Central Bank to liquidate its assets. pic.twitter.com/8H9eWkNCW9

— Ursula von der Leyen (@vonderleyen) February 26, 2022
Of course, Germany wouldn't be in this terrible position today - where it must choose between buying Russian energy products or allowing its citizens to freeze - if it had only continued to support its nuclear scientists and their power plant goals. Instead, Chancellor Angela Merkel de-commissioned nuclear power plants and made the country less reliant on Russia. It appeaes she did this for political reasons.
But the timing of this decision is already coming back to bite. As one twitter user put it:
German foreign minister Annalena Baerbock: "We buy 50% of our #coal from Russia. If we exclude Russia from #SWIFT the lights in #Germany will go out."

yeah maybe should have thought of that before shutting down your nuclear power stations

— steve hilton (@SteveHiltonx) February 27, 2022
As a reminder, the Society for Worldwide Interbank Financial Telecommunication, or SWIFT, is the financial-messaging infrastructure that links the world's banks. The Belgium-based system is run by its member banks and handles millions of daily payment instructions across more than 200 countries and territories and 11,000 financial institutions. Iran and North Korea are cut off from it. But despite it's tremendous clout the fact remains: it's only a messaging service. No dollars are flowing through its systems.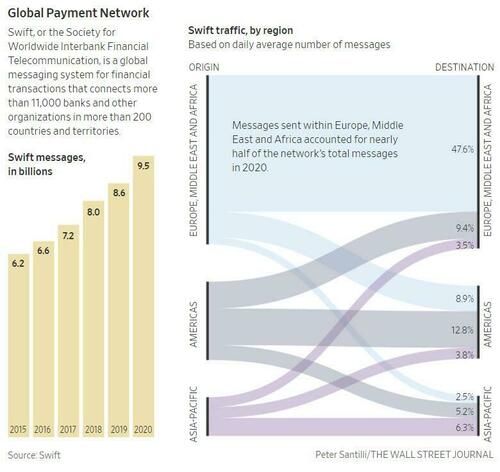 And finally, due to the US's crackdown, Russia and China are now in charge of their own SWIFT-like messaging services that exclude the US< once of Washington's mnay fears