---
Labor Day Weekend Gasoline Prices Highest In Over A Decade
While we are sure that the Biden administration will loudly proclaim their victory by crowing that pump prices for gasoline are down over 20% from the highs last summer (June), they may be a little less forthcoming about the fact that gas prices are also up over 23% year-to-date...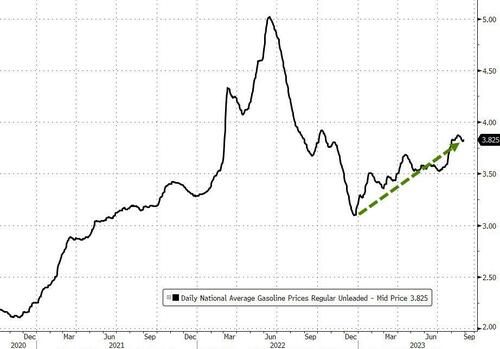 Source: Bloomberg
Also, we hate to say it but gas prices are up over 80% since president Biden's election - probably just a coincidence.
After adjusting for inflation, retail gasoline prices going into this Labor Day weekend are 4% lower than the prices ahead of Labor Day 2022, but on a nominal basis they are the highest since 2012...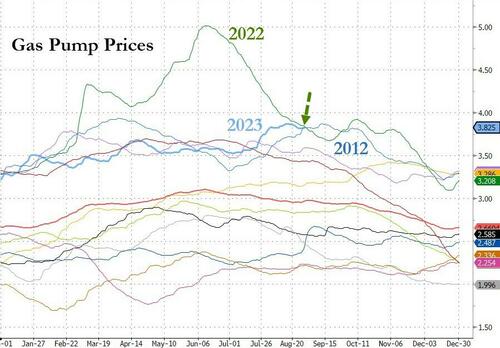 Source: Bloomberg
According to the EIA, cuts from Saudi Arabia and other major OPEC+ producers have raised international crude oil prices in recent weeks, which are the largest component of the gasoline price in the U.S. Lower-than-usual inventories and refinery outages in the U.S. have also put upward pressure on gasoline prices in America this summer
"Record temperatures in the South also caused unexpected refinery disruptions, contributing to a nearly 35-cent jump" so far this summer, fuel-savings app GasBuddy said on Tuesday.

"While gas prices have started to ease as the summer winds down, there still could be one last hurrah at the pump before things cool off this fall," according to GasBuddy.
However, given where wholesale gasoline and crude prices are, we suspect there is some more pain to come at the pump for the average American...
Patrick De Haan, head of petroleum analysis at GasBuddy, commented,
"If we can escape further unexpected oil production cuts and outages due to hurricanes, we may avoid an unexpected surge in gas prices, with the downturn accelerating as we get into late September and stations transition back to cheaper gasoline."
Hope remains, but President Biden is running out of options to stem the tide here as the administration has started to refill the SPR in recent weeks...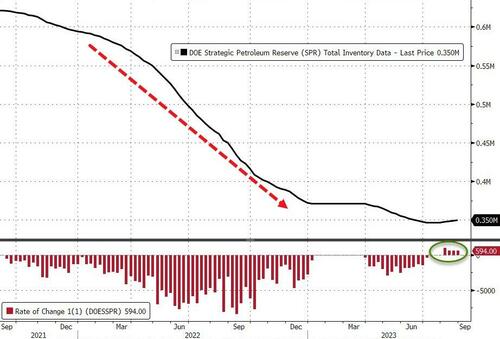 Albeit at a glacial pace compared to the tsunami drains last year.
Loading...