---
Now Courted By Biden, Socialist Strongman Maduro Hails "Cordial" US Talks For Oil Supplies
Socialist strongman Nicolás Maduro of Venezuela has hailed ongoing "cordial" talks with the team dispatched by Biden to Caracas on Monday as the White House is desperate to tap new supplies of oil. Maduro, once targeted by US regime change efforts - particularly during the Trump administration - is now apparently being courted by Washington, as the White House is signaling it could drop the oil embargo on the major OPEC Latin American nation.
"We have agreed to work on an agenda going forward, issues of interest," Maduro said. "It seemed to me very important to be able, face to face, discuss issues of maximum interest to Venezuela and the world. And I ratify, as I said to the delegation, all our will to advance in an agenda of well-being and peace through diplomacy, respect and the highest hope for a better world."
The irony is of course that as Washington does an economic full-court press on one strongman in Moscow, it's now looking to bring countries like Iran and Venezuela "out from the cold." The other irony is that Russia remains Venezuela's closest major outside backer, and has been so through past years of immense Washington pressure on Maduro which came during the Trump administration. A US official on Tuesday afternoon said the talks are ongoing.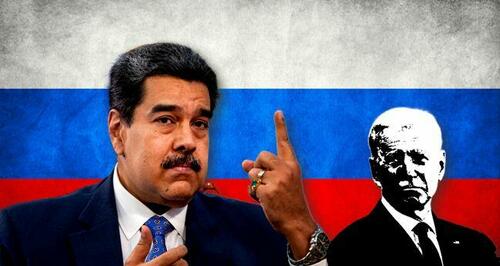 While neither the Venezuelan nor US sides released any details of the face-to-face talks, Maduro briefed his cabinet on positive steps forward, as NBC details:
But he seemed to indicate he was willing to accede to U.S. demands that he resume negotiations with his opponents as a first building block for any relief from U.S. sanctions that have been punishing the OPEC nation for years.
It's been no less than three years since the US ceased formal diplomatic relations with Caracas - while also recognizing the prime opposition leader as 'Interim President'. This week's surprise developments beg the question: whatever happened to Juan Guaidó?
On this front, The Wall Street Journal reports:
Venezuelan President Nicolás Maduro said his government will restart talks with the opposition after he met with senior U.S. officials who are considering lifting oil sanctions on Caracas as energy prices surge because of war in Ukraine.

"We've decided to reactivate the process of national dialogue," Mr. Maduro said late Monday on state television. "This dialogue should provide all of the political guarantees for the coming years."
Talk of normalization for the sake of finding alternative oil supplies at a moment Biden has pulled the trigger on banning energy imports from Russia has ignited bipartisan outrage in Congress, with Marco Rubio leading the way. But Democrat Sen. Bob Menendez, chairman of the Senate Foreign Relations Committee, has joined Rubio in blasting any level of rapprochement with Maduro.
"If the reports are true that the Biden administration is brokering the purchase of Venezuelan oil, I fear that it risks perpetuating a humanitarian crisis that has destabilized Latin America and the Caribbean for an entire generation," Menendez in a statement. "... As such, I would strongly oppose any action that fills the pockets of regime oligarchs with oil profits while Maduro continues to deprive Venezuelans of basic human rights, freedoms, and even food."
And here's the reaction out of Florida...
It is wrong for the Biden Administration to beg for oil from Venezuela & legitimize Maduro's communist regime during an official visit.

The U.S. should hold Maduro accountable while increasing domestic energy production so we won't need to rely on hostile regimes for energy.

— Ron DeSantis (@GovRonDeSantis) March 7, 2022
The Associated Press aptly summarized earlier: "But the impetus for a risky outreach to Maduro — who has been sanctioned and is indicted in New York on drug trafficking charges — took on added urgency following Russia's invasion of Ukraine and ensuing U.S. sanctions there, which promises to reshuffle global alliances and add to rising gas prices driving inflation already at a four-decade high.
Things are Fuckin weird. Biden is letting Russia mediate on a new Iran deal while also not sanctioning Russia oil while also negotiating with Maduro to import more oil when the US didn't recognize Maduro who also negotiated with Putin.

This is Joe Biden as President.

— Stephen L. Miller (@redsteeze) March 7, 2022
"Powerful Democrats and Republicans alike on Capitol Hill last week began voicing support for a U.S. ban on Russian oil and natural gas imports as the next step to punish Russia President Vladimir Putin for the invasion," the report added.