---
Oil Crashes To 6-Week Lows As COVID Crisis Re-Awakens
This was not supposed to happen!!
COVID cases are soaring exponentially higher across much of Europe, sparking lockdowns in Austria, Germany, Ireland, and calls for lockdowns in Italy and Greece (for now)...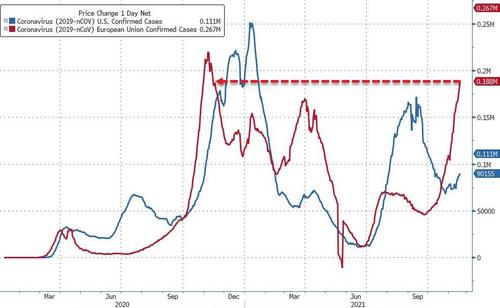 Cases are also rising in the US, but dominated by 'Blue' states, so the messaging is likely more limited in the media...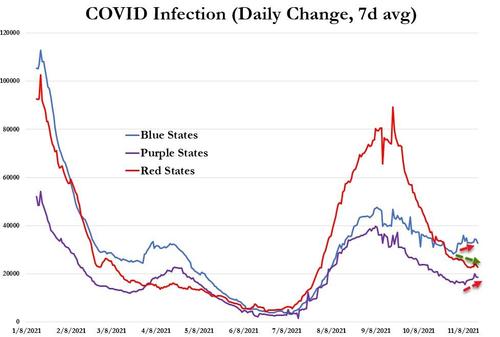 However, the re-awakening of the COVID 'Casedemic' has sparked major concerns for investors, who have dramatically repriced 'stay at home' stocks relative to 'reopening' stocks in recent days...
Traditional safe-haven currency Swiss Franc has been soaring recently...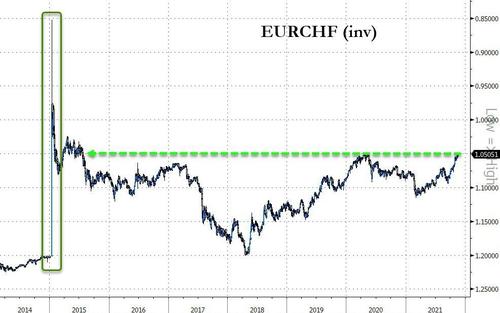 "As Covid spreads in Europe and restrictions are strengthened in places in Germany and Austria, there's a general recognition that things may not be going the right way," said Sebastien Galy, a macro strategist at Nordea Asset Management.
"This affects sentiment, both within markets and in households."
This comes as stock valuations are at extremes, he added.
"We had a relief rally from earnings, but now people are concerned about what comes next."
And that has, in turn, smashed into the energy complex as the spread of renewed lockdowns threatens the demand picture for oil. WTI reversed earlier gains this morning as Austria's nationwide lockdown news hit, puking down to a $75 handle for the first time since early October...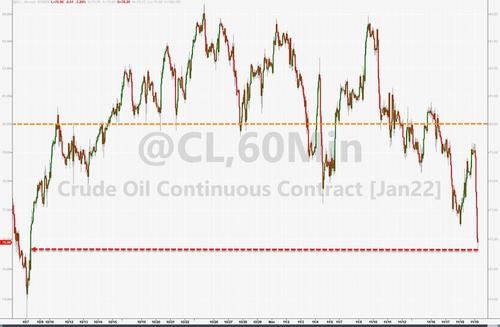 Global benchmark Brent crude declined 3.4% and traded at $78.48, the lowest level since September.
"Oil has been declining over the last week as demand forecasts have been pared back, OPEC and the IEA have warned of oversupply in the coming months and the US has attempted to coordinate an SPR release with China and others," said Craig Erlam, senior market analyst at OANDA, in a note to clients.

"The market still remains fundamentally in a good position but lockdowns are now an obvious risk to this if other countries follow Austria's lead," Erlam said, adding that oil prices look more likely than a day ago to slide toward the mid-$70s region, especially if Germany announces similar measures.