---
Oil Surges After OPEC+ Shuns Biden With Small Output Hike, Signals "Severely Limited Excess Capacity"
Update (0900ET): OPEC+ just released its full statement and explicitly notes its limited ability to increase production (due to capacity constraints) from here: (emphasis ours)
The 31st OPEC and non-OPEC Ministerial Meeting was held via videoconference on 3 August 2022.

The Meeting noted the dynamic and rapidly evolving oil market fundamentals necessitating continuous assessment of market conditions.

The Meeting noted that the severely limited availability of excess capacity necessitates utilizing it with great caution in response to severe supply disruptions.

The Meeting noted that chronic under-investment in the oil sector has reduced excess capacities along the value chain (upstream-midstream downstream).

The Meeting highlighted with particular concern that insufficient investment into the upstream sector will impact the availability of adequate supply in a timely manner to meet growing demand beyond 2023 from non-participating non-OPEC of-producing countries. some OPEC Member Countries and participating non-OPEC oil-producing countries

It noted that preliminary data for OECD commercial oil stocks level stand a: 2.712 mb in June 2022. which was 163 mb lower than the same time last year, and 236 mb below the 2015- 2019 average, and that emergency oil stocks have reached their lowest levels in more than 30 yea's.

The Meeting also noted that Declaration of Cooperation conformity averaged 130% since May 2020. supported by voluntary contributions of some Participating Counties.

Emphasizing the value and importance of maintaining consensus as essential to the cohesion o' OPEC 3nd participating nor-OPEC oil-producing countries. in view of the latest oil market fundamentals, the Participating Countries decided to:

Reaffirm the decision of the 10th OPEC and non-OPEC Ministerial Meeting on 12th April 2020 and further endorses in subsequent meetings including the 19th OPEC and non- OPEC Ministerial Meet ng on the 18 July 2021.

Adjust upward the production level for OPEC and non-OPEC Participating Countries by 0.1 md/d for the month of September 2022 as pe' the attached table. This adjustment does not 3'fee: the baselines deeded on the above-mentioned Meeting on 18 July 2021.

Reiterate the critical importance of adhering to full conformity and to the compensation mechanism. Compensation plans should be submitted in accordance with the statement of the 15th OPEC and non-OPEC Ministerial Meeting.

Hold the 32nd OPEC and non-OPEC Ministerial Meeting on 5 September 2022.
*  *  *
Oil prices are spiking this morning after OPEC+ agreed on a modest 100k barrel/day increase in output for September - considerably less than the 300-400k increase expected by many (and hoped for by President Biden).
Itty bitty OPEC+ hike. https://t.co/Ti9PZF3GFf pic.twitter.com/Ar7DJvgsxj

— Rory Johnston (@Rory_Johnston) August 3, 2022
This is the second smallest increase in output in OPEC history (only behind one in 1986), and couldn't get smaller without being a cut.
Bloomberg's Javier Blas noted in brief Twitter thread that the OPEC+ 100,000 b/d output hike compares to an expectation in Washington only a few days ago that Saudi Arabia would lead the cartel to boost production by 400,000-500,000 b/d.
For weeks, US officials have said they expected positive steps at the Aug 3 OPEC+ meeting.

The OPEC+ increase isn't real, either, as most member are already pumping at their maximum capacity.

Only Saudi Arabia and the UAE can increase.

If they adhere to their quotas, the 100,000 b/d translates in an extra 26,000 b/d for Riyadh and 8,000 b/d for Abu Dhabi.

Let's put the 26,000 b/d Saudi increase into context: the kingdom's quota for Sept is 11.006m b/d. That's ~7,650 barrels per minute.

So Riyadh would produce the extra oil in about three minutes and a half. A bit longer that a fist bump greeting, but not a lot longer.
WTI is back above $95 on the news (and Brent is back above $100)...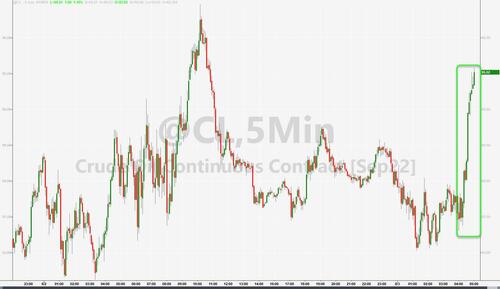 WTI is trading back above its crucial Maginot Line 200DMA...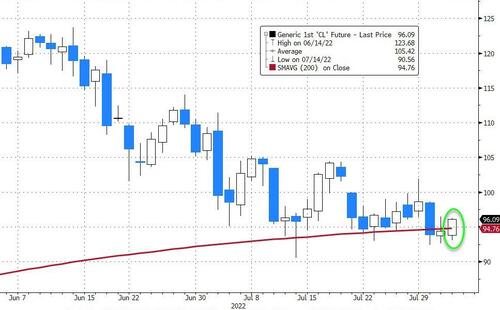 As Blas satirically concluded:
"At the current rate, I fear that President Joe Biden consumed more jet-fuel travelling on Air Force One to Jeddah than any extra oil barrels OPEC+ may agree to provide to the market in September."
OPEC+ has already agreed to return all the supply that it took offline to meet the challenge posed by the pandemic, although several members have struggled to deliver quotas in full, and even Saudi Arabia likely has little in the way of significant spare capacity left to deploy.
CHART OF THE DAY: For the 3rd time only in history, Saudi Arabia oil production is rising above 11m b/d from today (OPEC+ quota for Riyadh for August is exactly 11.004m b/d)

For more on Saudi oil output, take a look at his @opinion column from late June: https://t.co/NKj7H389NE pic.twitter.com/F5T6Kg81id

— Javier Blas (@JavierBlas) August 1, 2022
Pump prices are set to rise as oil and wholesale gasoline prices have decoupled...
Time for another expensive trip to the Middle East?
Loading...