---
OPEC Slams The IEA Over Peak Fossil Fuel Demand Claims
Authored by Charles Kennedy via OilPrice.com,
Consistent data-based forecasts show that peak oil and other fossil fuel demand will not happen before 2030, as the International Energy Agency (IEA) claimed earlier this week, OPEC said on Thursday, dismissing the claims of the "beginning of the end of fossil fuels."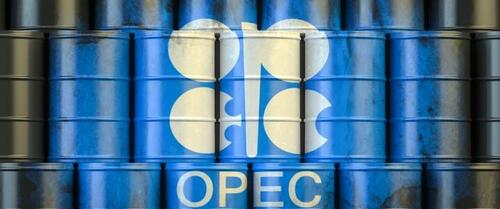 Demand for oil, natural gas, and coal is nearing its peak, the head of the International Energy Agency said in an op-ed for the Financial Times on Tuesday, citing IEA research.
Noting that demand for oil and gas has been growing despite forecasts of peaks, Fatih Birol went on to say that "according to new projections from the International Energy Agency, this age of seemingly relentless growth is set to come to an end this decade, bringing with it significant implications for the global energy sector and the fight against climate change."
The research, to be released in the IEA's World Energy Outlook in October, suggests that even if governments do nothing more than they are already doing to curb the consumption of hydrocarbons, demand for all three of them will reach a peak within the next few years, Birol said.
In a rare rebuke to energy forecasters, OPEC issued a strong-worded statement on Thursday, saying that "It is an extremely risky and impractical narrative to dismiss fossil fuels, or to suggest that they are at the beginning of their end."
"In past decades, there were often calls of peak supply, and in more recent ones, peak demand, but evidently neither has materialized. The difference today, and what makes such predictions so dangerous, is that they are often accompanied by calls to stop investing in new oil and gas projects," the cartel said.
OPEC Secretary General Haitham Al Ghais also commented on the IEA's projections and claims, noting that "Such narratives only set the global energy system up to fail spectacularly. It would lead to energy chaos on a potentially unprecedented scale, with dire consequences for economies and billions of people across the world."
OPEC and its biggest members including Saudi Arabia have been warning for years that a rushed energy transition without security of conventional supply, and the underinvestment in the oil and gas industry, would lead to chaos and shortages of supply.
In response to the IEA's claims today, OPEC also said, referring to how net zero policies would impact people's lives,
"How much will they cost in their current form? What benefits will they bring? Will they work as hyped? Are there other options to help reduce emissions? And what will happen if these forecasts, policies and targets do not materialize?"   
Loading...