---
These Are All The Renewable Energy And Battery Installations In The US In 2023
Renewable energy, in particular solar power, is set to shine in 2023. This year, the U.S. plans to get over 80% of its new energy installations from sources like battery, solar, and wind.
Visual Capitalist's Alan Kennedy created the map below, using data from EIA, to highlight planned U.S. renewable energy and battery storage installations by state for 2023.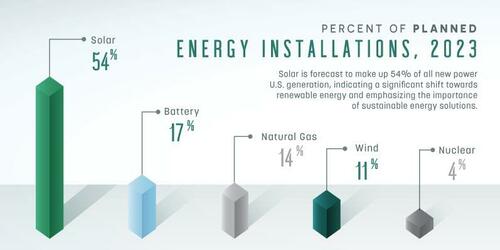 Texas and California Leading in Renewable Energy
Nearly every state in the U.S. has plans to produce new clean energy in 2023, but it's not a surprise to see the two most populous states in the lead of the pack.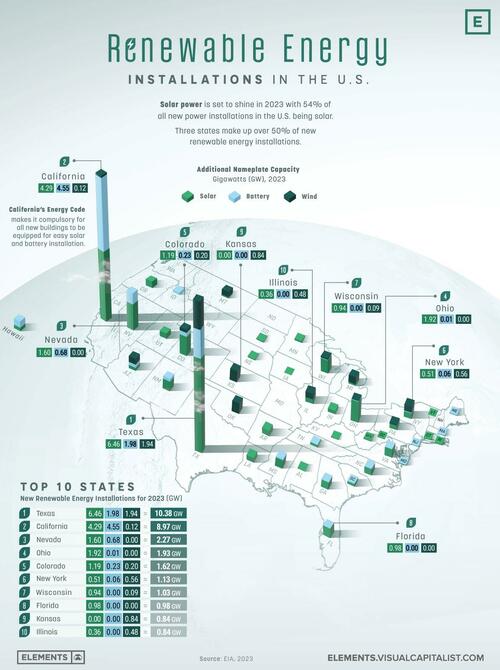 Even though the majority of its power comes from natural gas, Texas currently leads the U.S. in planned renewable energy installations. The state also has plans to power nearly 900,000 homes using new wind energy.
California is second, which could be partially attributable to the passing of Title 24, an energy code that makes it compulsory for new buildings to have the equipment necessary to allow the easy installation of solar panels, battery storage, and EV charging.
New solar power in the U.S. isn't just coming from places like Texas and California. In 2023, Ohio will add 1,917 MW of new nameplate solar capacity, with Nevada and Colorado not far behind.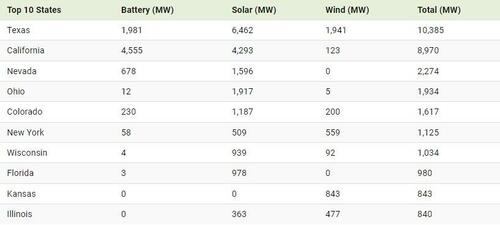 The state of New York is also looking to become one of the nation's leading renewable energy providers. The New York State Energy Research & Development Authority (NYSERDA) is making real strides towards this objective with 11% of the nation's new wind power projects expected to come online in 2023.
According to the data, New Hampshire is the only state in the U.S. that has no new utility-scale renewable energy installations planned for 2023. However, the state does have plans for a massive hydroelectric plant that should come online in 2024.
Decarbonizing Energy
Renewable energy is considered essential to reduce global warming and CO2 emissions.
In line with the efforts by each state to build new renewable installations, the Biden administration has set a goal of achieving a carbon pollution-free power sector by 2035 and a net zero emissions economy by no later than 2050.
The EIA forecasts the share of U.S. electricity generation from renewable sources rising from 22% in 2022 to 23% in 2023 and to 26% in 2024.
Loading...