---
UK Looks To Boost Energy Security With Small Modular Nuclear Reactors
Authored by Tsvetana Paraskova via OilPrice.com,
The UK has launched a competition for small modular reactor technology and created a new nuclear body.

The focus on small nuclear reactors is part of the country's efforts to produce more zero-emission energy domestically.

As well as backing SMRs, the UK remains committed to traditional nuclear projects including Hinkley Point C and Sizewell C.
This week saw the UK launch a competition for small modular reactor (SMR) technology and created a new nuclear body, Great British Nuclear, in a bid to provide more zero-emission energy from locally-developed sources.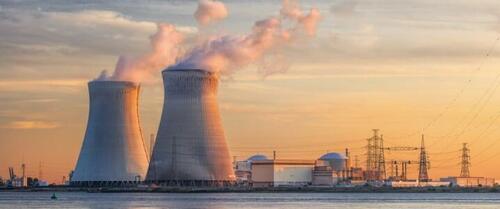 Great British Nuclear (GBN) is expected to drive the rapid expansion of new nuclear power plants in the UK, to boost UK energy security, reduce dependence on fossil fuel imports, create more affordable power, and grow the economy.  
The nuclear industry is estimated to generate around $7.9 billion (£6 billion) for the UK economy, the government says. 
As of today, companies can register their interest with GBN to participate in a competition to secure funding support to develop their SMR technology, which could result in billions of pounds of public and private sector investment in small modular reactor projects in the UK.
SMRs are considered to be the future of nuclear power technology because they are smaller than conventional reactors and can be manufactured in factories, making nuclear power stations cheaper and faster to build.
In the UK, Rolls-Royce has been developing SMR technology, which, the company says, can deliver cost-competitive and scalable net-zero power for multiple applications - from grid and industrial electricity production to hydrogen and synthetic fuel manufacturing.
While backing SMR technology, the UK is not giving up on conventional nuclear reactors and remains committed to the mega projects of Hinkley Point C and Sizewell C. The government will work with GBN to consider the potential role of further large gigawatt-scale nuclear power plants in the UK energy mix, the government said today.
Last year, the UK decided to revitalize its nuclear energy industry to secure more zero-emission power generated in the country. Under the British Energy Security Strategy, the UK has an ambition to deploy up to 24 gigawatts (GW) of nuclear power by 2050, around 25% of the projected 2050 electricity demand in the country.
Loading...