---
UK Oil And Gas Industry Warns Windfall Tax Will Hurt Energy Security
Authored by Tsvetana Paraskova via OilPrice.com,
The new head of Offshore Energies UK has warned that the higher tax rates are already hitting offshore companies hard.

Last autumn, the UK raised the windfall tax for oil and gas operators to 35%, bringing the oil and gas sector's total tax rate to 75%.

Companies are already slashing investment in the UK energy system, which could leave the UK increasingly dependent on imports.
The windfall tax on UK North Sea producers is hitting all companies operating on the UK Continental Shelf with firms already announcing lower investments and deferring drilling plans, the new head of trade body Offshore Energies UK (OEUK) has warned.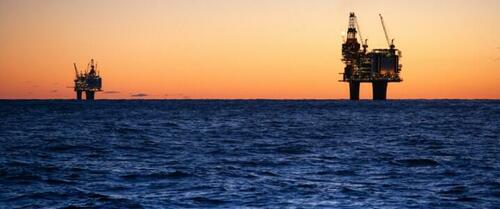 Last autumn, the UK raised the windfall tax on the profits of oil and gas operators by 10 percentage points to 35% from January 1, 2023.
The UK also extended the so-called Energy Profits Levy to the end of March 2028, from December 31, 2025, as originally planned when the levy was 25%.
The total tax rate on the oil and gas sector has thus increased to a massive 75%, the highest of any UK sector, OEUK says.
The "super tax is hitting all offshore companies hard, large and small, not just those who make headlines," OEUK's new chief executive David Whitehouse told the Financial Times.
Operators in the UK are already looking to invest elsewhere which would leave the country increasingly reliant on fossil fuel imports, Whitehouse noted.
After the windfall tax was raised, Harbour Energy, the biggest oil and gas producer in the UK North Sea, backed out of the ongoing licensing round aimed at awarding more than 100 new licenses. Shell has said it would be re-evaluating each project comprising its $30.5 billion (£25 billion) planned investment in the UK energy system, and TotalEnergies has said it would slash its investment in the UK by 25%.
In its latest operational update, Harbour Energy said in January that its total UK capital expenditure was reduced compared to previous expectations with certain opportunities no longer being pursued following the changes to the Energy Profit Levy (EPL).
"While oil and gas prices have reverted to more normal levels we still face a tax rate of 75 per cent in the UK due to the recent tax changes, making investment in the country less competitive," Harbour Energy's CEO Linda Cook said.

"As a result, the EPL necessitated a review of our future activity levels in the UK and reinforced our ambition to grow and diversify internationally." 
Commenting on calls for more taxes after Big Oil's record profits for 2022, Mike Tholen, OEUK's director of sustainability, said early this month, "That rate of UK tax is already so high it risks driving companies out of UK waters. All parties have acknowledged that we will need oil and gas for decades to come. So why risk damaging our own secure supplies from the North Sea?"
Loading...