---
Which Countries Are Still Most Reliant On Coal?
Global energy policies and discussions in recent years have been focused on the importance of decarbonizing the energy system in the transition to net zero.
However, despite efforts to reduce carbon emissions, fossil fuels still account for more than 80% of primary energy use globally—and coal, the world's most affordable energy fuel, is also the largest source of energy-related CO2 emissions.
In the graphic below, Visual Capitalist's Bruno Venditti and Sabriona Lam, using data from the Statistical Review of World Energy, show much select countries rely on fossil fuels, particularly coal.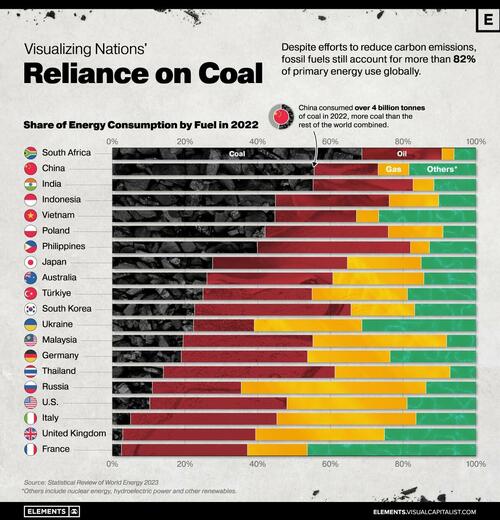 Coal's Importance in Emerging Economies
Coal is the largest source of electricity generation and the primary fuel for iron, steel, and cement production, making it central to climate and energy discussions.
The fossil fuel continues to be an affordable and abundant source of energy, particularly in emerging economies where demand is expanding rapidly.
South Africa is the world's most coal-dependent nation featured in the statistical review, with coal accounting for 69% of its primary energy consumption in 2022.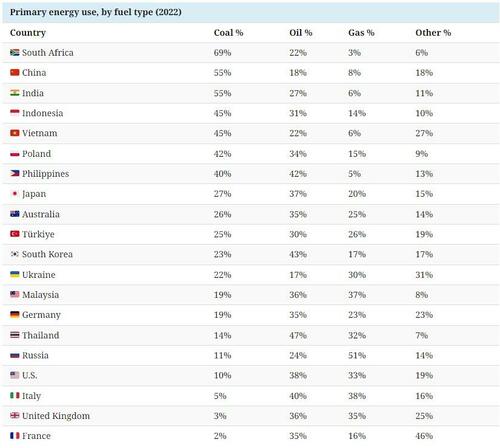 Percentages may not add to 100 due to rounding. Select countries shown above.
In 2022, global consumption of coal surpassed 8 billion tonnes in a single year for the first time, with China and India being the two biggest consumers in absolute terms.
China's power sector alone accounts for one-third of global coal consumption. Meanwhile, with a growth rate of 6% annually, India has doubled its coal consumption since 2007—and is expected to lead the growth in coal consumption for years to come.
Coal Demand in Developed Countries
U.S. consumption of coal has dropped almost 50% compared to the early 2010s.
With initiatives like the Inflation Reduction Act (IRA), which includes nearly $370 billion to accelerate the U.S.'s energy transition, coal consumption is expected to remain on a downward trajectory in the United States.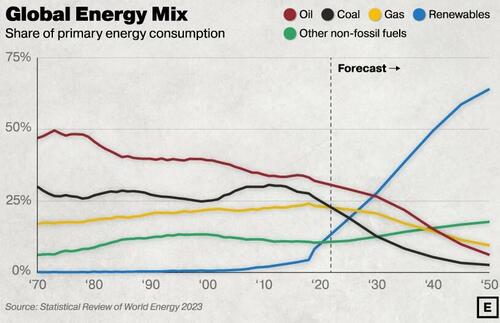 Source: BP Energy Outlook 2023. The forecast is based on BP's scenario for global net-zero emissions by 2050.
The same movement is seen in the European Union.
France, for example, only has 2.5% of its primary energy consumption coming from coal, a share that is just half of what it was in the early 2000s.
In Germany, Europe's biggest economy, coal still accounts for 18.9% of total energy consumption (a small increase over 2021, due to the energy crisis). However, a decade ago in 2012, that number stood even higher at 24.9% of primary energy use.
With coal consumption falling in developed nations but remaining steady in emerging economies, the International Energy Agency projects that coal demand will plateau at 2022 levels until 2025 when it will begin to fall.
Loading...