---
WTI Holds Losses After API Reports Big Product Draws
Oil prices have puked to 3-month lows in the last few days, as they seem the only asset capable of pricing in a recession, accelerating into the close today amid growing fears over US economic growth and OPEC saying it sees a modest surplus next quarter during a seasonal lull in demand.
"The energy complex appears to be connecting the dots between the recent banking issues and a possible recession," oil-consulting firm Ritterbusch and Associates told clients Tuesday.
Expectations are for a very small crude build this week, with products seeing a draw...
API
Crude +1.16mm (+100k exp)

Cushing -950k

Gasoline -4.59mm (-1.2mm exp)

Distillates -2.89mm (-600k exp)
A slightly bigger than expected crude build was offset by significant draws in both gasoline and distillates stocks...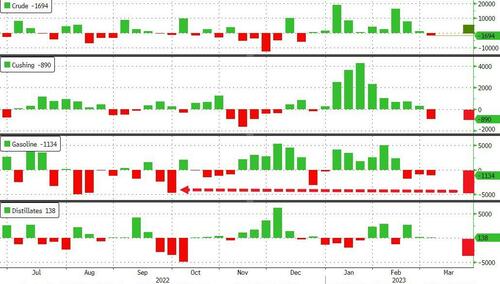 Source: Bloomberg
According to another dat provider, AlphaBBL, crude inventories at the key Cushing, Oklahoma, storage hub fell by 1.1 million barrels in week ending March 10. If confirmed by EIA data, it would be the largest draw in Cushing inventories since the week of Nov. 11.
"Energy traders can't find a reason to buy this dip until we get past the next round of inventory data," said Ed Moya, a senior market analyst at Oanda.

"Rising stockpiles are expected and that could keep oil vulnerable over the next 24 hours."
Front-month WTI was trading around $71.50 ahead of the print after a serious puke into the close and bounced very modestly on the report...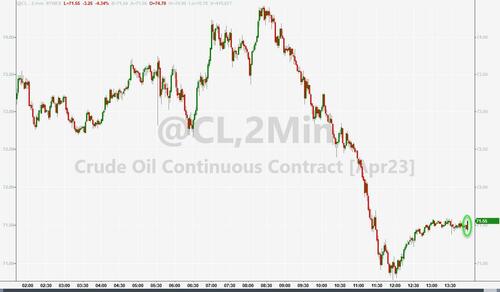 The late-day plummet was "pretty astounding," said Rebecca Babin, a senior energy trader at CIBC Private Wealth.
Some speculated a large liquidation event triggered the move but said no one knew for sure.
"If buyers don't show up soon and support oil at $70, we can see an air pocket lower to $62," said Jc O'Hara, the chief technical strategist at Roth Mkm.
Central bankers' ultimate path on interest rates could have big implications for the oil patch, said Dan Pickering, chief investment officer of Pickering Energy Partners. "Somewhere out there is an economic slowdown," Mr. Pickering said.
Loading...