---
WTI Bounces After Across The Board Inventory Draws
Oil prices slipped lower today, with WTI back below $90, helped by hopes of progress in Iran nuke talks (the Biden administration on Friday waived sanctions on some of Iran's civilian nuclear activities in a move observers took as a sign of progress toward an agreement.), and easing tensions with Russia amid Zelensky talking down Biden's hawkishness and Macron meeting with Putin.
"Ukraine is the big one, [with] the possibility of easing tensions after the Macron talks," Michael Poulsen, Senior Oil Risk Manager at Global Risk Management, said regarding the Feb. 8 price dip.

Carsten Fritsch, a commodity analyst at Commerzbank, echoed this view, saying, "the reason for the current price weakness is the prospect of a return of Iranian oil exports."
On the other side of the ledger, China's demand is expected to pick up later in February as it begins restocking in the wake of the Lunar New Year holiday.
API
Crude -2.025mm (+100k exp)

Cushing -2.502mm

Gasoline -1.138mm (+1.4mm exp)

Distillates -2.203mm (-600k exp)
Against expectations, API reports inventory draws across the board with Cushing's 5th weekly drop in stocks in a row and put an end to the 5 week streak of gasoline inventory builds...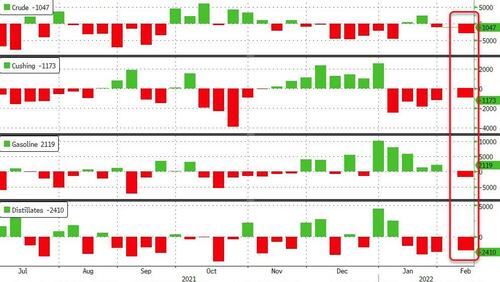 Source: Bloomberg
WTI hovered around $89.50 - its lowest close in a week - ahead of the API print and rallied modestly on the data.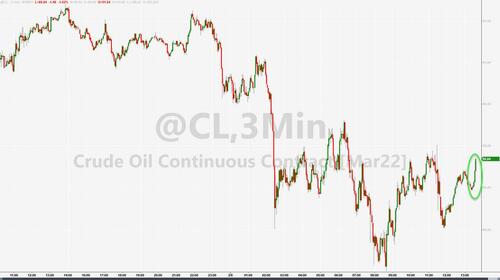 And this dip may be just what Biden needs to stall the acceleration that's coming in gas prices...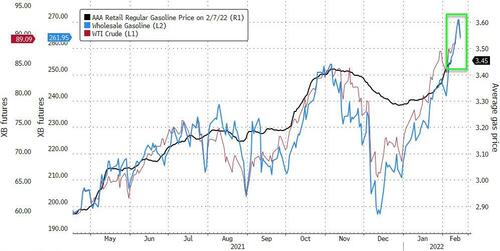 But despite the pullback, analysts said market fundamentals appear bullish as supply and demand balances tighten in the coming weeks.
"Supply is not keeping up with the demand. We know that is the core issue," White House press secretary Jen Psaki said Feb. 8.

"Nobody should hold back supply at the expense of the American consumer, particularly as the recovery from the pandemic continues. And oil producers around the world have the capacity to produce at levels that match demand and reduce the high prices."
But don't worry, White House economic advisor Bernstein said today they could just dump some more SPR... yeah, great idea, how'd that work out last time?
And they better hope this doesn't play out...