---
WTI Dips After Smaller Than Expected Crude Draw
Oil prices rallied today, recovering all of yesterday's losses with WTI back above $85 as geopolitical tensions increased (some 8,500 U.S. troops have been put on heightened alert for a possible deployment due to escalating tensions on the Russia-Ukraine border) even though President Biden appeared to walk actual deployment threats back.
"Crude prices are soaring on expectations that an already tight oil market could see geopolitical risks exacerbate the current imbalance," said Ed Moya, Oanda's senior market analyst for the Americas.

"The risks are not just with the Russia-Ukraine border, but also include Iran nuclear talks and also North Korea."
In the short-term, we suspect the next leg of any move will depend on inventories after 3 weeks of ugly gasoline demand and inventory build data
API
Crude -872k (-2.1mm exp)

Cushing -1.0mm

Gasoline +2.4mm (+2.2mm exp)

Distillates -2.2mm (-1.6mm exp)
After a small and unexpected build the week before, analysts expected a return to crude inventory drawdowns last week and they were right but the draw was much smaller than expected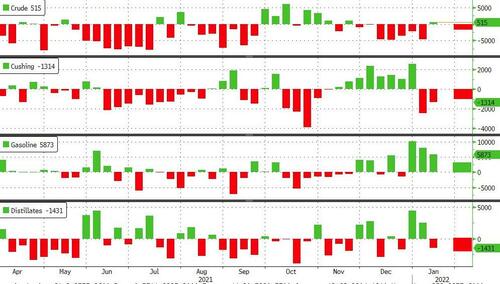 Source: Bloomberg
WTI hovered around $85.25 ahead of the API data and slipped lower after...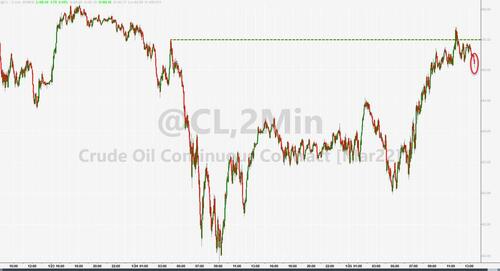 The U.S. Energy Department announced that it loaned another 13.4 million barrels as part of an 32 million barrel exchange program announced in November, aiming to ease a rise in domestic gasoline prices.
"Markets have proved to be tighter than we thought," said David Martin, head of commodity desk strategy at BNP Paribas.

He see small reductions in inventories this quarter, "and that underpins this view that the market continues to tighten up."
Finally, we note that it would seem President Biden's sabre0ratlling in Eastern Europe are not helping his cause at home...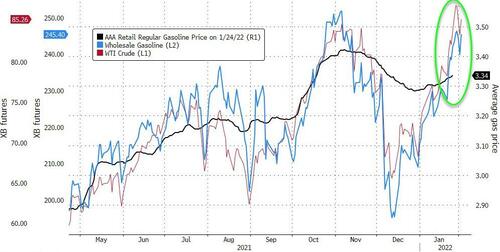 Source: Bloomberg
As soaring crude and wholesale gasoline prices (driven by geopolitical tensions) imply gas prices at the pump are set to soar.
The market is also skeptical the Biden administration can do anything to slow down oil's move higher as OPEC+ seems set to stick to gradual production increases, Moya said.