---
Brent Tops $90 As Oil Prices Dip Then Rip After US Inventory Data
Update (1130ET): Dip-buyers charged in to buy oil after an initial dip following DOE's report of a surprise crude inventory build.
WTI is up near $88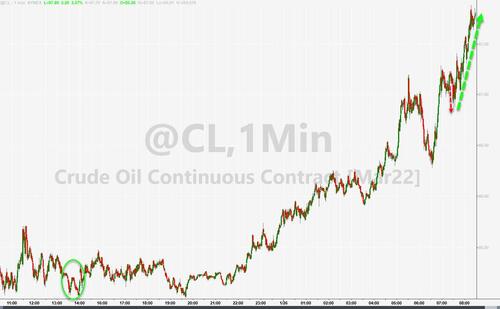 And Brent broke above $90...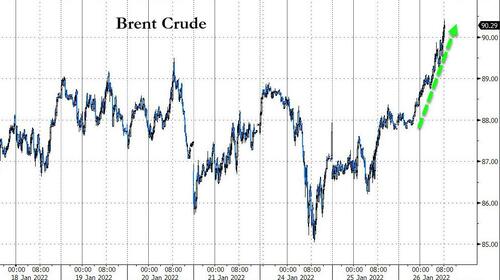 That is the first time Brent is above $90 since October 2014...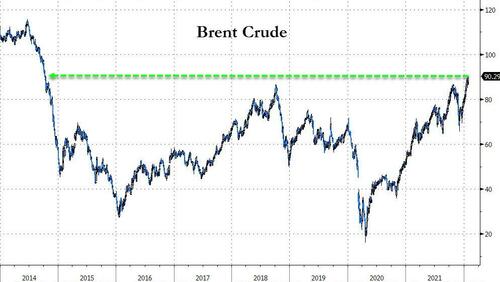 A string of Wall Street banks including Goldman Sachs have forecast oil will hit $100 a barrel this year as the global market tightens.
"The market has basically been in persistent undersupply since mid-2020, thanks to OPEC+ cuts and a continued oil demand recovery," said Helge Andre Martinsen, a senior oil analyst at DNB ASA.

"We fully acknowledge that the world is not running out of oil resources, but we might enter an oil-market squeeze triggered by too little investment and oil demand rebounding quickly."
Prices are also moving on mounting concern over a possible Russian incursion into Ukraine, with President Biden saying he'd consider sanctioning Vladimir Putin if the Russian leader orders an invasion.
*  *  *
Oil prices are dramatically extending yesterday's gains, despite a smaller than expected crude draw reported by API, as the tension between the West and Russia over Ukraine continues to add to geopolitical risk premia.
"Crude prices are soaring on expectations that an already tight oil market could see geopolitical risks exacerbate the current imbalance," said Ed Moya, Oanda's senior market analyst for the Americas.

"The risks are not just with the Russia-Ukraine border, but also include Iran nuclear talks and also North Korea."
In another bullish development for oil prices, more Chinese are expected to travel for the Lunar New Year holiday this year than in the previous two years, despite the Omicron spread, in a boost to fuel consumption in the world's largest crude oil importer, according to data cited by Bloomberg.
For now, all eyes will be on gasoline demand and crude inventories.
API
Crude -872k (-2.1mm exp)

Cushing -1.0mm

Gasoline +2.4mm (+2.2mm exp)

Distillates -2.2mm (-1.6mm exp)
DOE
Crude +2.377mm (-2.1mm exp)

Cushing -1.823mm

Gasoline +1.297mm (+2.2mm exp)

Distillates -2.798 (-1.6mm exp)
The official crude inventory data surprised the market with a 2.377mm build (vs 2.1mm draw expected and a small draw reported by API). Cushing saw its 3rd straight week of draws. Gasoline stocks grew but at less than expected while distillate inventories fell most since early December...
Source: Bloomberg
Gasoline demand remains drastically low - even assuming seasonals...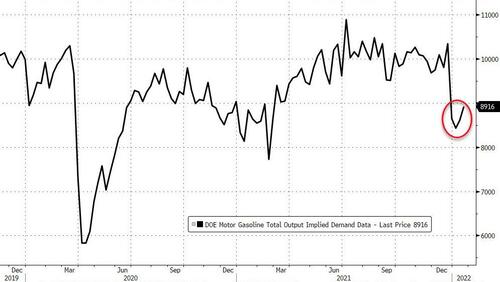 Source: Bloomberg
US Crude production slipped to its lowest since November...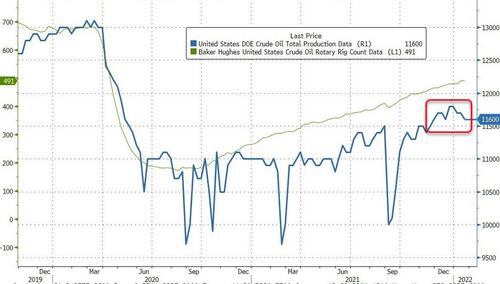 Source: Bloomberg
The 4 week average volumes for U.S. crude exports are struggling to rise above the 3m b/d mark. This is despite perceptions that foreign demand is robust against a backdrop of supply shortages. But a pick up is expected in the weeks to come as Chinese refiners resume purchases for delivery after the Winter Olympics.
Bloomberg's Danny Adkins notes that jet fuel inventories are at their lowest seasonal level in EIA data going back to 1992, despite a modest build last week. Stockpiles have held below 35 million barrels for four straight weeks, the first time they have done so since 1996.
WTI is holding just above $87 (up $2 from last night's API report) ahead of the official data and slipped very modestly on the surprise build...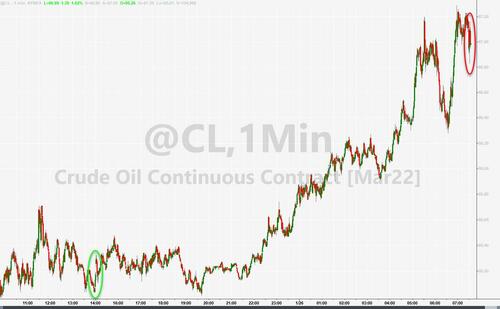 Finally, we note that it would seem President Biden's sabre-ratlling in Eastern Europe are not helping his cause at home...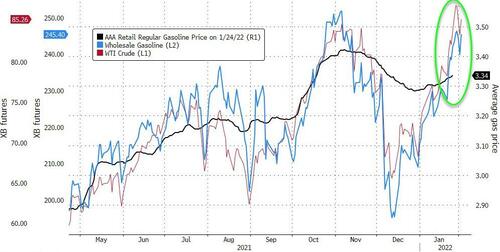 Source: Bloomberg
As soaring crude and wholesale gasoline prices (driven by geopolitical tensions) imply gas prices at the pump are set to soar.
The market is also skeptical the Biden administration can do anything to slow down oil's move higher as OPEC+ seems set to stick to gradual production increases, Moya said.