---
WTI Extends Gains Above Pre-Saudi-Cut Levels As Biden Drains SPR For 10th Straight Week
Oil prices are holding overnight gains, back above pre-Saudi-cut levels, as a weaker dollar and stronger China imports data buoyed black gold bulls.
"There are many uncertainties, as usual, when it comes to the oil market, and if I have to pick the most important one it's China," International Energy Agency's executive director Fatih Birol said in an interview with Bloomberg TV on Wednesday.

"Of more than 2 million barrels a day of growth we expect this year in global oil demand, 60% is set to come from China."
Big builds for products reported by API overnight are not a good sign for demand but there was a modest crude draw.
API
Crude -1.71mm (+1.1mm exp)

Cushing +1.535mm

Gasoline +2.417mm (+200k exp) - biggest build since Feb 2023

Distillates +4.50mm (+1.0mm exp) - biggest build since Dec 2022
DOE
Crude -452k (+1.1mm exp)

Cushing +1.72mm

Gasoline +2.75mm (+200k exp) - biggest build since Feb 2023

Distillates +5.074mm (+1.0mm exp) - biggest build since Dec 2022
The official data confirmed API with a small Crude draw but large product builds...
Source: Bloomberg
For the 10th straight week, the Biden admin drained the SPR (-1.8mm barrels last week to a fresh 40-year low)...
Source: Bloomberg
US Crude Production rose last week to its highest since April 2020 despite US drilling activity is in free-fall and showing no signs of slowing. The number of active oil and gas drilling rigs has fallen by 59 in the last five weeks, after falling another 15 in the week to June 2 – all of which were oil-focused rigs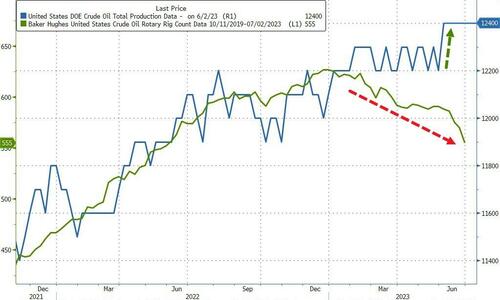 Source: Bloomberg
WTI was trading around $72.50 ahead of the official data and extended gains after...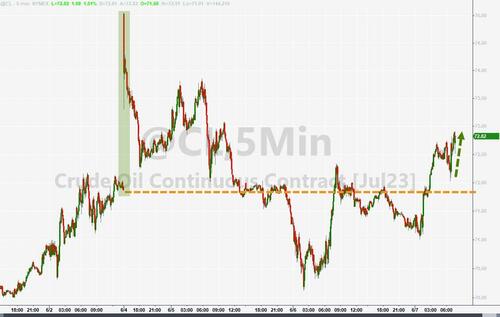 Bloomberg Intelligence Senior Oil & Gas Analyst Fernando Valle concludes:  Oil prices have risen modestly, but are largely shrugging off Saudi Arabia's additional 1 million barrel-a-day cut that takes effect in July and an extension of OPEC+'s voluntary reduction through 2024. Saudi Aramco followed by raising its official selling prices across the world, a decisive action to prop up OPEC+ revenue. These moves may not be enough to offset poor demand due to a slowing economy. The Logistics Managers' Index reached a third-consecutive all-time monthly low in May. Meanwhile, McKinsey data show slowing credit card activity.
Loading...