---
WTI Extends Losses After Biden Admin Drains SPR By Most Since December
Oil prices are extending yesterday's ugly losses as faith in the 2023 growth rebound narrative falter.
As Bloomberg reports, at the start of the year, leading industry figures from trading giant Trafigura to Goldman were predicting that rebounding Chinese demand and sanctions on Russia would squeeze supplies in the second half - propelling crude to $100 a barrel or higher.
Now, traders are growing nervous about the danger of recession in the US and disappointed that China's recovery isn't displaying all the vigor they'd anticipated. Russia, despite vowing sharp production cuts in retaliation for sanctions over its attack on Ukraine, is showing only mixed signs of following through.
API
Crude -3.939mm (-3.30mm exp)
DOE
Crude -1.28mm (-3.30mm exp)

Cushing +541k

Gasoline +1.742mm

Distillates -1.19mm
The official data confirmed another weekly draw for crude (but smaller than expected), Cushing stocks rose for the second straight week and Gasoline stocks unexpectedly rose. Distillates drew down for the 5th straight week...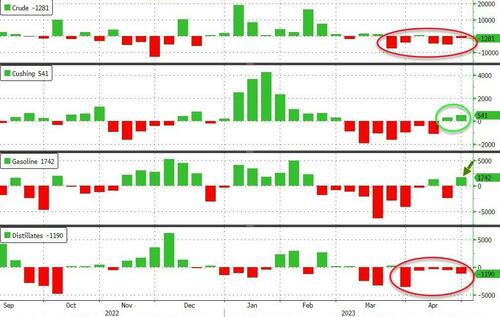 Source: Bloomberg
The Biden administration drained 2mm barrels from the SPR (the 5th straight week and largest drain since December).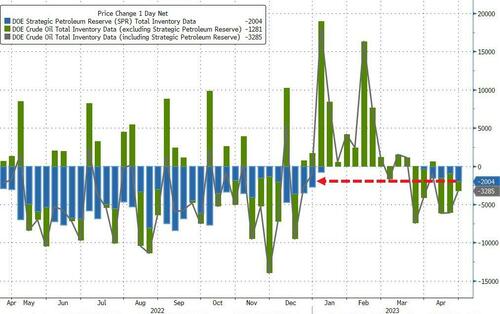 Source: Bloomberg
The SPR is now at it slowest since October 1983...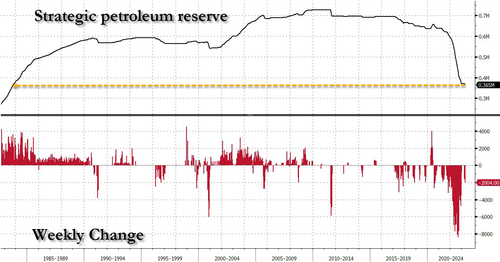 Source: Bloomberg
The start of summer driving season may not deliver its typical boost to gasoline demand, depressing crack spreads. Travel bookings for summer are down through March, a sign that consumers may limit spending on travel and, consequently, gasoline in the summer. Fuel sales for the week of April 22 fell 3% vs. 2022 levels and a hefty 20% from 2019, according to data from OPIS.
The so-called 'adjustment factor' was high and positive once again...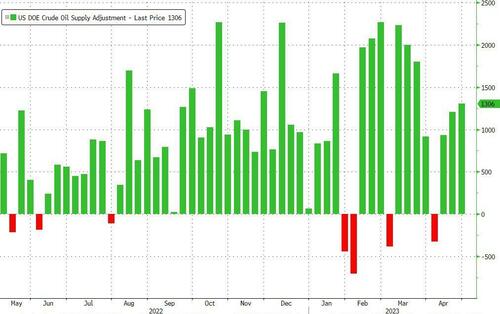 Source: Bloomberg
US Crude production was flat once again despite the falling rig count...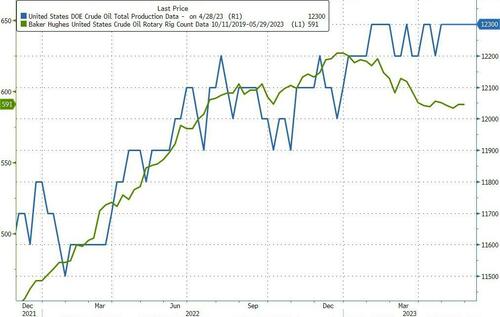 Source: Bloomberg
Oil prices were down with WTI trading just above $69 ahead of the official data.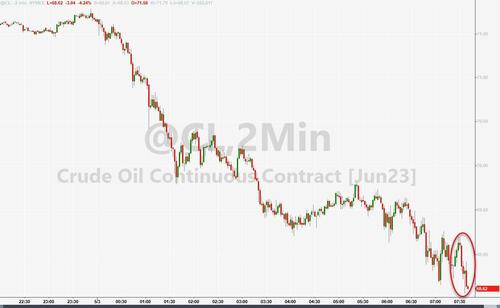 As Bloomberg's Grant Smith reports though, prices should still pick up from here. Brent futures for immediate delivery continue to command a premium known as backwardation, a reliable indicator that underlying demand is solid. 
And global oil markets remain on track to flip into a supply deficit this summer as Asia's economic rebound gathers momentum and supply growth around the world stays subdued. The International Energy Agency predicts that inventories will deplete in the second half at a brisk clip of 2 million barrels a day.
But as prices continue to sink, traders are showing that their faith in a year-end rally is fading.
Loading...