---
Oil Market Chaos Deepens As Sen Warren Pushes Windfall Profits Tax For 'Big Oil'
Summary
DOE shows across the board inventory draws in US

UAE urges OPEC to increase production (after refusing to take Biden's calls)

WTI flash crashes.

Brent biggest daily dollar drop in history.

Sen. Warren proposes windfall profits tax on 'big oil'
*  *  *
Update (1300ET): Never one to miss an opportunity, Senator Elizabeth Warren has just tweeted a proposal to unleash a windfall profits tax on what she calls 'Big Oil'...
Big Oil's first priority is to maximize profits.

It's also their second priority, third priority, and on and on.

We can't let them use Putin's invasion as an excuse to pad their bottom line with war-fueled profits. So I'm working with Senate Democrats on a windfall profits tax.

— Elizabeth Warren (@ewarren) March 9, 2022
I wonder how she will deal with the fact that oil prices are suddenly plunging?
And does she not see how 'taxing' oil more just screws the end-user (cough California cough) and in the case of 'windfall profits tax' will quickly be passed on to the poorest via the pump!
*  *  *
Update (1240ET): WTI just flash-crashed...
It seems $116 was the breaking point...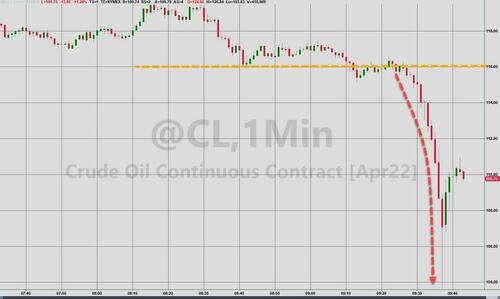 There was no specifically-timed news catalyst for this break lower.
Unprecedentedly, Brent is down a shocking $15 - its biggest single-day price drop ever!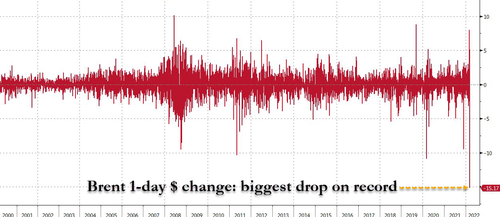 Crucially, as @GreekFire points out, "See the flash crash in oil? This is why OPEC+ and US shale are not going to raise production no matter how much Biden yells at them at any price."
*  *  *
Update (1155ET): The UAE will reportedly encourage its fellow members of OPEC to increase oil production levels, becoming the first OPEC member to call for the alliance to increase production since Russia invaded Ukraine, according to the Financial Times.
The FT quotes Yousef al-Otaiba, the UAE's ambassador to Washington, as having said:
"We favour production increases and will be encouraging Opec to consider higher production levels. The UAE has been a reliable and responsible supplier of energy to global markets for more than 50 years and believes that stability in energy markets is critical to the global economy."
We suspect strongly this will make no difference whatsoever to OPEC+'s decisions in the short-term (especially given the fact that UAE refused to take Biden's calls earlier), but for now, it was enough for the algos to take crude to the lows of the day...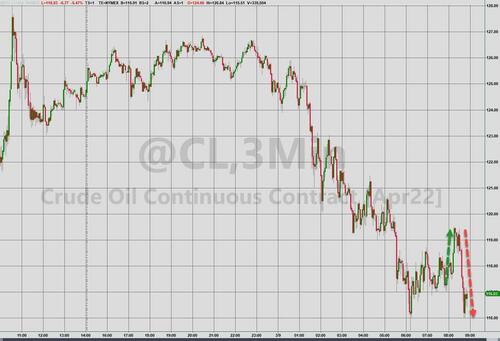 Building on reports of Putin and Scholz discussing diplomatic solutions, and Ukraine signaling its desire for a "diplomatic solution," WTI is now down around 10%, back to one-week lows (but still notably elevated since Putin's invasion began)...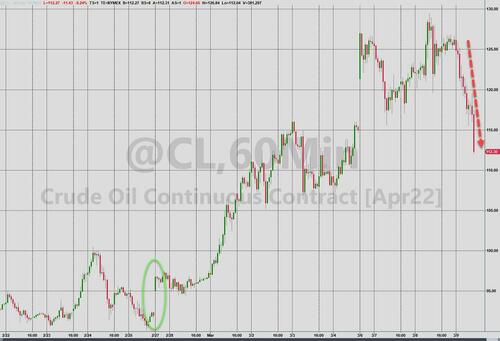 OPEC+ has so far resisted calls from the White House and other major oil consumers to ramp up production faster, arguing that the recent surge in prices to almost $140 a barrel in London is driven by geopolitical tensions rather than a genuine supply shortage.
However, Bloomberg reports that the last time the UAE called for a change in OPEC+ output policy was July 2021, when the country was pushing for a higher individual production quota. Saudi Arabia initially rejected the proposal and the spat threatened to break apart the alliance. Eventually a compromise was achieved.
*  *  *
As we detailed earlier, oil prices are lower this morning on some potentially optimistic comments from Ukraine, after earlier rallying toward $127/bbl as President Biden said his nation would ban the import of Russian crude.
Bloomberg's Valle notes that "fewer refined-product imports are compounding already tight inventory, particularly along the U.S. East Coast."
DOE
Crude -1.863mm

Cushing -585k - 9th weekly draw in a row

Gasoline -1.405mm

Distillates -5.23mm
Inventories tumbled across the board according to the latest official DOE data with Cushing stocks down for a 9th straight week...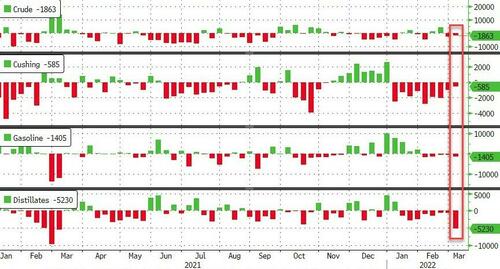 Source: Bloomberg
Distillates inventories registered a 5.23 million barrel drop last week, the biggest decline in about a year, to the lowest level since November 2014.
Cushing stocks continue to drop near operational lows...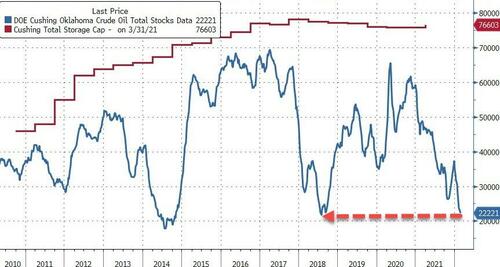 Source: Bloomberg
Oil prices rebounded modestly on the draws...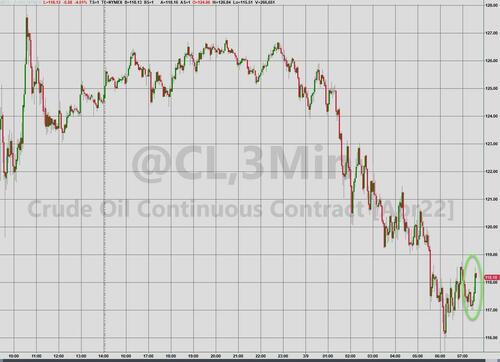 Crude production is holding steady for a fifth week at 11.6 million barrels a day despite widespread expectations that shale producers are cranking out barrels spurred by the strong rally in oil prices.