---
WTI Rebounds After 'Surprise' Crude Draw, 'Adjustment Factor' Swings Negative
Oil prices extended yesterday's losses overnight as markets came to grips with the prospect that the Fed will continue aggressive rate increases, hampering US demand.
"Macro headwinds once again stifle a rally," said Rebecca Babin, a senior energy trader at CIBC Private Wealth.

"Many traders have seen this movie before and are not buying the dip until the macro environment stabilizes and the physical market fundamentals are resoundingly bullish."
Last night's API report showed a crude draw, all eyes are now on the official data to see if it confirms.
API
Crude -3.835mm (+700k exp)

Cushing +24k

Gasoline +1.84mm (-1.4mm exp)

Distillates +1.927mm (-1.0mm exp)
DOE
Crude -1.694mm (+700k exp)

Cushing -890k

Gasoline -1.134mm (-1.4mm exp)

Distillates +138k (-1.0mm exp)
US Crude inventories saw a 1.694mm barrel drawdown last week - the first draw in 11 weeks. Cushing stocks also drewdown (for the first time in 10 weeks). Gasoline inventories dropped for the 3rd straight week while Distillates saw a small build...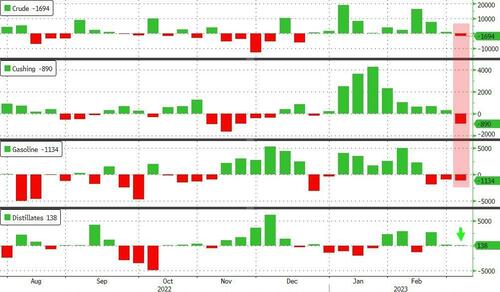 Source: Bloomberg
Cushing stocks dropped very modestly...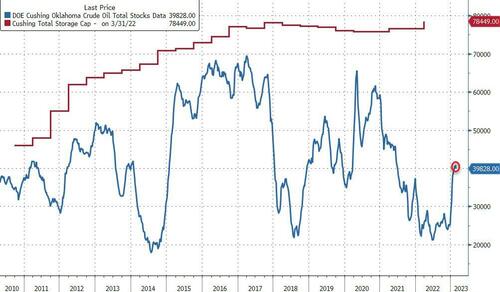 Source: Bloomberg
The constant ramp this year in total US crude stocks (ex SPR) came to an end this week...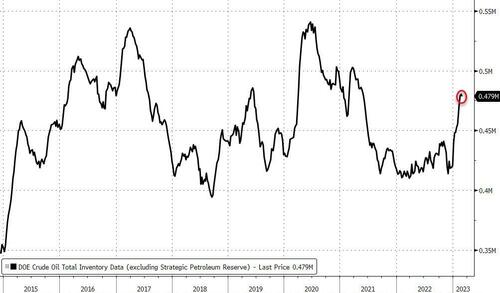 Source: Bloomberg
US Crude production fell modestly as the rig count declines...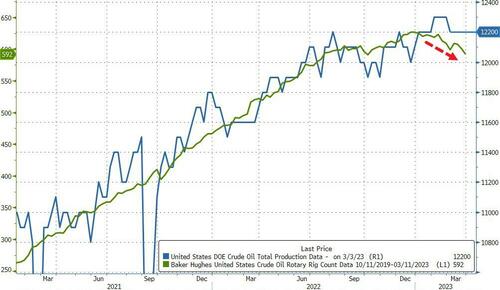 Source: Bloomberg
WTI was trading just below $77 before the official data hit and rallied after the draw.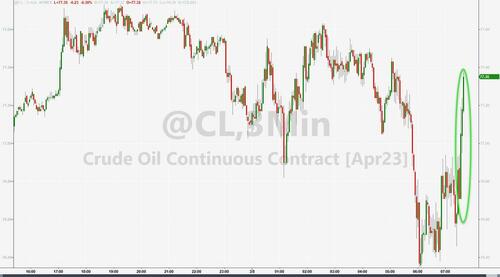 It appears we have an answer to our question of will the EIA un-fudge their ridiculous 'adjustment factor'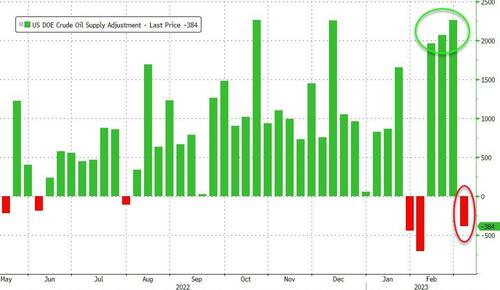 Shocked! a negative adjustment! The biggest weekly swing negative in history...
EIA Administrator Joe DeCarolis admitted that the EIA will make changes to its surveys to account for the light hydrocarbons, which will take time. The Administration will also change its accounting methods for crude oil blending to get more accurate data on U.S. crude oil production, Translation: Don't hold your breath for any significant change soon.
Loading...