---
WTI Slides After Crude Stocks Rise For 9th Straight Week To Highest Since June 2021
Oil prices are on the rise this morning - after 6 straight days lower - with WTI testing up to $76 despite API reporting another major crude inventory build.
"Oil prices remain lodged in rangebound territory and in search of acute near-term catalysts," RBC Capital Markets analysts including Michael Tran and Helima Croft said in a note.

"Trendless physical markets have been the story for months, indicating slack in the global system."
All eyes are once again on the official inventory and supply/demand data that has been 'odd' in recent weeks.
API
Crude +9.895mm

Cushing +481k

Gasoline +894k

Distillates +1.374mm
DOE
Crude +7.647mm (+3.8mm exp)

Cushing +700k

Gasoline -1.856mm

Distillates +2.698mm
US Crude stocks rose for the 9th straight week (and Cushing stocks rose for the 8th straight week). Gasoline inventories drew-down for the first time in 7 weeks while Distillates built...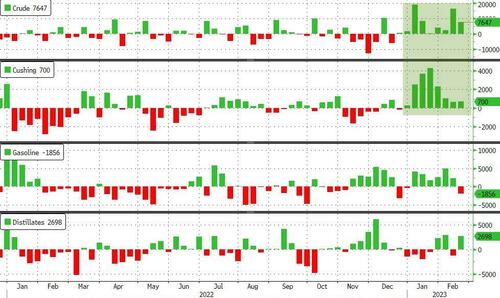 Source: Bloomberg
We do note however that there have been some wild swings in the 'adjustment' factor (fudge) in recent weeks...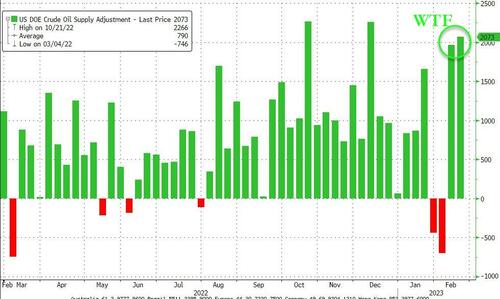 Total crude stockpiles are at their highest since June 2021...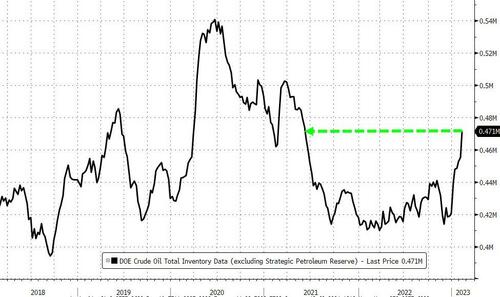 Source: Bloomberg
Since the start of the year, total crude stockpiles have risen by 57.6 million barrels, after taking account of the SPR withdrawals in the first weeks of 2023.
Cushing stocks rose back above 40mm barrels for the first time since June 2021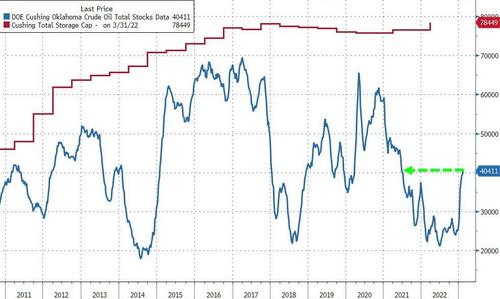 Source: Bloomberg
US Crude production rose to new cycle highs at 12.3mm b/d, despite the rig count rolling over...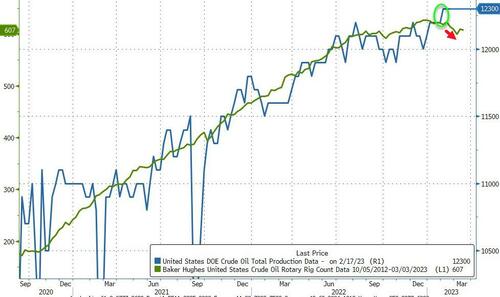 Source: Bloomberg
WTI was trading around $75.50 ahead of the official print and slipped lower on yet another build...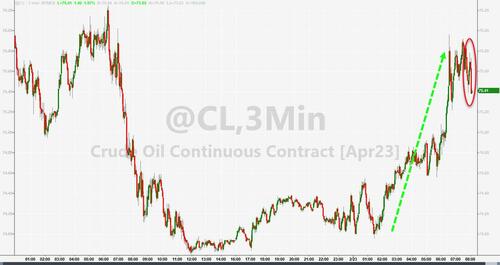 Bloomberg Intelligence Senior Oil & Gas Analyst Fernando Valle: "Hopes that returning China demand would support a recovery are fading, as consumption catalysts are having less of an impact than expected. We remain optimistic about long-term oil fundamentals due to the lack of investment in new supply and a view that growth in US shale oil will disappoint over the next few years."
Loading...