---
1 Killed, 5 Wounded During Portland Protest Of Police Violence
At least one person was killed and another five were wounded in a shooting during a protest in Portland over police violence. According to preliminary reports from the scene, the shooting took place Saturday night at Normandale Park in the Oregonian city following a "confrontation" between a protester and a nearby homeowner, both of whom were reportedly armed.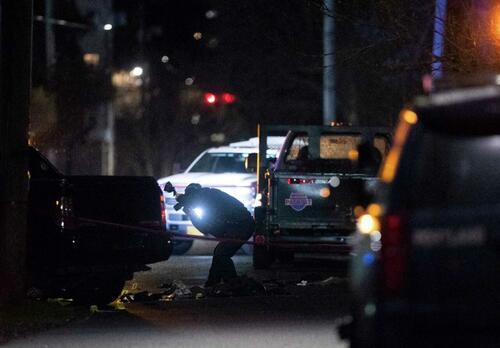 Police said the scene was "extremely chaotic" and that few witnesses agreed to speak with police: Responding officers found one woman dead, and two men and three other women were taken to the hospital.
Information about their conditions has not been released, and police have not named anyone involved in the shooting.
"The scene was extremely chaotic, and a number of witnesses were uncooperative with responding officers," the police department said in a statement released Sunday. "Most people on scene left without talking to police...This is a very complicated incident, and investigators are trying to put this puzzle together without having all the pieces."
Social media event postings show that the shooting occurred during a march that was planned for Amir Locke, a black man who had been fatally shot by police in Minneapolis. The protest was in a way reminiscent of the non-stop police protests during the summer of 2020 that led anarchists in the city to establish a police-free no-go zone. The nightly protests that summer "often spiraled into violence."
"I was sitting in the room talking to my wife, and all of a sudden you hear repeated gunshots," Jeff Pry, who lives in the area, told the New York Times.
In its wake, the city is now dealing with a rash of gun violence. While last year was marked by record-high numbers of gun violence in Portland, the number of shooting incidents during the first month of 2022 outpaced January 2021. During January alone, police recorded 127 shootings in the city.
The number of homicides in Portland last year surpassed the number in more populous cities such as San Francisco and Boston, and was more than double the number of slayings in nearby Seattle, which has a population of nearly 200K more people.  
Locke was shot while police in Minneapolis were executing a no-knock warrant on Feb. 2. The city's mayor, Jacob Frey, imposed a moratorium on no-knock warrants just a couple of days later.
Loading...