---
US Coronavirus Cases Pass 1.5 Million As Deaths Top 90k; Brazil Overtakes UK With World's 3rd-Largest Outbreak
Summary:
US case count passes 1.5 mil, deaths pass 90k
Brazil passes UK to become third largest outbreak
Cali gov says most businesses could reopen in next few weeks
Oregon judge rules against lockdown order
Texas Gov says state ready to begin "Phase 2" of reopening
Gov releases plan for businesses, bars & restaurants to reopen in parts of northern Mich.
UK reports fewer than 200 deaths
Britain adds "anosmia" to list of official COVID symptoms
Italy reports best numbers since March
Florida reports small uptick in new cases as more businesses reopen
Cuomo press conference begins
China imposes new anti-dumping duty on Australia as global trade wars heat up
WHO's Dr. Tedros pledges "transparency and accountability" as annual meeting of WHO members begins
Conn & Mass are last 2 states that haven't lifted any lockdown restrictions
108 million under lockdown in NE China
Beaches, parks reopen across US, Europe
New Zealand reopens schools Monday
Italy plans to reopen most restaurants & businesses by week's end.
New cases in Brazil, Russia slow as deaths accelerate
In US, all but 4 states have "partially reopened"
WHO annual meeting begins with keynote from President Xi
South Africa reports largest single-day spike in cases
* * *
Update (1834ET): Just days after overtaking Italy and Spain, Brazil has overtaken the UK as the world's third-largest COVID-19 hotspot, with ~254,000 cases reported.
The outbreak in Latin America's largest economy now accounts for ~13% of new cases reported globally on any given day, making it the world's fastest growing outbreak, even surpassing russia.
#Brazil is now the world's fastest-growing coronavirus hotspot, accounting for 13% of all new cases globally in the past week. Just days after it overtook Italy & Spain in total number of cases, Brazil is poised to claim the No. 3 spot from UK. https://t.co/aRIUMRBy9T pic.twitter.com/hGonBjM7jT

— Holger Zschaepitz (@Schuldensuehner) May 18, 2020
Meanwhile, in the US, the number of cases reported passed 1.5 million - with 1,504,386 according to JHU as of 630pmET - while the death toll has passed 90k, with 90,194 deaths reported.
And in California, Gov. Gavin Newsom said the state could reopen even more businesses over the next few weeks during his daily press briefing. Here's more on that courtesy of the Guardian.
Haircuts, in-person retail shopping, sporting events and religious services could be a reality again in some California counties in just the next few weeks, governor Gavin Newsom said Monday.

Newsom provided an optimistic outlook for the state in his daily briefing, where he modified the criteria that each of California's 58 counties must meet to reopen and join the state in phase two of coronavirus containment.

"We are looking forward in the next few weeks to a number of significant milestones," he said. "We expect if we hold the rate of transmissions, we hold the positivity rate down and continue to do justice to the number of hospitalizations, that we will be making announcements statewide."

Newsom had already allowed for local variance to phase two of the stay-at-home order - California, as a large state with diverse needs, had been hit by the virus unevenly, with some rural counties experiencing low rates of infection and others like Los Angeles county experiencing more than half the deaths in the entire state. While statewide, all retailers were allowed to reopen for curbside pickup, counties could also apply for looser restrictions, such as the go-ahead to reopen some offices, schools and dine-in restaurants. Those counties had to meet criteria such as no deaths in 14 days. Now, under the modified criteria announced Monday, in which counties have to show a rate of 8% positive tests over seven days and a hospitalization rate below 5%, Newsom believes that 53 of the state's 58 counties could move deeper into phase two if their public health officials so desired.
However, Newsom left enough wiggle room for LA County's "Dr." Barbara Ferrer to insist on making sure the largest county in the country is also the last in California to reopen.
He reiterated again that the decision was up to each individual county. "Just because we are creating the capacity and the availability to move into Phase Two doesn't mean every county is ready," he said. "LA County, as an example, I imagine, will be cautious in that respect."
In California, there have been a total of 78,839 positive cases and 3,261 deaths
Newsom started to soften on his insistence that the state wouldn't start reopening 'anytime soon' a couple of weeks ago, and since then, the state - which has fared far better than New York - has started easing restrictions, as we noted below.
Circling back to Brazil, of course, many suspect that Brazil's outbreak is much larger - possibly even the largest outbreak in the world - due to President Jair Bolsonaro's unwillingness to take it seriously.
* * *
Update (1730ET): In the latest indication that the legality of state lockdown orders might one day be considered by the Supreme Court,  a judge in rural Oregon on Monday afternoon ruled against Democratic Gov. Kate Brown's restrictions on people and businesses.
The Associated Press reports:
A judge in rural Oregon on Monday tossed out statewide coronavirus restrictions imposed by Democratic Gov. Kate Brown, saying she didn't seek the Legislature's approval to extend the stay-at-home orders beyond a 28-day limit.

Baker County Circuit Judge Matthew Shirtcliff issued his opinion in response to a lawsuit filed earlier this month by 10 churches around Oregon that argued the state's social-distancing directives were unconstitutional.

Brown said she would immediately seek an emergency review by the Oregon Supreme Court. Her attorneys asked the judge to stay his ruling until the high court could review the case, but he declined.

In a statement, Brown said: "The science behind these executive orders hasn't changed one bit. Ongoing physical distancing, staying home as much as possible, and wearing face coverings will save lives across Oregon."
Notably, the judge explained in a 7-page opinion that he based his ruling on the notion that the shutdowns imposed by the government were more damaging than the virus.
The lawsuit was filed weeks ago by a group of churches in the state. As the AP notes, several similar lawsuits are pending in other states.
In a seven-page opinion, Shirtcliff wrote that the damage to Oregonians and their livelihood was greater than the dangers presented by the coronavirus. He also noted that other businesses deemed essential, such as grocery stores, had been allowed to remain open even with large numbers of people present and have relied on masks, social distancing and other measures to protect the public.

"The governor's orders are not required for public safety when plaintiffs can continue to utilize social distancing and safety protocols at larger gatherings involving spiritual worship," he wrote.

Similar actions have occurred in other states.

The Wisconsin Supreme Court struck down Gov. Tony Evers' coronavirus stay-at-home order last Wednesday, ruling that his administration overstepped its authority when it extended it for another month without consulting legislators.

And a federal judge in North Carolina on Saturday sided with conservative Christian leaders and blocked the enforcement of restrictions that Gov. Roy Cooper ordered affecting indoor religious services during the coronavirus pandemic.

The order from Judge James C. Dever III came days after two Baptist churches, a minister and a Christian revival group filed a federal lawsuit seeking to immediately block enforcement of rules covering religious services within the Democratic governor's executive orders.

In Louisiana, a federal judge on Friday refused a minister's request to temporarily halt Gov. John Bel Edwards' stay-at-home order, which expired that same day.
Brown is planning to appeal the decision, which means a decision by the state Supreme Court can be expected in the coming days.
* * *
Update (1535ET): As several major Texas newspapers reported earlier on Monday, Texas Gov. Greg Abbott announced the latest wave of reopenings as the state enters "Phase 2" of its economic revival. Here's a summary of the new reopenings, effective Monday, courtesy of the Austin American-Statesman.
The latest wave of limited reopenings, effective Monday, were of gyms, office space and factories.

Gyms and exercise facilities and classes can operate up to 25 percent of capacity. Locker rooms and shower facilities must remain closed, though restrooms may open.

Office buildings may resume limited operations at 25 percent capacity, as long as they follow social distancing requirements.

Likewise, non-essential manufacturing facilities may now resume operations at up to 25 percent capacity while following health guidelines.

Abbott let his stay-at-home order expire at the end of April, and reopened restaurants, churches, malls, retail stores and some other businesses with limited capacity.
It's just the latest reopening-related announce on a day that has seen its fair share, including Michigan Gov Whitmer's announcement, which we covered below.
* * *
Update (1430ET): Following weeks of demonstrations featuring armed protesters demanding that Gov. Gretchen Whitmer lift her 'stay at home' order, which has subjected businesses operating illegally to serious penalties. And amid a mounting pile of data showing that - contrary to critics like the NYT, Robert Reich and the rest of the MSM/Democratic Party complex - most of the reopenings in Georgia and elsewhere haven't triggered the spike in new cases and deaths that many had feared.
The governor announced on Monday that retail businesses in northern parts of Michigan, including bars and restaurants, would be able to reopen Friday as the number of coronavirus-related cases and deaths continues to decline rapidly across the state. The governor signed an executive order laying out her plan, which includes expanding "worker protections" as the reopening progresses.
BREAKING: Whitmer announces reopening of retail businesses in much of northern Michigan starting Friday, including bars & restaurants. They must be at 50% capacity. Affects MERC regions 8 and 6 - the UP and 17 counties in lower northern LP (including Traverse City)

— David Eggert (@DavidEggert00) May 18, 2020
Governor Whitmer Signs Executive Order Expanding Worker Protections as Michigan Reengages Sectors of the Economy pic.twitter.com/efEdQKHBna

— Kyra Harris Bolden (@KyraHBolden) May 18, 2020
Crucially for owners, the reopening comes just ahead of the Memorial Day weekend. Bars and restaurants will be allowed to operate as long as they remain under 50% capacity, and offices where work is done which can't be done remotely can also reopen, subject to social distancing rules, the governor said.
Lodging will continue to be closed for now. People will also still be required to wear masks and take every effort to keep a six feet away from others. But it still represents a significant move forward.

"We're seeing it's safe to take this step at this time," Whitmer said during the briefing.

"In some regions of the state, they've just not been hit as hard," she added. But she warned that people still need to keep their distance and that local officials may enforce more strict rules — such as requiring outdoor seating at bars and restaurants — if they deem it necessary.
Child care will be allowed in order to help parents return to work.
It remains unclear when other more densely populated parts of the state - particularly the area in and around Detroit where auto factories have started back up - will see reopening conditions expanded.
For what it's worth, the governor has divided the state into 8 "zones" to allow for more closely tailored decisions, according to the Detroit Free Press.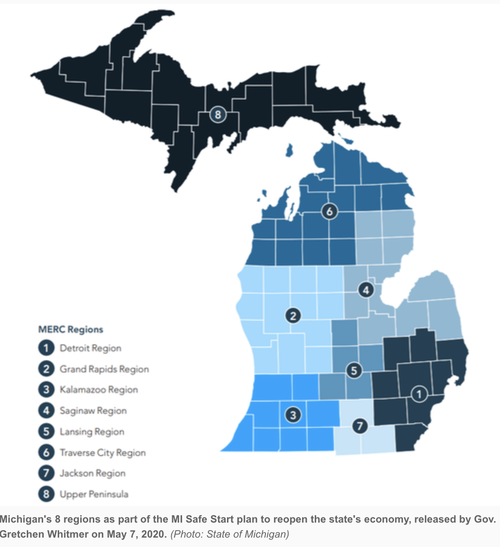 * * *
Update (1230ET): The UK has reported its latest numbers...
As of 9am 18 May, there have been 2,682,716 tests, with 100,678 tests on 17 May.

1,887,051 people have been tested of which 246,406 tested positive.

As of 5pm on 17 May, of those tested positive for coronavirus, across all settings, 34,796 have sadly died. pic.twitter.com/NBITYqZlrS

— Department of Health and Social Care (@DHSCgovuk) May 18, 2020
Notably, deaths declined for a second day, with the daily total back below 200.
Additionally, the Department of Health and Social Care officially added "Anosmia" - the loss of or change to a person's sense of smell - to its official list of COVID symptoms. It added in a statement that "it can also affect your sense of taste as the two are closely linked."
From today people should self-isolate if they develop a new continuous cough or fever or anosmia.

We have been monitoring emerging symptom data on COVID-19 and adding anosmia slightly increases sensitivity, and may lead to earlier isolation. https://t.co/LnhGrVEyEm

— Professor Chris Whitty (@CMO_England) May 18, 2020
The Chief Medical Officers for the four nations of the UK endorsed this expansion of the recognized symptoms, saying they "have been closely monitoring the emerging data and evidence on Covid-19 and, after thorough consideration ... are now confident enough to recommend this new measure," according to CNN.
* * *
Update (1220ET): Italy's Civil Protection Service has just reported the latest numbers as more businesses reopen and life returns to some semblance of normal across Italy, though Italian society is only just beginning to heal from what was a devastating outbreak. The country saw just 451 new cases of coronavirus and 99 new deaths - new lows for both since the early days of the outbreak.
Hospitalizations and the number of patients in the ICU continued to fall, while the number of patients who recovered outpaced the number of new diagnoses once again. The new numbers brought the totals of 225,886 cases and 32,007 deaths. The data (reported with a 24 hour lag) mark the first time since March 9 that Italy has reported fewer than 100 deaths.
* * *
Update (1120ET): Gov Cuomo will deliver his daily press briefing at 1130ET. Watch live below.
Additionally, Florida reported another slowdown in new cases as the state Department of Health confirmed 854 additional cases of COVID-19 statewide Monday morning as more approved businesses across the state reopened for the first time since Gov DeSantis authorized the lockdown, the Miami Herald reports.
The state now has a total of 46,442 confirmed cases. There were also 24 new deaths announced, inching the statewide death toll closer to 2,000. The toll is at 1,997.
* * *
Update (0945ET): As we reported earlier, nearly all US states have at least partially lifted the lockdown measures imposed nearly 2 months ago. One map we noted below showed that just four states were classified as "pre-lift" (since NJ and NY have only just lifted restrictions in some areas, while others will probably be among the last areas in the country to reopen).
Now, CNN reports that really only two states have so far refused to lift any restrictions: the New England States of Connecticut and Massachusetts. While both states are typically blue-leaning, Massachusetts is currently led by a Republican governor, while Connecticut's Democratic Gov Ned Lamont has promised to start lifting restrictions this week.
But what's even more notable: In a piece published on its website on Monday, even CNN was forced to acknowledge that most US states haven't seen the spike in cases that liberal 'blue checks' on twitter have been screaming about for weeks. The three states that have seen the biggest improvements include New Jersey, Missouri and Idaho, while the states that have seen the "biggest increases" have only seen infection rates climb by 1 or 2 persons per 100,000.
Still, CNN hypes of the 'stay home, save lives' angle whereever it can, even as it acknowledges that cases in Georgia have been mostly flat as the state has reopened, despite an acceleration in testing.
And in New York State, Andrew Cuomo is now chastizing residents for being "too lazy" to get tested. A little more than a month ago, he was urging residents that they didn't need to be tested unless they had rapidly worsening symptoms (despite the fact that researchers suspect up to 47% of patients have few or no symptoms).
It's quick, easy and painless. If I have time, you do too. pic.twitter.com/0ANntppYVK

— Andrew Cuomo (@NYGovCuomo) May 17, 2020
It's almost as if Democrats' complaints about severely limited testing supplies were a political ploy to bash the president that has now sown confusion, as most members of the public are probably still under the impression that tests are scarce and should be reserved for those who are obviously ill.
Meanwhile, earlier this morning, the WHO's Dr. Tedros pledged to deliver "transparency and accountability" on his organization's handling of the pandemic, and insisted that the world must invest in the WHO to "strengthen" the organization, as it's the only NGO that does what the WHO does, playing a critical role in the global health care system. Meanwhile, last night, Axios reported that Trump was leaning toward implementing the entirety of the previously-announced cuts to the US's spending on the WHO, after saying on Saturday that the US might restore some funding.
In its latest act of aggression toward defiant American allies insisting on an investigation into the early days of the outbreak, China announced a new anti-dumping duty rate of 73.6% and anti-subsidy duty rate of 6.9% on barley imported from Australia, after "an investigation found Australian barley hurt the local industry," according to China's Ministry of Commerce. It's just the latest sign of rising trade tensions related to the 'China decoupling' theme. Australia and the EU are joining the US in pushing for an investigation into the early days of the pandemic in China, something President Xi said he'd support a "comprehensive review" once the pandemic has been "controlled". Few believe him, however, as China has grown more secretive and uncooperative about sharing information related to the early days of the outbreak.
* * *
With two weeks left in May, the pace of deaths across the US has slowed substantially, a reflection of the progress made by the worst-impacted states like New York, Michigan, New Jersey, California and Washington State, and - importantly - a repudiation of the alarmist forecasts published by the NYT earlier this month calling for the rate of US COVID-19-linked deaths to hit 3,000/day. Yesterday, the US reported just 808 deaths (remember, these data are reported with a  24-hour lag) according to data provided by Johns Hopkins University.
As of Monday morning, the US had confirmed 1,486,742 cases (with thousands of patients likely going undiagnosed) and 89,564 deaths, placing it on track to surpass 90k deaths by the end of today.
Reported US coronavirus deaths on date:

Feb. 17: 0 deaths
Mar. 17: 111 deaths
Apr. 17: 37,054 deaths
May 17: 89,562 deaths

— Ryan Struyk (@ryanstruyk) May 18, 2020
Meanwhile, as outbreaks in Russia and Brazil continue to rage, both countries have officially counted hundreds of thousands of additional cases over the last 2 weeks. The two countries, which boast the No. 2 (Russia) and No. 4 (Brazil) highest 'official' case counts in the world, are approaching the problem from different angles: In Russia, President Putin is ratcheting up lockdown and social distancing measures, while Brazil - under President Jair Bolsonaro, who has dismissed the virus as "a little flu" - continues to reopen its economy to the consternation of its neighbors.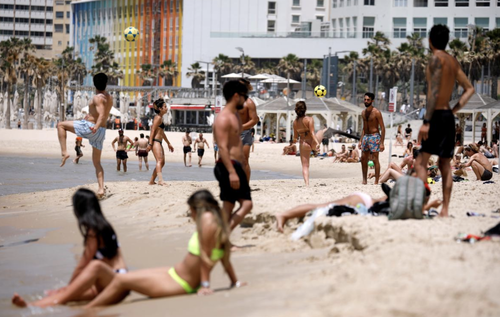 The death toll has ballooned in the South American nation to 16,118 as of Monday morning in the US, the 6th-highest rally in the world. Two weeks ago the death count was 7,025. On Sunday, Brazil reported 485 additional deaths and 7,938 more cases. That was after Brazil on Saturday reported 816 more deaths, second only to the US with 1,218, and more than 14k additional cases. The numbers pushed Brazil past Italy and Spain on the ranking of hardest-hit countries. Brazil's "official" tally was 241,080, though with testing rates that lag far behind Europe, many suspect the accurate number is much higher.
While most of the US and Europe have continued to reopen, Chile's capital city Santiago was locked down on Sunday following a resurgence of new cases and deaths linked to the virus.
VIDEO: With near-deserted streets and police checks, the seven million people of Chile's capital, Santiago, began a strict quarantine Saturday after a sharp resurgence of coronavirus cases pic.twitter.com/4XMd8abl5C

— AFP news agency (@AFP) May 18, 2020
Russia said Monday that it recorded 9,000 new coronavirus cases over the last 24 hours, the lowest level since early May (the country was reporting more than 10k cases a day). Health officials reported 8,926 new infections in the last 24 hours, bringing the country's total to 290,678, the second-highest in the world after the US. It was the lowest number of new virus cases since May 1, when Russia announced 7,933 cases, according to the Japanese Times.
A little further south in New Zealand, hundreds of thousands of children were preparing to return to school on Monday after a 2-month 'home education' break.
Hundreds of thousands of New Zealand children returned to school Monday after two months of home education as part of a COVID-19 lockdown, according to the AFP. With a population of 5 million, NZ recorded just 1,149 cases of the virus and 21 deaths, attributed to a strict lockdown adopted in March. Most of NZ's lockdown measures ended on Thursday.
Back in the US, as more states start the process of reopening, Apple is planning to reopen more than 25 of its branded stores in the US, according to a Reuters report. The company said on Sunday that by the end of the week, 1/5th of its retail stores worldwide will have reopened.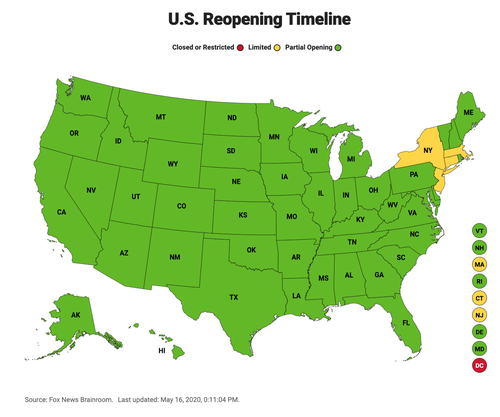 Yesterday, we reported that tens of millions of Chinese in the northeastern part of the country had been placed under lockdown again following a new outbreak near the border with Russia. Apparently, that number was way off: Right now, some 100 million Chinese are back under lockdown.
Some 108 million people in China's northeast region are being thrown back under lockdown as a new cluster of #coronavirus infections emerges.

More @business: https://t.co/BK01JErhCY #Covid_19 pic.twitter.com/NxkC12nJ9c

— Bloomberg QuickTake (@QuickTake) May 18, 2020
Some 108 million people in China's northeast region of Jilin are back under lockdown conditions, BBG reports, in "an abrupt reversal of the re-opening taking place across the nation, cities in Jilin province have cut off trains and buses, shut schools and quarantined tens of thousands of people." The strict measures have dismayed many residents who had thought the worst of the nation's epidemic was over.
People "are feeling more cautious again," said Fan Pai, a worker in Jilin. "Children playing outside are wearing masks again" and health care workers are walking around in protective gear, she said. "It's frustrating because you don't know when it will end."
Meanwhile, according to another Reuters report, beautiful summer weather across the northern hemisphere is enticing millions of people in virus 'hot spots' from NYC to the mediterranean coasts of Italy and Spain to visit public parks and beaches, making them the primary centers of recreation in the COVID era.
Most cities and towns have adopted new precautions to prevent the virus from spreading. Many individuals are choosing to keep their distance and wear masks. Greeks flocked to beaches on Saturday as more than 500 beaches reopened, coinciding with temperatures of 34 Celsius (93.2 Fahrenheit).
As the number of new cases accelerates rapidly across Africa, stoking fears about new 'hot spots', South Africa reported its highest single-day jump in reported coronavirus cases on Sunday, with an increase of 1,160 infections, according to the country's National Department of Health. That brings the total number of cases to 15,515, with the Western Cape province accounting for ~60% of that total.
In Brooklyn's Domino Park, white circles were painted on the lawn to help sunbathers and picnickers keep a safe distance. About half the people in the park appeared to be wearing some form of face covering as they congregated in small groups on a warm Saturday afternoon, as cops in masks kept watch.
In Italy, many restaurants, bars and cafes have reopened now that Italy has seen daily deaths drop to levels not seen since the early days of the pandemic.
Italy's restaurants, bars and cafes among businesses allowed to reopen as country records lowest single-day Covid-19 death toll since its two-month lockdown began pic.twitter.com/IeEIGFEUSn

— TRT World Now (@TRTWorldNow) May 18, 2020
After releasing consumer-goods pricing data that hinted at a wave of destabilizing deflation headed China's way, the mainland press has been searching far and wide for "foreign" experts to reassure the Chinese people that China's economy will hit its pre-COVID growth benchmarks, just like President Xi said.
The Chinese economy is resilient enough to keep its growth rate despite the impact brought by the #COVID19 pandemic: Egyptian experts pic.twitter.com/6LmNG913P8

— China Xinhua News (@XHNews) May 18, 2020
As we reported last night, the WHO is holding a two-day annual meeting starting Monday. Chinese President Xi Jinping delivered the keynote address on Monday while members battle over whether to authorized an investigation into the early days of the outbreak in Wuhan, as well as pushing for Taiwan to be made a full member of the organization over the rapid resistance of the CCP.