---
13-Year-Old Palestinian Shoots 2 Israeli Settlers As Tit-For-Tat Killings Spiral
Two settlers were critically injured in a shooting near Silwan in east occupied Jerusalem on 28 January, Israel's paramedic service said. According to Hebrew media reports, the two settlers were a father and son who were volunteers with Israel's Magen David Adom emergency service.
The Magen David Adom service reported that its medics had treated two individuals on Maalot Ir David Street near the east Jerusalem neighborhood of Silwan before transporting them to Shaare Zedek Medical Center.
📹 متابعة صفا | اللحظات الأولى لتنفيذ عملية إطلاق النار في بلدة سلوان بالقدس والتي أسفرت عن إصابة مستوطنين اثنين pic.twitter.com/cSDwKxD5SU

— وكالة صفا (@SafaPs) January 28, 2023
The two males were identified as 23-years-old and 47-years-old, and are reportedly in serious yet stable condition, the hospital said. According to the paramedics, they both sustained gunshot wounds to the upper body.
The shooter was identified as 13-year-old Mohammad Alaywat. He was "neutralized and injured" a police spokesman told Israeli army radio, and is reportedly in Israeli custody.
"The Jerusalem District Police and border police fighters arrested 42 suspects — some of them from the terrorist's (immediate) family, relatives and (neighbors)," a police statement said. Alaywat's family, however, have made a statement denying that he was behind the shooting, possibly in fear over his safety.
The attack comes in the aftermath of a deadly east Jerusalem shooting carried out by 21-year-old Khairi Alqam in the Neve Yaakov settlement, just one day earlier. The Neve Yaakov shooting left 10 Israeli settlers dead and several injured in what is being described as the worst attack against Israelis in over a decade.
Surveillance footage shows the moment Mohammed Aleiwat, 13 years of age, opened fire on settlers in Silwan, occupied Al-Quds. One settler wielding a rifle was directly wounded. Aleiwat was only lightly wounded and is receiving medical attention while under investigation. pic.twitter.com/mCRaCA5mBb

— Resistance News Network (@ResistNewsNet) January 28, 2023
The Neve Yaakov attack was a direct response to a massacre committed by Israeli troops at the Jenin refugee camp, in the occupied West Bank, on January 26. Following the massacre, militant factions fired two rockets into Israel, which were subsequently met with Israeli airstrikes on the besieged Gaza Strip.
On 28 January, Israeli police declared that the 'national alert' has been raised to the 'highest level' all across the occupied territories and West Bank.
Yesterday's attack at the Neve Yaakov settlement was described by the resistance as a 'natural response' to Israeli violence and oppression, and "is a field message to the extremist Ben Gvir and the occupation government," the Palestinian Islamic Jihad (PIJ) said in a statement on January 27.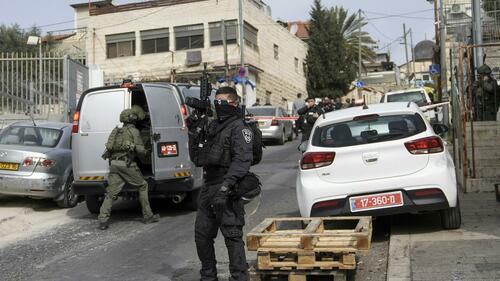 Before Saturday's incident, Israeli National Security Minister Itamar Ben Gvir made a call to "arm all Israelis," and vowed a retaliatory Israeli operation across east Jerusalem in response to the Neve Yaakov shooting, suggesting that an even further escalation of tensions may soon commence.
Loading...