---
179 Soldiers Freed In Significant Ukraine-Russia Prisoner Swap
One rare positive development amid the tragic darkness and death of the Ukraine war is that prisoner swaps have now become routine. 
Many dozens of POWs have been freed in the latest Saturday exchange, both sides have confirmed, with the Ukrainian presidency's office saying 116 Ukrainians were freed. On the Russian side, the defense ministry said that 63 of its troops had been returned, some among them likely high profile - meaning 179 prisoners freed in total during the swap.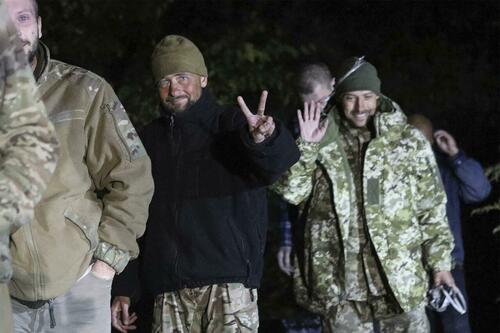 Russia indicated that some among these were deemed "special category" prisoners - perhaps higher ranking officers or even intelligence operatives, following a deal that was mediated by the United Arab Emirates.
"The intelligence confirms to us that including today, this is the 37th prisoner swap that has taken place since the war began last year," a Zelensky advisor announced from Kiev.
"In that time, prisoners have been swapped in their hundreds. At least 1,646 Ukrainian prisoners have been released, according to officials in Kyiv," he said.
Additionally, "He said the released POWs include troops who held out in Mariupol during Moscow's monthslong siege that reduced the southern port city to ruins, as well as guerrilla fighters from the Kherson region and snipers captured during the ongoing fierce battles for the eastern city of Bakhmut," according to the Associated Press.
One international war correspondent observed in the wake of the swap, "We've seen in the last few months that these releases have become routine."
And yet, neither side appears ready to come to the negotiating table for ceasefire talks - despite recent rumors that the US may have been pushing a significant compromise plan centered on territorial concessions behind the scenes - though these reports have been denied from all sides.
But the now 'routine' mediated dialogue for prisoner swaps could provide a future opening at the point at which direct talks become more realistic; but that could be at least months or even years away at this point as the fighting for the east and south grinds on.
Loading...