---
5 Americans Freed From Iran Prison As US Hands Over $6BN In Controversial Deal
The five American citizens (dual nationals) who had been imprisoned in Iran are on their way toward freedom, having been flown from Tehran to a Doha airport where they will be swapped for two Iranians who had been imprisoned in the US. "Simultaneously, the three other Iranian prisoners who lived in the US have been freed," Iran's Nournews said. Axios has also confirmed the Americans have been freed from Evin prison.
On Monday two Qatar banks received the transfer $6 billion in frozen Iranian money from South Korea via the SWIFT international payment system. The Biden administration had issued a sanctions waiver to make it happen without running afoul of US law. Amid the swap unfolding, news wires are reporting this unexpected development: 
BIDEN SANCTIONS FORMER IRAN PRESIDENT AFTER PRISONER SWAP: AFP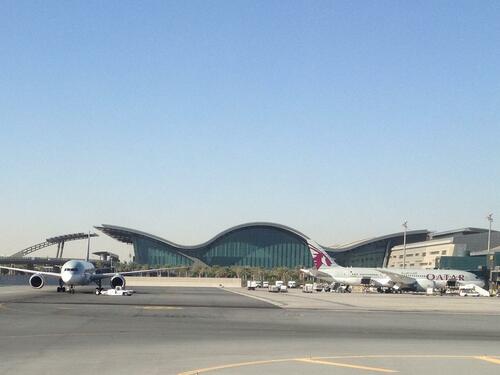 Facing criticism from Iran hawks among Republicans in Congress, a senior Biden admin official sought to defend the release of the billions back to Iran, telling The Wall Street Journal that "The alternative is these Americans never come home."
According to a review of the identities of these freed Americans, all who also hold Iranian citizenship, they were all arrested on espionage related charges over the past several years:
Among those released are Siamak Namazi, who was arrested in October 2015 on a business trip to Iran on charges of cooperating with a hostile government; environmentalist Morad Tahbaz, who was jailed in 2018 and has served five years of a 10-year sentence after being convicted of spying; and businessman Emad Shargi, who was arrested in 2018 and sentenced without a trial in 2020 to 10 years in prison for espionage. All three are dual U.S. and Iranian nationals. Tahbaz also holds British nationality. 

Two more people, including at least one woman, were also released, but have asked that their identities remain private. The family members of two of the detainees, both of whom had been prohibited from leaving Iran, were also allowed to depart with the five detainees, administration officials said.  
Washington has long accused the Islamic Republic of using trumped-up spy charges to hold Americans as bargaining chips. Tehran has at the same time accused the US of 'piracy' and theft for seizing its sovereign assets internationally, and for stealing oil.
In recent years Qatar has often played mediator in high-level prisoner exchanges, such as the US-Russia deal which freed WNBA star Brittney Griner in exchange for arms dealer Viktor Bout. Qatar in this new swap is charged with ensuring the newly released funds are spent on goods not subject to sanctions, such as food and medicine. 
But Iranian President Raisi has defiantly told his population that the government will spend it as it sees fit, having complete ownership of its own assets.
Former U.S. Defense Secretary Mark Esper to Neil on Iran prisoner swap deal: "It is not just a swap. It is a ransom payment" pic.twitter.com/s4sfD3DbbF

— Neil Cavuto (@TeamCavuto) September 16, 2023
According to The Guardian, "The path to the swap reached a turning point when the state department agreed a waiver facilitating the release of the cash from South Korean banks to accounts in Switzerland and Doha."
As for logistics, the same report details, "The five Americans have already been transferred out of Evin jail in Tehran to various hotels in the capital. They are due to be flown initially to Doha before flying to the US for a homecoming." The airport tarmac swap is likely to be less dramatic than the Griner-Bout swap, and footage of the event is probably not going to be made public.
Loading...