---
60 Percent Of Americans Say China A Bigger Threat Than Russia: Poll
Authored by Ryan Morgan via The Epoch Times (emphasis ours),
About 60 percent of Americans surveyed in a new Quinnipiac University Poll have listed China as a bigger threat to the United States over Russia.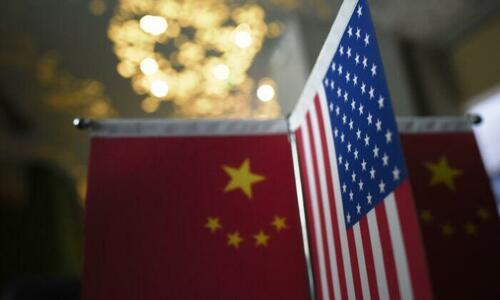 The poll, which was conducted between March 9–13, asked 1,795 American adults about their views on a range of political topics. One question asked respondents to identify who they consider the greatest threat to the United States among the countries of China, Russia, North Korea, Iran, Venezuela, and Cuba.
A majority of 61 percent viewed China as the biggest threat to the United States, while 22 percent said Russia. Eight percent of respondents said North Korea poses the biggest threat and two percent said Iran. Less than a percent of respondents identified Venezuela or Cuba as the top threat, while three percent of respondents volunteered an unlisted option and four percent said they did not know.
China was the top concern for respondents across party lines. 79 percent of Republicans, 64 percent of independents, and 47 percent of Democrats selected China as the leading threat to the United States.
By contrast, 38 percent of Democrats, 18 percent of independents, and 10 percent of Republicans saw Russia as the leading threat.
The Quinnipiac findings are similar to those from a recent Gallup poll, which showed that 50 percent of U.S. respondents considered China the biggest threat to the United States, compared to 32 percent who said that Russia was the bigger threat. That Gallup poll found even broader negative views of China, with more than eight in ten Americans expressing unfavorable views of the country.
China and TikTok
U.S. officials have shared increased concerns over China and its ruling communist party in recent months.
In February, U.S. officials decried the transit of a Chinese high-altitude balloon over U.S. airspace, alleging the balloon was one of several recent efforts by the Chinese government to spy on the United States.
U.S. officials have pointed to the popular social media app TikTok as another avenue for Chinese government actors to surveil Americans. TikTok is owned by a Chinese parent company called ByteDance.
Multiple reports have indicated that TikTok and ByteDance employees can and have accessed U.S. user data from China.
FBI Director Christopher Wray has also warned that TikTok could be used to conduct influence operations against U.S. citizens, manipulating users' content to promote views favorable to the ruling Chinese Communist Party (CCP).
The new Quinnipiac University poll found that a 49 percent plurality of U.S. respondents preferred banning the app in the United States, while 42 percent opposed a ban. Nine percent said they don't know whether either way where they stand on a ban.
Views on the proposed TikTok ban differed with respondents political views: 64 percent of Republicans and 50 percent of independents said they support a ban on TikTok. A 51 percent majority of Democrats opposed a ban on the app, while 39 percent supported said they support a ban.
Read more here...
Loading...