---
7 Marines, 1 Sailor Presumed Dead After Amphibious Vehicle Rare Accident Off California
Seven US Marines and one sailor are presumed dead after an accident during military training maneuvers off the coast of Southern California. 
The First Marine Expeditionary Force, based out of Camp Pendleton, made the grim announcement late Saturday after what it described as an extensive 40-hour search.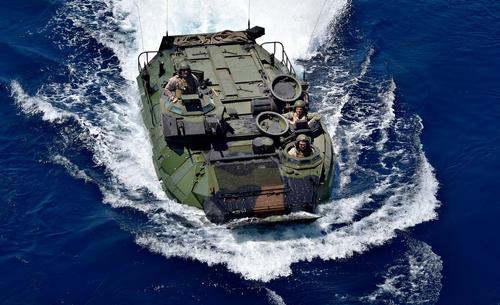 The search and rescue efforts were underway since Thursday, when a total of sixteen personnel were inside an amphibious assault vehicle when it began taking on water and sank off the coast of San Clemente, California.
Among eight Marines rescued, one later died of injuries, with two more in critical condition. As of Saturday, the search was called off.
The amphibious vehicle was said to be than 1,000 meters off shore, traveling back to a larger ship.
The New York Times reported:
Two nearby amphibious assault vehicles witnessed it sink and were able to pinpoint its exact location, General Berger said.

"The adjacent A.A.V.'s watched it go down, and at 26 tons, the assumption is that it went down to the bottom," Lt. Gen. Osterman said.
The accident is highly unusual and an investigation is underway. Given the design of A.A.V.'s, it appears that once the vehicle began rapidly taking on water, it trapped the majority of personnel inside.