---
71 Chinese Military Aircraft Cross Taiwan Strait Median Line To Kick Off 3-Day 'Encirclement Drills'
China has begun three days of military drills around Taiwan and in the Taiwan Strait as its direct response to Taiwanese President Tsai Ing-wen's meeting with US House Speaker Kevin McCarthy in California held days ago.
Parts of the drills are expected to extend up to 12 days. WSJ notes that this is what greeted the return of Tsai to her home: "Hours after President Tsai Ing-wen returned to Taiwan on Friday night, Chinese maritime safety authorities said the country's navy planned to conduct seven live-fire exercises over the course of 12 days off the coast of Fujian province, which faces Taiwan, starting Saturday morning."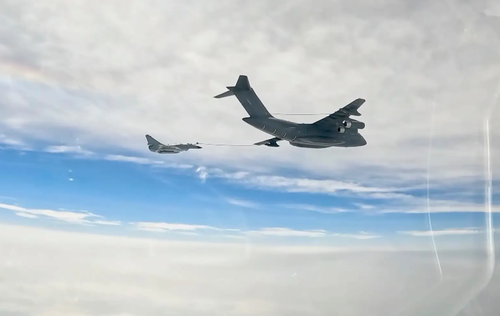 While the Wednesday meeting with McCarthy was presented by the allies as a show of democratic solidarity, Beijing had warned of "resolute measures" while deploying an aircraft carrier strike group off the self-ruled island's coast.
Early Saturday, China launched live-fire "combat readiness patrols" until April 10, according to a statement from the People's Liberation Army's (PLA) Eastern Theatre Command. The drills are called United Sharp Sword and expand in scope from the north to south of the island, utilizing air and sea, particularly airspace to Taiwan's east, the statement indicated. 
The drills have already involved on Saturday a whopping 71 Chinese military aircraft crossing the sensitive median line of the Taiwan Strait, Reuters confirms.
"This is a serious warning to the Taiwan independence separatist forces and external forces' collusion and provocation, and it is a necessary action to defend national sovereignty and territorial integrity," the PLA said.
New video on the first day of PLA encirclement drills around the island of Taiwan includes participation of:
-J-16 fighter jets
-Y-8 anti-submarine aircraft
-H-6K bombers
-Type 054A frigates
-DF-15 conventional ballistic missiles https://t.co/HKYnyMoFe8 pic.twitter.com/aU46GKptIK

— Global Times (@globaltimesnews) April 8, 2023
The Shandong aircraft carrier, now in waters near Taiwan, was actually dispatched there hours prior to the Tsai-McCarthy meeting taking place. China had urged for the meeting to be called off, saying in an initial Wednesday statement it is "not conducive to regional peace, security and stability," while warning it will "undermine the political foundation" of China-US relations.
The White House had retorted that Beijing not to 'overreact' - with NSC spokesman John Kirby saying Wednesday, that there's "no reason for China to overreact to the McCarthy-Tsai meeting".
The Chinese Maritime Safety Administration had initially announced on the same day "special joint patrol and inspection" drills in the central and northern parts of the Taiwan Strait.
Meanwhile in an additional fresh Chinese Foreign Ministry statement, the United States has been urged to "stop containing China by exploiting the Taiwan issue" and "not go further down the wrong and dangerous path."
🇨🇳🇹🇼💥 CHINESE WARSHIP STARTS LIVE-FIRE DRILLS NEAR TAIWAN

A Chinese warship in seas facing the Taiwan Strait began live-fire drills on Saturday as Beijing began military exercises it calls a warning against what it considers pro-Taiwan independence forces.

Drills to the north,… pic.twitter.com/XWxGAixHkQ

— PiQ (@PriapusIQ) April 8, 2023
According to a number of international reports, these new drills are not expected to be as large-scale as last August's encircling drills in the wake of Nancy Pelosi's visit to Taipei, which was seen as the biggest single US provocation in years.
"Analysts said the initial more muted reaction to the Tsai-McCarthy meeting could have been because it took place in the US, or because it coincided with a visit to Beijing by French President Emmanuel Macron and European Commission President Ursula von der Leyen," Al Jazeera writes. "The PLA drills began hours after Macron and von der Leyen, whose focus was the Ukraine crisis, had left."
Loading...