---
72-Hour Ceasefire Declared In Sudan As Death Toll Surpasses 400
One of Sudan's two warring factions, the paramilitary Rapid Support Forces (RSF), has on Friday declared a 72-hour ceasefire following almost a week of fighting to take control of the country.
But there are reports that despite the truce declaration, armed clashes have persisted north of the capital of Khartoum. The other side, the Sudan Armed Forces (SAF), had not immediately confirmed whether it recognizes the ceasefire.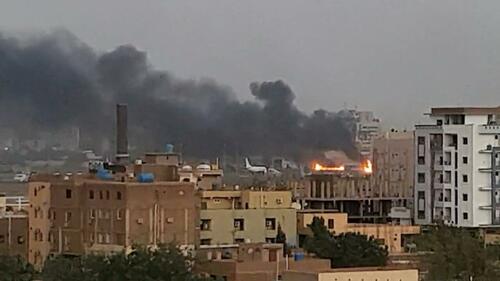 Fighting broke out last Saturday, and is fundamentally a power struggle between rival generals representing the two factions, and has largely been confined to the capital, but threatens to engulf the rest of the country.
The World Health Organization (WHO) meanwhile announced a fresh death toll Friday, saying at least 413 people are confirmed killed and 3,551 wounded or injured.
The situation has continued to deteriorate over the past days, also as the Pentagon said it is moving troops in place in the region in preparation to execute a potential emergency evacuation order. US diplomats and embassy staff are still said to be sheltering in place. 
The International Committee of the Red Cross (ICRC) has also said it can't deliver urgent aid due to lack of security guarantees and potential for its workers to be subject to violence.
Sudan Crises: Rapid Support Forces have taken Over the Radio and Television official Media House in Sudan. pic.twitter.com/NOrXmTyb4c

— Zagazola (@ZagazOlaMakama) April 21, 2023
"Our urgent priority is to get medical assistance to more hospitals and to work to make repairs to their water and power infrastructure. We are ready to deliver more supplies as soon as there is a pause in the fighting," the president of the ICRC Mirjana Spoljaric said.
The ceasefire offered by the RSF appears to be because of Muslim holiday of Eid al-Fitr, which marks the formal end of Ramadan, and began Friday.
Within 24 hours since Elon Musk removed the legacy blue ticks, someone has set up a fake account for Hemedti's Rapid Support Forces in #Sudan, bought a blue tick, and tweeted that Hemedti has been killed in the ongoing fighting.

Twitter gone wild. https://t.co/tlyc2U47tn

— Sami Hamdi سامي الهاشمي الحامدي (@SALHACHIMI) April 21, 2023
The weeklong running street battles, which have at various points included reports of warplanes deployed, have pit the Sudanese Armed Forces (SAF) led by General Abdel Fattah al-Burhan against the Rapid Support Forces (RSF) of General Mohamed Hamdan Dagalo -- who's also known as Hemedti and has served as Burhan's deputy head of state.
Loading...