---
After Nearly 150 Days Of Lockdown, Argentina's COVID-19 Outbreak Is Deadlier Than Ever
With the reform-minded business-friendly conservatives out, and the Peronistas back in power in Argentina, one of South America's biggest and most troubled economies is struggling to get back on its feet, bolstered by the promise of more rope from the IMF and the country's other creditors, despite arriving at its 3rd default in 20 years, and its 9th in history - the most of any country.
This unfortunate reputation has led some to joke that only three things in life are certain: death, taxes and another Argentinian sovereign default.
But as the country prepares for yet another refinancing thanks to the IMF, the government has revealed that the country's already damaged economy has been absolutely hammered by one of the world's longest, and strictest, lockdowns.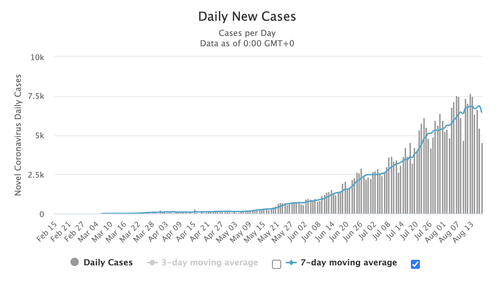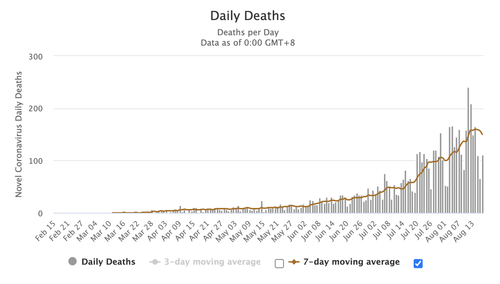 And even as new COVID cases have tapered off somewhat, Argentina's death toll is quickly climbing the ranks of the deadliest outbreaks in the world.
According to Bloomberg, in the past seven days, Argentina has reported 22.5 deaths per million people compared with 28.1 in Brazil and 23.4 in the US, the homes of the deadliest outbreaks in the world.
Total deaths in Argentina have now surpassed 5,000 since the pandemic began.
The deaths, and the weariness of the Argentina quarantine, which has crushed the country's economy while doing little to stanch the virus's spread, have spurred more protests in the country.
🇦🇷 "We are not anti-quarantine, we are anti-corruption."

Thousands in Argentine cities rallied on Monday against extended lockdown measures, economic hardship and planned judicial reforms pic.twitter.com/QMzOGRKOMo

— Bloomberg QuickTake (@QuickTake) August 18, 2020
Even worse, concerns are mounting that Argentina is undercounting cases and deaths. The positivity rate across the country has been hovering around 40% for the past week, similar levels to Mexico, which suggests that testing levels are insufficient.
But after 146 days of lockdowns, the government is facing pressure to reopen immediately.
Buenos Aires remains the epicenter of the virus. The city had 64% of all cases as of Wednesday, though it is Argentina's most populous province.
The Argentine economy is expected to contract about 10% this year marking the third straight year of recession. The country's leftist government will soon begin talks with the IMF over a new lending program to restructure some $65 billion of bonds, far more than Argentina will ever probably be able to repay.
Fortunately, markets remain confident that a bigger fool for the Argentine century bond, issued in 2017, can still be found.