Little was expected to come out of Sunday's Germany-hosted Libya peace conference, given several prior ceasefires have failed, and also given Gen. Khalifa Haftar sees his Libyan National Army (LNA) as having the military upper hand on the ground as his offensive against the GNA in Tripoli under Fayez al-Serraj continues. 
Predictably, Haftar balked at signing so much as a temporary truce in Berlin, but instead a mere 'ceasefire committee' has been established to reach a pause in fighting. To gain a sense of just how little was accomplished as world leaders — including Erdogan, Putin, Macron, Merkel, British Prime Minister Boris Johnson, and US Secretary of State Mike Pompeo — gathered in Berlin, one might note these lines from a Bloomberg brief post mortem: "Neither Sarraj nor Haftar were in the room for the summit on Sunday, and organizers were careful to ensure they did not cross paths in Berlin. Instead they were holed up for some of the day at separate hotels in the city."
However, world leaders did agree in theory to renew their commitment to a UN arms embargo on all sides of the Libya conflict — though this looks also immediately shaky as well given Turkish parliament recently approved sending military aid and troops to defend Tripoli's GNA, not to mention Syrian mercenaries being shipped into the war. Of course, the moment one side accuses the other of violating the embargo, any theoretical agreement will unravel before it's even enacted. So while the Berlin peace summit was in reality uneventful in impacting the military situation on the ground, there was one entertaining and interesting bright spot from the day. It came as the group of world leaders gathered for a photo op at the meeting's start, and is being dubbed the "Where's Putin?" moment:
'Where's #Putin?' - Group photo delayed as #Merkel, #Macron search for #Russian president pic.twitter.com/IQmOszfWPQ

— Ruptly (@Ruptly) January 19, 2020
Perhaps in unintended acknowledgement of just how crucial Putin's presence was to the proceedings (Russia is a key political backer of Haftar, while on the other side backing the GNA is Erdogan), German Chancellor Angela Merkel is seen for several moments looking around for Putin, while appearing to question those next to her, including Macron, over his whereabouts. President Putin then strolled in fashionably late alongside Italian PM Giuseppe Conte, and the minor "crisis" was averted. 
On a more serious note, the dividing lines on Libya were visible early in the proceedings, with Erdogan saying at the start of a meeting with Putin, "To implement the other stages of the political process and solution, Haftar's aggressive stance must come to an end." Erdogan had last week warned he would teach Haftar "a lesson" if he didn't halt the offensive on Tripoli. This after approving sending Turkish national troops to assist in the battle against Haftar.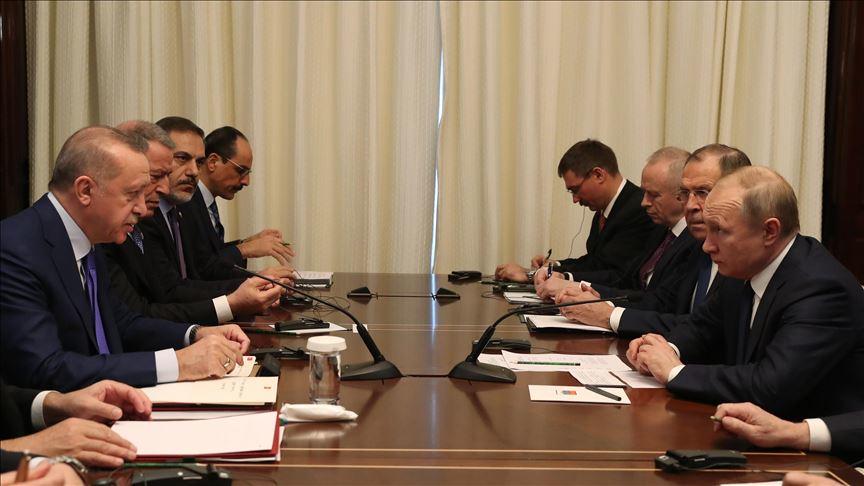 Hitting back against the Turkish position on the conflict, France's Macron slammed the influx of foreign fighters into Libya. While not calling out Turkey directly, he expressed "acute concerns over the arrival of Syrian and foreign fighters in the city of Tripoli" which "must end" according to his remarks — a clear reference to Turkey after multiple reports have confirmed the transfer of at least 2,000 Syrian 'rebel' militants to the theater. 
German Foreign Minister Heiko Maas summarized the main thrust of the Berlin conference and continuing efforts at working toward a lasting ceasefire: "Europe and those players who are influential" have been called to Germany because "we have to make sure Libya doesn't become a second Syria".
Regrettably, in response to the German FM's point, no world leader stepped forward to point out the obvious — that neither Libya nor the world would be in this mess of witnessing a deadly Libya War 2.0 tearing the region apart in the first place if it hadn't been for the 2011 US-NATO regime change war to topple longtime secular autocrat  Muammar Gaddafi.