---
President Trump Confirms "High Degree Of Confidence" That COVID-19 Originated In Wuhan Lab: Live Updates
Summary:
Trump confirms "high degree of confidence" that COVID-19 originated in Wuhan Lab.
LA becomes first US city to offer county-wide testing
Lagarde warns eurozone economy could shrink up to 12% in 2020
Russia passes 100k cases
Boris Johnson lays out reopening plan
NYC plans to close subways between 1am and 5am for cleaning
Hundreds of protesters crowd Michigan capital as lawmakers vote on state of emergency extension
Georgia Gov lifts stay at home order
Cali reports another spike in new cases deaths
Turkey reports new batch of cases, deaths
New Jersey reports record jump in deaths
Russia reports another record single-day batch of cases
Sri Lanka reimposes lockdown measures
Italy retakes mantle of second-deadliest outbreak in Europe from UK
Canada reports latest update
Italy reports another encouraging drop in new cases and deaths
Introducing "Operation Warp Speed"
Pentagon orders another 100k body bags for "worst case" scenario
US death toll tops 60k
DHS acting secretary says social distancing will last for 'months'
France, UK report new numbers
Spain sees curve continue to flatten
NYC hands out free masks
Florida reports uptick in cases, deaths
South Korea says 'zero' cases of infection stemming from April 15 election
California closes parks, beaches
NY reports 306 deaths, 933 new cases
Total cases break above 300k
Airbus reports massive loss, signals distress
New data suggests 1 in 6 US nursing homes suffered COVID-19 clusters
500k coronavirus tests obtained by Maryland from SK haven't yet been used
NYT hammers Brazil's Bolsonaro for denying outbreak
UN warns about virus spreading in Syria, Yemen
Eurozone GDP contracts 3.8%
UK NHS allows hospitals to remove minority workers off the front lines
*   *   *
Update (1730ET): During a Q&A session with the press after his remarks on "Protecting America's Seniors", President Trump confirmed that he has seen evidence that COVID-19 originated in the Wuhan Institute of Virology...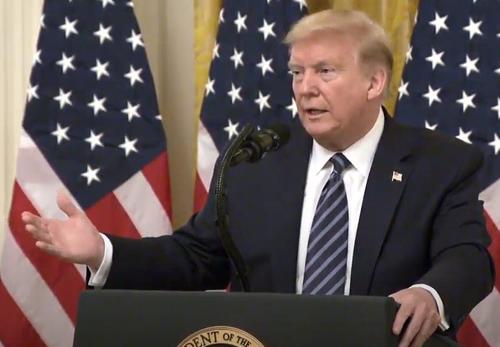 Reporter:
"Have you seen anything at this point that gives you a high degree of confidence that the [Wuhan lab] was the origin?
Trump:
"Yes, I have... Yeah I have, and I think the WHO should be ashamed of themselves because they were like the public relations agency for China."

"They shouldn't be making excuses when people make horrible mistakes, especially mistakes that are causing hundreds of thousands of people around the world to die," the president continued. "I think the World Health Organization should be ashamed of themselves."
The conversation drifted but the reporter came back to confirm:
"What gives you a high degree of confidence that this originated in the [Wuhan lab]..."
Trump responded:
"I can't tell you that... I am not allowed to tell you that."
Earlier during the same event, Trump was asked whether Chinese President Xi Jinping should be held responsible for the coronavirus outbreak.
"I don't want to say that, but certainly it could have been stopped," the president said.

"I wish they stopped it. The whole world wishes they stopped it."
Forward to the Q&A (around -22mins from the end):
We wonder what Jack Dorsey will do now that the leader of the free world is confirming that a conspiracy theory that got many banned from social media is actually a conspiracy fact.
Never forget that @zerohedge got banned for saying this almost two months ago.https://t.co/sYgApMKIEs

— Pomp 🌪 (@APompliano) April 30, 2020
*  *  *
Update (1600ET): In the latest demonstration against Gov Whitmer's lockdown extension, hundreds of protesters crowded the Michigan state capital in Lansing on Thursday and demanded that Whitmer allow more businesses to reopen as lawmakers prepare for a critical vote on the order.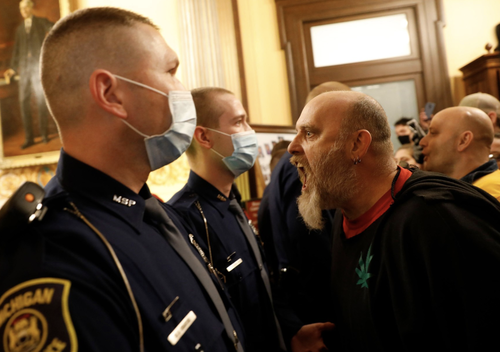 State lawmakers are expected to vote on the 28-day extension of Michigan's state of emergency before it expires at midnight. The state of emergency is what allows Whitmer the power to impose the lockdown.
Republicans control both Houses of Michigan's assembly, and have been pushing the Democratic governor to allow the state to reopen more quickly than May 15, though, to be sure, the state did ease some restrictions on public activities starting May 1.
Protesters piled inside the Capitol building after changing "Let us In" and "This is the people's house", though state police took the temperatures of every demonstrator as they filed inside.
Officers took protestors temperatures as they entered the Capitol building in Lansing. pic.twitter.com/8sBngaYse0

— Leon Hendrix (@LeonHendrix) April 30, 2020
Weirdly, the demonstration also featured a dance put on by two young girls wearing masks of President Trump and Barack Obama.
Now this is happening. pic.twitter.com/w1CkLB3T3s

— Leon Hendrix (@LeonHendrix) April 30, 2020
*         *         *
Update (1550ET): New Jersey just reported a record 460 new deaths on Thursday, pushing the state's death toll past 7,000.
Sadly, today we must report 460 additional deaths from #COVID19.

We've now lost 7,228 precious members of our New Jersey family to this virus. pic.twitter.com/qk2kQk3ivU

— Governor Phil Murphy (@GovMurphy) April 30, 2020
NEW: We've received 2,633 new positive #COVID19 test results, bringing our statewide total to 118,652. pic.twitter.com/wkUKgF3N22

— Governor Phil Murphy (@GovMurphy) April 30, 2020
Watch Murphy's press briefing below:
Holding a COVID-19 briefing. WATCH: https://t.co/aWvGT51uPU

— Governor Phil Murphy (@GovMurphy) April 30, 2020
While the number of new cases was higher than yesterday, Murphy said the slowing trend remained intact.
LOOK: Across New Jersey, the rate of doubling of new cases continues slowing in most counties. pic.twitter.com/tSAA8LDdBe

— Governor Phil Murphy (@GovMurphy) April 30, 2020
The number of hospitalized patients is also on the decline.
As of 10:00 PM last night, 6,137 patients were hospitalized for #COVID19.

We continue to see this number decreasing – a very good sign.

In just one week, the number of hospitalized patients has dropped by 15 percent. pic.twitter.com/jsnyFsoXe3

— Governor Phil Murphy (@GovMurphy) April 30, 2020
Ventilator use in the state is down to its lowest since April 4.
Ventilator use currently stands at 1,271 – the LOWEST that number has been since April 4th. pic.twitter.com/ZagojHTpyg

— Governor Phil Murphy (@GovMurphy) April 30, 2020
That's all we have for now.
*         *         *
Update (1530ET): California's COVID-19 deaths spiked again yesterday to 95, while the number of positive cases climbed 5.2%, as both deaths and cases in the state spiked above the medium-term average for the second day in a row.
Watch the rest of Newsom's update:
TUNE IN NOW for a #COVID19 update. https://t.co/mmG0u4WnbN

— Gavin Newsom (@GavinNewsom) April 30, 2020
Additionally, Georgia Gov. Brian Kemp announced that he would lift the state's 'stay at home' order, allowing practically all businesses in the state to re-open tomorrow. Most of Georgia's 10.6 million residents will be able to return to work, or at least go shopping, on Friday, though Kemp urged citizens to stay home "when possible".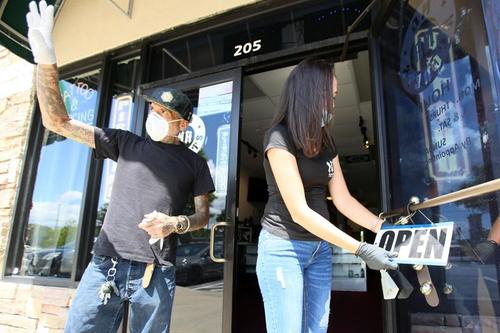 Gov. Brian Kemp will lift a statewide shelter-in-place order for most of Georgia's 10.6 million residents starting Friday as Kemp continues to roll back coronavirus restrictions while urging Georgians to stay at home when possible.
The order calls for elderly and "medically fragile" residents to shelter in place until June 12, and asks businesses to follow a host of social distancing orders until May 12, though how strictly they will be enforced remains to be seen, the AJC reports.
Kemp said it's time to revive Georgia's tattered economy, adding that an increase in hospital capacity and testing availability had played into his decision.
"What we've done has worked," Kemp said in the interview. "It's given us time to build our hospital infrastructure capacity, get ventilators and ramp up testing. That's what really drove our decision."
Some public health experts have warned that the data don't support Kemp's decision, and that ending the lockdown too soon could lead to an explosion of deaths. Kemp and his backers contend that they're still encouraging Georgians to follow the recommendations, and practice social distancing in all public places.
Another one of Kemp's orders, also extended through June, bars visitors and nonessential workers from entering nursing homes, restricts group activities and meals and requires any worker who tests positive for the virus to be quarantined/
"I felt like the negative effects of not having our economy starting to open up was beginning to have the same weight as the virus itself, especially if you weren't in the medically fragile category or someone in a long-term care facility," he said. "For most of the rest of Georgia, the effect has been minimal."
Russia reported 7,099 new cases of the virus, bringing its countrywide total to 106,498 cases in total, as the number of new cases reported continued to accelerate at a record pace, as the 7,099 figure is Russia's largest single-day jump so far. 
Here are a few other things that have happened in Russia this week:
This week, Russia:

- PM tests positive for coronavirus

- Number of cases tops 100,000

- Cases in the military exceed 2,000

- Second doctor falls from hospital window

— Norbert Elekes (@NorbertElekes) April 30, 2020
Following news earlier this afternoon that Russia's prime minister tested positive - becoming the second major-nation leader to test positive for the virus - Pakistani media outlets report that the country's assembly speaker has tested positive.
Meanwhile, South Korea just reported 4 new cases of the virus, all of which were imported.
And finally, Turkey reported 2,615 new cases of the virus and 93 new deaths, bringing its case total to 120,204 cases and 3,174 deaths.
*         *         *
Update (1412ET): In addition to cranking out more courses of remdesivir, the White House is launching a new federal effort to direct the search for a coronavirus vaccine - a "Manhattan Project"-type effort purportedly inspired by a WSJ story about a group of leading scientists working with the administration - Dr. Tony Fauci confirmed on Thursday.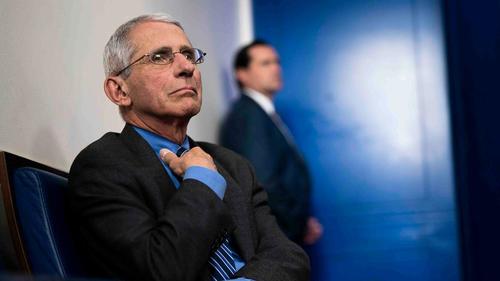 The plan is to have 100 million doses of a workable vaccine ready by January.
Here's Reuters with the details on 'OWS':
The Trump administration is planning to speed up development of a coronavirus vaccine with the goal of having 100 million doses ready by the end of 2020, a senior administration official said on Wednesday.

Executives and other experts have previously suggested that clinical trials to guarantee a vaccine is safe and effective could take a minimum of 12 to 18 months.

Several agencies within the Department of Health and Human Services announced plans earlier in April to partner with more than 15 drug companies as well as European regulators in an effort to spur development of vaccines and treatments for the disease.

The latest Trump administration efforts to speed vaccine development were originally reported by Bloomberg News, citing people familiar with the matter.
Called "Operation Warp Speed," the project will join private pharmaceutical companies with government agencies and the military in trying to cut the development time for a vaccine by as much as eight months.

It said a White House meeting on the project was scheduled for Wednesday.

Last month, President Donald Trump directed Health and Human Services (HHS) Secretary Alex Azar to speed development of a vaccine, and administration officials have been meeting on the effort for three to four weeks, the report added.

The administration's initiative comes a week after HHS said it had replaced Rick Bright as director of a key U.S. agency charged with developing drugs and vaccines for COVID-19.

Bright has said he was ousted as director of the Biomedical Advanced Research and Development Authority, or BARDA, because he resisted the administration's efforts to push malaria drugs hydroxychloroquine and chloroquine touted by Trump to treat the coronavirus even though their effectiveness has not been demonstrated and there are concerns about heart damage.

Lawyers for Bright, an expert in vaccines and therapeutics who served as an adviser to the World Health Organization, have said he will file a whistleblower's complaint with two government offices over his removal.

Under Bright's leadership, BARDA recently announced nearly $1 billion in support of vaccine manufacturing efforts by Moderna and Johnson & Johnson. The agency had a total of $5 billion set aside for vaccine development.
The program, which was first detailed in a series of leaks last night, aims to speed up the timeline for a mass produced vaccine.
Of course, it's a moonshot - and some critics are complaining that the only thing it accomplishes is wasting more taxpayer dollars on backstopping drug companies that are already racing to find a vaccine. Moreover, certified geniuses like Bill Gates insist it will take up to 2 years to find a vaccine.
*         *         *
Update (1400ET): The British Department of Health and Social Care reported a discouraging uptick in deaths and cases, though it still managed to cede the title of "second-deadliest outbreak in Europe" to Italy on Thursday.
Officials reported 6,032 new cases, and 674 deaths, bringing the totals to 171,253 and 26,771.
As of 9am 30 April, there have been 901,905 tests, with 81,611 tests on 29 April.

687,369 people have been tested of which 171,253 tested positive.

As of 5pm on 29 April, of those tested positive for coronavirus across all settings, 26,771 have sadly died. pic.twitter.com/thSbLqfexF

— Department of Health and Social Care (@DHSCgovuk) April 30, 2020
France reported 1,138 new cases (bringing its total to 129,580) and 289 deaths (bringing its death toll to 24.376).
*         *         *
Update (1315ET): Here's that video Johnson aired during his press conference.
*         *         *
Update (1230ET): The single-day totals of new cases and deaths across Italy declined again yesterday, according to new figures reported Thursday by the Civil Protection Service. Italy reported 1,872 new cases of the virus and 285 new deaths, for a total of 205,463 cases and 27,967 deaths.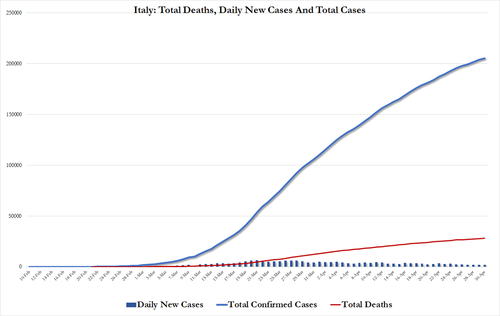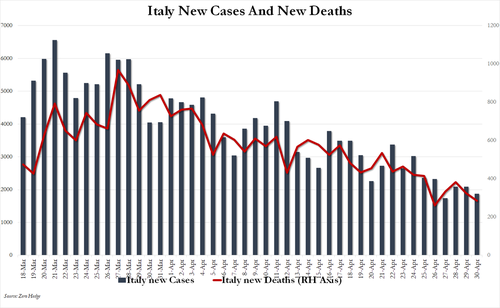 Elsewhere, Canada reported 1,571 new cases of coronavirus and 137 new deaths, bringing its total to 51,597 cases and 2,996 deaths.
Circling back to Johnson's press conference, the PM and top public health officials explained how the country would calculate the "R" rate - ie the rate at which the virus is spreading - via an advanced regimen of "track and trace."
Like Germany, the UK will shoot to keep "R" below 1, while Chancellor Angela Merkel has warned that Germany's public health system would be at risk of being overwhelmed if the "R" rate moved much above "1".
To try and illustrate just how critical the "R" rate can be, Merkel explained that "if we get to a point where each patient is infecting 1.1 people, then by October we will be back at the limits of our health system in terms of intensive-care beds...if we get to 1.2...then we will hit the full capacity of our health system as early as July."
Elsewhere in Europe, Spain - which has allowed some non-essential workers to return to work - reported Thursday that its death toll had climbed by 268 the day before, compared with 301 the day before, to 24,543.
The number of new infections also shot up by 1,309 – compared with 2,706 and 2,793 in the prior two days - bringing Spain's total to 213,435 and 24,543, excluding some non-hospital deaths.
Spanish PM Pedro Sanchez unveiled his plan to reopen the economy on Tuesday, which will call for hair dressers and more retail shops to reopen.
*         *         *
Update (1210ET): Leveraging his gift for metaphor, Johnson assured Britons that the country had moved through the peak while avoiding a worst-case scenario like "a train through an alpine tunnel". But to succeed with the reopening, Johnson says the UK must pass "5 tests" before the economy can be completely reopened.
One requirement: Keeping the reproduction rate down - something Germany is currently struggling with, as we've mentioned below: "We can only do it by our collective discipline. I know we can do it because we did it during phase 1."
Johnson then aired a video laying out the 5 tests, and also sent a series of tweets encapsulating his message to Britain:
1/3: I know how hard and how stressful it has been to give up even temporarily those ancient and basic freedoms, not seeing friends, not seeing loved ones, working from home, managing the kids, worrying about your job and your firm.

— Boris Johnson #StayHomeSaveLives (@BorisJohnson) April 30, 2020
2/3: So let me say directly also to British business, to the shopkeepers, to the entrepreneurs, to the hospitality sector, to everyone on whom our economy depends: I understand your impatience, I share your anxiety.

— Boris Johnson #StayHomeSaveLives (@BorisJohnson) April 30, 2020
3/3: But I must ask you to keep going in the way that you have kept going so far, so we can protect our NHS and save lives.

— Boris Johnson #StayHomeSaveLives (@BorisJohnson) April 30, 2020
*         *         *
Update (1200ET): Boris Johnson is leading the UK's daily coronavirus press briefing for the first time since his return, and is laying out HMG's plans for loosening the lockdown across the UK.
*         *         *
Update (1130ET): Andrew Cuomo is starting his daily press conference:
Holding a briefing with updates on #Coronavirus. Watch Live: https://t.co/nVBtkzgKz9

— Andrew Cuomo (@NYGovCuomo) April 30, 2020
As per usual, he kicked off the briefing by announcing the number of deaths over the last 24 hours. On Thursday, the state reported 306 deaths for the prior day, one of the lowest single-day readings since the outbreak began. That number is down from yesterday, while the statewide death toll has risen to 18,274. New cases, hospitalizations, intubations and deaths are down, Cuomo said. Cuomo also reported 933 new positive tests statewide, down from the prior day.
NY now has 300,624 cases, breaking above 300k for the first time.
Cuomo said New York will likely need between 6,400 and 17,000 tracers depending on the number of positive cases. To recruit them, the state will turn to DOH workers at local, county and state levels.
In other news, WSJ reports that the federal government has ordered 100,000 new b9 body bags for FEMA in preparation for a "worst-case" scenario. The US has been stockpiling these body bags since the beginning of the administration's response to the outbreak in the US. Trump said Monday he expects the virus could cost as many as 70k lives, though we're already on track to surpass that number by a wide margin.
Acting DHS Secretary Chad Wolf said in an interview earlier that he expects social distancing restrictions to remain in place for "months".
*         *         *
Update (1100ET): After California Gov. Gavin Newsom announce on Thursday that he would be closing all beaches and state parks over violations of the state's social distancing guidance - much to Elon Musk's chagrin - Florida has mostly moved ahead with reopening its parks and beaches, as locals explained to the national press that in many places in the state, beaches are the largest stretches of public land for recreation.
Gov. DeSantis said last night that most businesses in the state would be allowed to reopen on Monday. Restaurants and retailers could allow customers inside, but only at 25% capacity, and residents will be required to adhere to social distancing guidelines while in public. On Thursday, the state reported another 497 new cases, a 1.5% jump, bringing the statewide total to 33,690. That's compared with a 347 case jump reported yesterday.
The number of deaths jumped by 50, bringing the statewide death toll to 1,268. That's slightly higher than the 47 deaths reported a day earlier, according to the Sun Sentinel.
The southern part of the state, including Broward, Miami-Dade and Palm Beach counties, have reported a combined 19,659 cases, making it by far the hardest-hit part of the state.
That's why DeSantis announced last night that those areas wouldn't joint the rest of the state in reopening during the first phase, which, as we said above, will begin on Monday.
"We're going to treat Southeast Florida different," DeSantis said.
Earlier, NYC Mayor de Blasio announced a new program whereby the city would hand out 100,000 facemasks in city parks for any New Yorkers who don't have - or can't afford - them. De Blasio said the program "will focus on areas that have been hardest-hit" ie poorer neighborhoods with more minority residents. Some of the masks would be N95s, and most of those being given away had been donated to the city and were surgical grade. Additionally, in keeping with Cuomo's claim that the state would require thousands of 'tracers', de Blasio encouraged New Yorkers to apply for 1,000 "tracer" positions in the city.
Finally, JHU just confirmed that the US death toll has topped 60k. The exact number: 61,187.
*         *         *
Update (1045ET): Germany has decided to postpone the next step of its economic reopening after data monitored by public health experts showed an uptake in the infection rate, bringing it dangerously close to a critical threshold.
As we reported yesterday, Germany's infection rate spike to 0.96 from 0.70 after some more businesses were allowed to reopen on April 24. Now, Germany will delay the reopening of schools and resuming futball matches, delays that will make it harder to reopen the rest of the country's economy.
GERMAN FEDERAL GOVT AND STATES POSTPONE DECISION ON REOPENING SCHOOLS, KNDERGARTENS AND RESUMING BUNDESLIGA SOCCER MATCHES - FOCUS ONLINE
Germany won plaudits for its early and broad-based testing, which allowed it to keep its case numbers relatively low, and its mortality rate among the best in the world. Chancellor Angela Merkel has insisted that Germany move with "caution" while reopening its economy.
*         *         *
Update (0945ET): ECB Chief Christine Lagarde was criticized for her lack of central-banking experience when she was first tapped to take over from Mario Draghi. And since pulling the ripcord on an unprecedented easing program from the central bank, she has spent the bulk of her time in the public eye urging the squabbling EU Council to get its shit together and agree on a concrete plan.
On Thursday, Lagarde warned that the European economy faces "an economic contraction of unprecedented size and speed" and warned that the Continental economy could contract by  up to 12% for the year 2020. Lagarde made her remarks during the press conference following Thursday's meeting of the ECB Governing Council, where the central bank affirmed that it would leave its easing program mostly as it was, while launching a new pandemic refinancing vehicle for eurozone banks.
In addition to the 5%-12% contraction for the year, Lagarde warned that YoY growth for Q2 could contract 15%. She added that the central bank is prepared to extend its rescue programs for as long as they are needed. She also took a few moments to castigate the European leaders over their failure to produce an acceptable fiscal rescue package.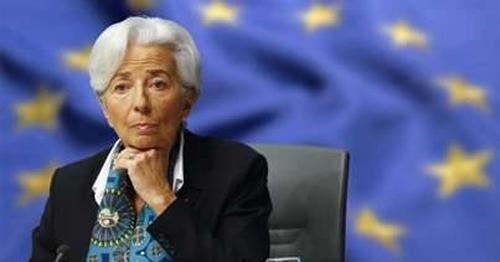 In other news, Russia's outbreak has broken above 100k cases as it rapidly evolves into one of the worst outbreaks in the world.  It's only the eighth country to officially count more than 100k cases.
*         *         *
German public health officials announced yesterday that Germany's infection rate had ticked higher over last week since the German government started allowing some shops to reopen, raising the possibility that Germany - Europe's undisputed leader in tamping down the outbreak - might need to reimpose the lifted lockdown measures.
Meanwhile, in Japan, local press reported yesterday that PM Shinzo Abe would extend his nationwide 'state of emergency' order for a month as the health officials discover more evidence that the virus has deeply penetrated Japanese society, despite jokes about Japanese culture, which isn't big on inter-personal contact, is itself a form of social distancing.
But on Thursday morning, tiny Sri Lanka reimposed its 24-hour lockdown after officials detected a jump in infections.
After briefly taking the No. 2 spot from Italy yesterday, the UK is once again on track to clinch the mantle of "second-most deadly outbreak in Europe" following the latest revision to the UK death toll, announced yesterday, which added thousands of home deaths to the official tally.
Looking ahead on Thursday, the number of confirmed coronavirus cases has moved above 3.1 million, while the number of deaths is nearing 210k.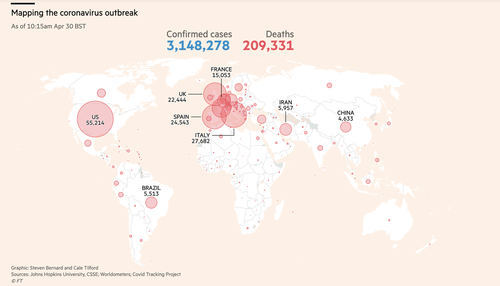 As far as the curve is concerned, both the pace of new deaths...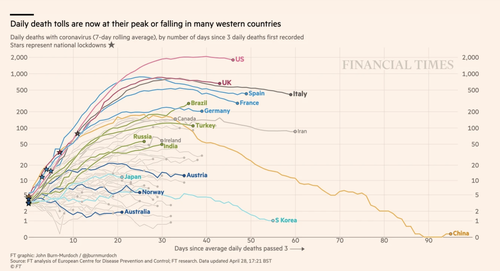 ...and new cases...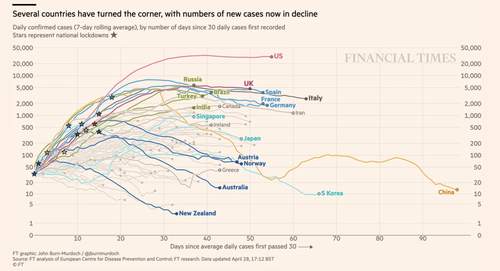 Source: FT
...has begun to slow across the US and Europe.
With the number of domestically transmitted infections down to virtually zero, South Korean officials revealed Thursday morning that the country's April 15 elections had resulted in no new coronavirus infections. And now that two weeks - the typical incubation period - have passed since since the vote, it's become clear that none of the 29 million Koreans who cast ballots had been infected.
In the US, a new report has confirmed what many experts had suspected: the number of publicly reported coronavirus cases in US nursing homes has soared.
More than 1 in 6 facilities nationwide has detected infections among residents or staff, according to new data released by states such as Michigan, Maryland, Kentucky and South Carolina.
On Wednesday evening, LA Mayor Eric Garcetti said all Los Angeles County residents will be able to obtain free coronavirus testing, even if they are not displaying symptoms, as LA becomes the first city to offer county-wide testing.
As the battle to reopen America rages, a local Louisiana newspaper has uncovered a "secret plot" being organized by Republican state legislators to overturn Gov. John Bel Edwards' decision to extend his state's emergency order until May 15. Louisiana has been one of the hardest-hit states in the country, with 593 confirmed cases and 39 deaths for every 100,000 people, while also being ground-zero for the outbreak in the federal prison system that has killed dozens of prisoners already, including a female prisoner who gave birth by C-section.
A group of Republican legislators in Louisiana is quietly working to overturn the Democratic governor's stay-at-home order, the Advocate newspaper reported.
Emails obtained by the Advocate revealed a plan to invoke an obscure provision that would allow a majority in either chamber of the Republican-controlled state to repeal Edwards' public-health emergency. Edwards' handling of the outbreak in his state has been widely praised, including by President Trump. But the devastating hit to the state's economy, which relies heavily on tourism, have put hundreds of thousands of jobs and businesses in the state at risk.
After reporting dismal Q1 earnings on Wednesday, the CEO of European aerospace giant Airbus - the "Jewel of the European economy" as the NYT called it - warned "we are now in the midst of the gravest crisis the aerospace industry has ever known."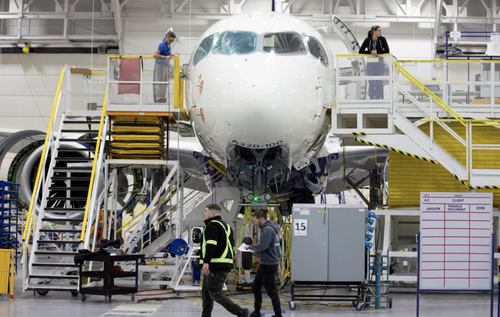 The company reported a net loss of 481 million euros ($520 million) for Q1, a dramatic reversal from last year. In that period, it could not deliver 60 planes, partly because airlines are seeking to put off payment.
Following yesterday's historic contraction in US Q1 GDP, the EU followed suit on Thursday and reported its sharpest economic reversal since pan-European record keeping began in 1995.
Eurostat data showed a "seasonally-adjusted" contraction of 3.8% for eurozone countries, and a 3.5% contraction for all EU member states (including those - like Switzerland and Norway - who don't use the euro). 
European shares sloughed off the GDP reading, which was widely expected, as investors in Europe and Asia focused on the positive news from a study of remdesivir.
Early in April, UN workers raised the alarm about an outbreak in war-torn Syria as the coronavirus swept across the Middle East. Now, the UN is ringing the alarm once again, warning that the virus could be spreading more or less undetected across war-torn Yemen and Syria. Specifically, a new cluster has been discovered in Yemen, adding to the country's already sizable array of problems.
We'd like to reminder our American readers that while governors have largely led their states through the outbreak, there have been several notable instances of grandstanding and perhaps undeserved PR spin. One such example arrived on Thursday as the Washington Post reported that the ~500,000 coronavirus tests obtained by Maryland Gov. Larry Hogan - something he called an "exponential, game-changing step forward" - have yet to be used.
Finally, in the UK, evidence that the virus is disproportionately deadly for NHS workers from minority backgrounds (1/5th of nurses and half of doctors in London are from minority backgrounds) has led it to allow hospitals to move minority workers off the front line to try and tamp down the "disproportionate" deaths among them.
Minorities make up nearly 3/4ths of the health care workers known to have died from the virus.
As Brazil develops into the world's newest viral "hot spot", the NYT bashed Brazilian President Jair Bolsonaro for his continued refusal to acknowledge the crisis: Nearly 500 Covid-19 deaths were reported in Brazil on Tuesday, the highest single-day death toll yet. When asked about the milestone, President Jair Bolsonaro replied: "So what? I'm sorry. What do you want me to do?"
Bolsonaro's refusal to acknowledge the outbreak's severity has left Brazil with one of the lowest testing rates in the world. But fears that the outbreak is far more widespread than official numbers suggest haven't translated to the images of brutality and chaos seen in Wuhan earlier this year.
However, some hospitals have begun reporting familiar scenes of patients crammed into hallways, as the world waits to see if the outbreak will overwhelm Brazil's health-care system.
We've been closely following the outbreak in Russia in recent days as the confirmed case total has soared, alongside a jump in deaths. And as the outbreak worsens, Russian criminal gangs are increasingly trafficking in vital medical equipment. Russian police on Thursday exchanged gunfire with members of a mafia crew suspected of trafficking in illicit ventilators during a raid in a suburb of Moscow.
The interior ministry told Dow Jones that seven people had been detained, and five placed under house arrest, for allegedly selling the "unregistered" ventilators in the Moscow suburb of Gzhel.
A Russian digital media website reported that eight suspected gangsters had been arrested while trying to sell 100 ventilators for 70 million rubles (about $96,000). President Vladimir Putin has repeatedly warned criminals against exploiting the outbreak for profits.