---
"Airpocalypse" - China Hit By Worst Sandstorm In Decade 
According to a special notice issued by China's National Meteorological Center, one of the worst sandstorms in a decade is wreaking havoc across 12 provinces in the northern part of China on Monday. 
"This is definitely not a normal weather system," said Zhang Bihui, director of the China Meteorological Center. "This is the most intense sandstorm our country has encountered in the last ten years, which has also been the most wide-reaching," the center said in a post on its website.
On Monday, Beijing and 23 other cities recorded dangerously high levels of air pollution, said various state media outlets. In Beijing, particulate matter 10 (PM10) includes dust from construction sites, industrial sources, and wind-blown dust from open lands, printed as high as 9,000 micrograms per cubic meter, or 180 times above the level deemed safe by the World Health Organization. The ruling Communist Party recommended people double mask and stay indoors as long as possible.
After a week of lung-choking industrial pollution in Beijing, China's capital wakes up to a gritty, orange mess: a sandstorm blown in from the Mongolian desert that sends air pollution levels off the charts - well beyond the 999 maximum on scales. Not unheard of, but rare. pic.twitter.com/8tFF7pqO98

— Saša Petricic (@sasapetricic) March 15, 2021
Every spring, sandstorms from the Gobi Desert blanket Beijing and other cities with yellow sand and dust. This year, the sandstorm range covers a much wider area than previously seen, from Xinjiang and Gansu in the northwest to the northern regions of Inner Mongolia and Hebei. 
Beijing Covered In Sand And Dust
As of Monday morning, the National Meteorological Center issued a "yellow" sandstorm warning. Local news outlet Xinhua said:
"Starting from Monday to 8 am Tuesday, affected by cold fronts and heavy winds, floating sand and dust are expected to sweep parts of Xinjiang, Inner Mongolia, Heilongjiang, Jilin, Liaoning, Gansu, Ningxia, Shaanxi, Shanxi, Hebei, Beijing, and Tianjin.
As a result of the dust and sand, more than 400 flights from Beijing have been canceled. 
In recent years, the ruling Communist Party has pledged to reduce carbon emissions even though it has become the world's largest emitter of c02 emissions. The country's carbon-dioxide emissions could peak around 2030, with the goal, according to a recent Bank of America note to clients, of carbon neutrality by 2060.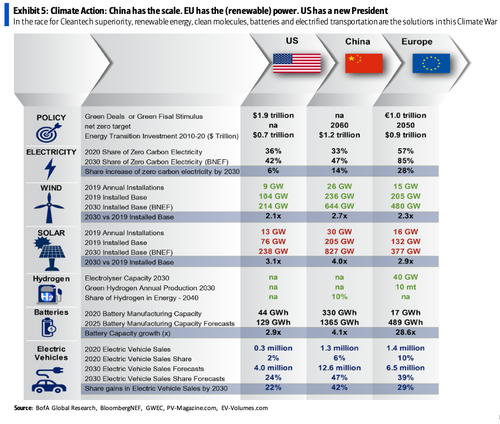 China appears to be dealing with an "airpocalypse" this week as a giant sandstorm has produced dangerous air quality levels across various metro areas.