---
All Hell Breaks Loose In Nuclear-Armed Pakistan After Imran Khan's Arrest
All hell is breaking loose in Pakistan, amid fears there could be a slide into widescale civil unrest or even full-blown civil war, after on Tuesday the former Prime Minister Imran Khan was arrested and taken into police custody while he was entering the Islamabad High Court for a hearing in a case.
The 70-year-old cricketer-turned-politician has been pursued in court filings by Pakistan's anti-corruption agency, but the dramatic move to actually detain Khan is a huge and unprecedented escalation, threatening to unleash mayhem in the streets of the nuclear-armed country.
⚡️Imran Khan has been arrested pic.twitter.com/niUnzIzDKF

— War Monitor (@WarMonitors) May 9, 2023
His party, the Pakistan Tehreek-e-Insaf (PTI), immediately called for mass protests, which quickly exploded across multiple cities and in front police and military locations, including in the capital Islamabad, but also in Lahore, Karachi, Gujranwala, Rawalpindi, Faisalabad, Multan, Peshawar, and Mardan - according to international reports.
Viral images and video of Khan being escorted by security forces in riot control gear and whisked away in an armored van are fueling anger in the streets. A government statement has said the arrest was "for the crime of corruption".
According to Al Jazeera, "Khan has been slapped with more than 100 cases – including corruption, 'terrorism' and even blasphemy – since he was removed from power last April through a parliamentary vote of no confidence."
BIG: Radio Pakistan Building set on fire by protesters. pic.twitter.com/GDykEKudEF

— Aditya Raj Kaul (@AdityaRajKaul) May 9, 2023
Heightening the risk of national instability is the fact that many of Khan's well-placed enemies are top military and intelligence officials:
Khan's detention came after Pakistan's military spokesman, Maj. Gen. Ahmed Sharif, released an usually sharply worded statement against the former prime minister, warning him not to malign a serving officer. That followed recent allegations made by Khan that a military intelligence official was leading behind a plot to kill him.

Sharif described Khan's claims as "highly irresponsible and baseless allegations" which were "unfortunate, deplorable and unacceptable."

To add insult to the allegations, Khan referred to the military intelligence official as "Dirty Harry," from an old Clint Eastwood movie — allegations he doubled down on Tuesday before reaching the courthouse.
A Pakistani political analyst has explained to Al Jazeera that "Ever since this whole process started with ousting of the former prime minister 13 months ago, it has become crystal clear that the ruling political elite as well as the establishment in the country did not want Imran khan back in any capacity, in any ruling capacity."
#BREAKING: Reports emerging of large scale violence, arson, clashes and rioting in many parts of Pakistan after Imran Khan's arrest by Pakistan Rangers. Mob has attacked Pakistan Army's Mardan Cantt. Corps Commander home in Lahore attacked and broken to pieces. Several memorials… pic.twitter.com/mNBUSnLXOk

— Aditya Raj Kaul (@AdityaRajKaul) May 9, 2023
This suggests significant civil unrest to come: "They will go to whatever lengths to ensure this happens," the analyst, Zeeshan Salahuddin, said.
One pro-Khan, opposition social media user had this to say: "This is unprecedented in Pakistani history. Pakistani people are taking the protests to the Army -- the real rulers of the country — finally."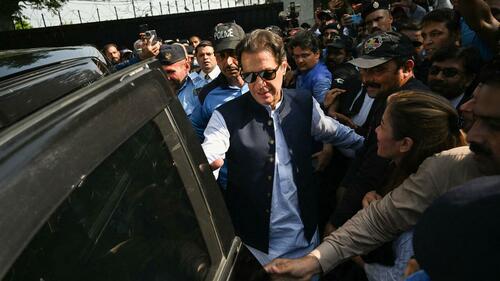 Already there are reports of casualties from the protests coming out of Pakistan on Tuesday, also with reports and footage showing that demonstrators have stormed a Pakistani Army headquarters.
Footage shows people approaching a high-secure entry area of the Pakistan Army HQ in Rawalpindi, in an unprecedented and highly volatile situation...
This is big. Protesters enter GHQ Rawalpindi, the headquarters of the Pakistan Army. #ImranKhanArrested pic.twitter.com/kHP2qtzhaz

— Shiv Aroor (@ShivAroor) May 9, 2023
There are also widespread reports circulating on social media that in some locales police and military might be using live fire to put quell the unrest.
The pro-Khan crowds could target government buildings and ministries next. Al Jazeera is reporting that "In Lahore, protesters gathered outside the former prime minister's Zaman Park residence and blocked the adjacent roads by burning tires."
Loading...