---
American F-22 Fighter Jets Deployed To Middle East Amid Russian Aircraft Activity
Authored by Katabella Roberts via The Epoch Times (emphasis ours),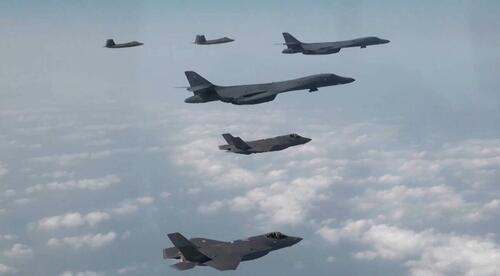 The United States deployed F-22 fighter jets to the Middle East this week as part of a "multifaceted show of U.S. support and capability" amid "increasingly unsafe and unprofessional behavior" by Russian aircraft in the region.
U.S. Central Command (CENTCOM) said in a June 14 press release that the F-22 Raptors are from the 94th Fighter Squadron out of Langley Air Force Base, Virginia.
They will be demonstrating America's ability to "re-posture forces and deliver overwhelming power at a moment's notice," officials said.
The F-22, an all-weather tactical stealth fighter aircraft, is aerodynamic and extremely maneuverable, performing both air-to-air and air-to-ground missions.
CENTCOM said the aircraft is the "best fifth-generation fighter in the world."
While in the Middle East, the 94th Fighter Squadron will "integrate" into coalition forces' operations both on the ground and in the air in the area, which also covers parts of South and Central Asia, officials said.
The deployment of the F-22s marks a "clear demonstration of the commitment shared by partners, allies, and the U.S. to long-term peace and stability in the region," officials said.
'Unprofessional Behavior'
"Russian Forces' unsafe and unprofessional behavior is not what we expect from a professional air force. Their regular violation of agreed-upon airspace deconfliction measures increases the risk of escalation or miscalculation," said Gen. Michael "Erik" Kurilla, CENTCOM commander. "Alongside our partners and allies, we are committed to improving the security and stability in the region."
The announcement comes amid increasing tensions between Washington and Moscow following the latter's invasion of neighboring Ukraine. It also follows a string of "unprofessional behavior" from Russian aircraft in the Middle East in recent months, according to officials.
Lt. Gen. Alexus Grynkewich, combined forces air component commander for CENTCOM, told NBC News in March that armed Russian jets flew over a U.S. military output in Syria nearly every day that month, in violation of an agreement between the United States and Russia.
Moscow's actions risk increasing escalation, Grynkewich said.
Elsewhere in April, Russian pilots attempted to "dogfight" American jets over Syria, officials said. Video footage of that incident released by CENTCOM showed a Russian SU-35 fighter jet conducting an "unsafe and unprofessional" intercept of a US F-16 fighter jet.
Later that same month, Air Forces Central officials said that coalition and partner forces had been attacked by militia groups on the ground, noting that armed Russian fighter aircraft flew over their positions 26 times from March 1 to April 19.
Russian Pilots Awarded
"These flights are not in line with 2019 protocols established between the Coalition and Russia to avoid miscalculations and potentially dangerous encounters in airspace over Syria," officials said.
Read more here...
Loading...