---
AMLO Tells Americans That Mexico Is 'Safe', Despite Kidnappings And Murders
President Andres Manuel Lopez Obrador, also known as AMLO, highlighted during a Monday press briefing that the growing number of Americans choosing to visit or live in cities such as Cancun and Mexico City validates their perception that Mexico is a 'safe' country.
According to AMLO, Americans have been flooding Mexico City, and their presence has been associated with rising shelter inflation. In addition, he pointed out that the number of tourists visiting Cancun is soaring, which he believes is evidence that negative reports about the country's safety are baseless and a product of 'malicious media manipulation.'
The Mexican president added the states of Campeche and Yucatan are safe to travel to, despite the US government saying otherwise. 
While AMLO's view on the motivations behind Americans relocating or traveling to Mexico may have some merit, the primary reason behind this trend is the willingness of some folks to compromise on safety for the sake of securing their wealth, given the highest US inflation in four decades. In addition to a more affordable cost of living, Mexico also offers warm weather and beautiful beaches.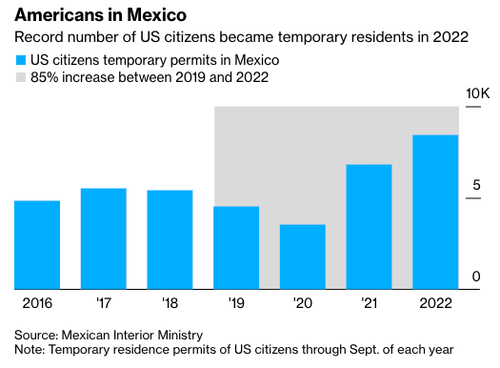 The latest warning that traveling and/or living in Mexico might not be the best idea came after a Mexican drug cartel's violent kidnapping of four Americans last week. Two of those Americans were killed, and two others were found alive days after. 
👀WHAT'S REALLY GOING ON HERE: shocking video above shows 4 US citizens kidnapped and forced into back of pickup truck after getting caught in crosshairs of cartel-related shootout shortly after driving across Mexico's border from Texas.Later 2 found and 2 dead pic.twitter.com/01Mv4ZkGyM

— Kevin smith (@KJ00355197) March 11, 2023
World Bank figures show Mexico has a far greater murder rate than the US -- at about 28 deaths per 100,000 people, compared with 7 per 100,000 in the US.  
In early 2021, we were the first to report that the beach resort town of Tulum was in a state of crisis due to cartel presence and tourists being targeted by violence. Later that year, the Mexico National Guard deployed 1,500 troops to provide security for high-end resorts located throughout the Yucatan Peninsula.
In August 2022, a violent conflict between two rival cartels in the border city of Tijuana resulted in mass chaos. All US government employees were instructed to shelter in the town until the surge in violence subsided. 
Here is further evidence indicating that Mexico is a dangerous country.
AMLO might be confused about the reason Americans are coming to Mexico. It's certainly not a reflection of safety; instead, they're escaping the inflation-plagued US. 
Loading...