---
Anger, Pushback As Russia's Lavrov Chairs UN Security Council Meeting
There were fireworks at Thursday's United Nations Security Council meeting chaired by Russia's Foreign Minister Sergey Lavrov. Already tensions are high in the UNSC due to Russia's chairing the council for the month of April (based on the scheduled monthly rotation). 
Lavrov told the council that the world has become a more dangerous place, possibly more so than at the height of the Cold War. "As was case in Cold War, we have reached the dangerous, possibly even more dangerous, threshold," he said.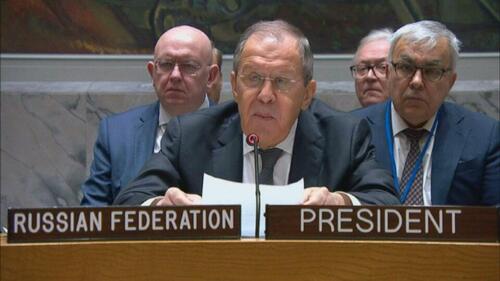 The meeting which Lavrov chaired was titled the "Maintenance of international peace and security," but came under criticism by those countries opposed to the Kremlin's war in Ukraine. Western diplomats had complained upon Russia's April 1st takeover of the lead seat at the UNSC that it must be an "April Fool's joke". 
In the Thursday address, Lavrov accused the US and its allies of "abandoning diplomacy and demanding clarification of relations on the battlefield."
But the response of Western allies in the UN was fierce. Olaf Skoog, European Union representative to the UN, said that "Russia is trying to portray itself as a defender of the UN charter and multilateralism. Nothing can be further from the truth. It's cynical."
He added that "We all know that while Russia is destroying, we are building. While they violate, we protect."
Additionally UN Secretary-General Antonio took a swipe at Lavrov and Russia, saying it's the invasion  "causing massive suffering and devastation to the country and its people" and fueling "global economic dislocation triggered by the COVID-19 pandemic."
"Tensions between major powers are at an historic high. So are the risks of conflict, through misadventure or miscalculation," Guterres warned - at least seeming to agree with Lavrov on the extreme dangers of the times.
But it was the US's Linda Thomas-Greenfield that pushed back hardest, calling Lavrov "hypocritical"...
"Our hypocritical convener today, Russia, invaded its neighbor, Ukraine, and struck at the heart of the UN Charter. This illegal, unprovoked and unnecessary war runs directly counter to our most shared principles – that a war of aggression and territorial conquest is never, ever acceptable," Thomas-Greenfield said.
Likely these tensions at the security council will continue so long as Russia is chairing the meetings, also making for awkward business even when Russia-Ukraine is not the topic at hand.
Loading...