---
Another $2.6 Billion In Defense Aid To Ukraine
The Biden administration announced the next tranche of aid military aid for Ukraine on Tuesday, this time totaling $2.6 billion.
An official White House press release stipulated that $2 billion of this would be for various types of munitions, radar and weapons to defend the country in the future, and just ahead of an expected spring offensive against Russian forces.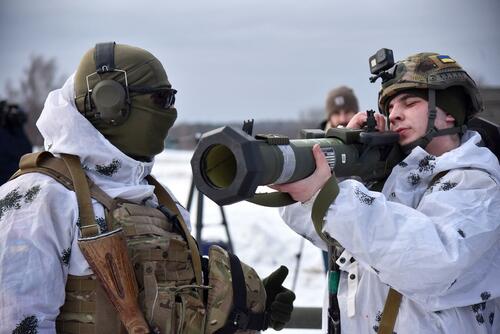 According to a statement by Secretary of State Antony Blinken, this will include "U.S.-provided HIMARS, air defense interceptors, and artillery rounds that Ukraine is using to defend itself."
For the sake of speed of getting these weapons and ammo to the warzone, the US said it will pull from existent military stockpiles.
"In addition, we are announcing a significant package of air defense capabilities, as well as artillery and tank ammunition, mortar systems, rockets, and anti-armor systems using $2.1 billion in Ukraine Security Assistance Initiative (USAI) funds," the statement said.
"The Presidential Drawdown is the thirty-fifth such drawdown of equipment from DoD inventories for Ukraine that the Biden Administration has authorized since August 2021."
The announcement comes just on the heels of Russia's Wager Group claiming victory over Bakhmut's city center, raising the Russian flag over utterly demolished central administrative buildings.
This drone footage shows a Russian flag at the remains of Bakhmut's city hall building, as the Wagner Group claims to have 'legally taken' the bombarded city.

Live updates: https://t.co/DHkh8H1DdD pic.twitter.com/csx4PlEPIs

— Sky News (@SkyNews) April 3, 2023
Below is the full list of what this latest defense package includes, according to the US Dept. of Defense:
The capabilities in this package include:
Additional munitions for Patriot air defense systems;
Additional ammunition for High Mobility Artillery Rocket Systems (HIMARS);
155mm and 105mm artillery rounds;
120mm mortar rounds;
120mm and 105mm tank ammunition; 
25mm ammunition;
Tube-Launched, Optically-Tracked, Wire-Guided (TOW) missiles;
Approximately 400 grenade launchers and 200,000 rounds of ammunition;
11 tactical vehicles to recover equipment;
61 heavy fuel tankers;
10 trucks and 10 trailers to transport heavy equipment;
Testing and diagnostic equipment to support vehicle maintenance and repair;
Spare parts and other field equipment.
Under USAI, the DoD will provide Ukraine with:
Additional munitions for National Advanced Surface-to-Air Missile Systems (NASAMS);
Nine counter-Unmanned Aerial System 30mm gun trucks;
10 mobile c-UAS laser-guided rocket systems;
Three air surveillance radars;
30mm and 23mm anti-aircraft ammunition;
130mm and 122mm artillery rounds;
122mm GRAD rockets;
Rocket launchers and ammunition;
120mm and 81mm mortar systems;
120mm, 81mm, and 60mm mortar rounds;
120mm tank ammunition;
Javelin anti-armor systems;
Anti-armor rockets;
Precision aerial munitions;
Approximately 3,600 small arms and more than 23,000,000 rounds of small arms ammunition;
Seven tactical vehicles to recover equipment;
Eight heavy fuel tankers and 105 fuel trailers;
Armored bridging systems;
Four logistics support vehicles;
Trucks and ten trailers to transport heavy equipment;
Secure communications equipment;
SATCOM terminals and services;
Funding for training, maintenance, and sustainment.
Loading...