---
COVID-19 Outbreaks Worsen In NY, NJ & CT As Cuomo Outlines New Plan For Containing 'Hot Spots': Live Updates
Summary:
Royal Caribbean

US added 36,342 new cases Monday

Arizona sees biggest daily case tally since Sept. 18

Tristate area sees COVID-19 comeback

Cuomo outlines new plan for attacking NY 'Hot spots'

Dr. Fauci warns Trump's condition could still deteriorate

NY releases daily update showing hospitalizations top 700, highest since July

Belgium adopts new social distancing restrictions

NYC closes schools in 'hot spots'

Horace Mann school also closes amid outbreak

US in the grip of "dangerous" COVID-19 comeback

Cases continue to rise across US as Midwest drives new wave

GSK + VIR say new antibody treatment enters Phase 3

Ireland's cabinet suggests raising alert level

China in talks to have WHO 'assess' vaccines

India reports fewest new cases since Aug. 25
* * *
Update (1645ET): As companies like Royal Caribbean stumble following Trump's declaration that stimulus talks would be put off until after the election, Bloomberg reports that RC is extending its suspension of cruies to include those leaving on or before Nov. 30.
The decision excludes ships set to sail from Hong Kong. Meanwhile the company's "Celebrity Cruises" subsidiary will cancel its entire winter program in Australia and Asia.
* * *
Update (1430ET): During Tuesday afternoon's press briefing, Gov Cuomo outlined a three-part plan to contain the new "hot spots". First: Identify the cluster, and direct the most resources as identifying and quarantining cases within the cluster. Then work out a 'containment zone' in the area surrounding the cluster, where efforts like shutdowns, testing and social distancing rules are moderate but not severe.  Third, the state keeps up testing and monitoring in outer-lying areas.
Cuomo is increasing the fines to organizers of illegal "mass gatherings" to as high as $15,000.
The new rules must be implemented by Friday, though areas can implement them before then. During the presentation, the governor included a map of the Brooklyn hotspots.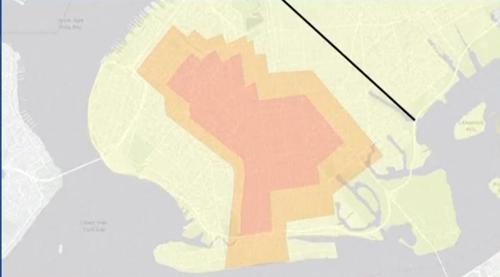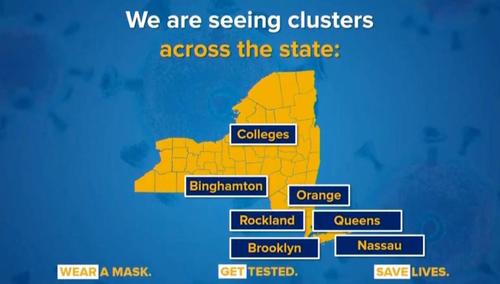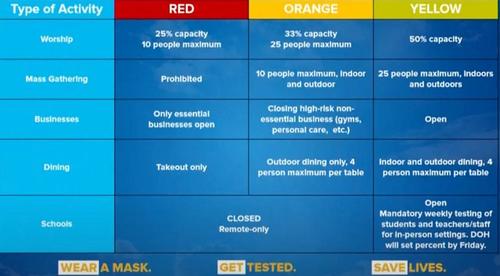 New York isn't the only northeastern state seeing a COVID-19 comeback. Bloomberg reports that while the strain on the health care system remains limited, new cases have "significantly exceeded the increase in testing.
Virus-linkws hospitalizations recently hit a seven-week high in New Jersey, a 10-week high in New York and a 3.5-month high in Connecticut, per JHU data. According to the earliest update on Tuesday, the US posted 36,342 new cases over the last 24 hours, bringing the national total to about 7.5 million cases cumulatively, according to Johns Hopkins, while more than 210,000 have died.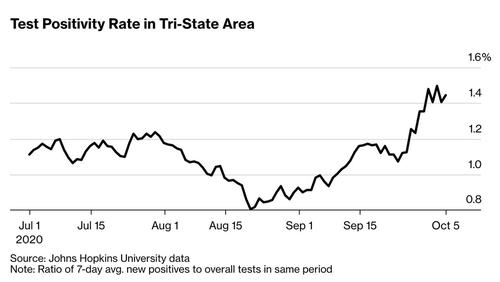 Source: Bloomberg
Arizona, formerly one of the Sun Belt summer 'hot spots' reported a spike of 864 new virus cases on Tuesday, the largest single-day tally since Sept. 18.
In other news, Dr. Fauci sat for an interview with Cuomo's CNN-host brother, Chris Cuomo, where Dr. Fauci became the latest doctor to speculate wildly about the president's condition, saying that while President Trump may "look fine", he's still in the early stages of recovery, and his health could still take a turn for the worst.
Interestingly, Dr. Fauci also claims that he believes the "monoclonal antibody" - one of the experimental medications given to Trump after he arrived at Walter Reed late last week - may have "made a difference" in Trump's recovery.
That therapeutic is still in clinical trials.
* * *
Update (1445ET): Gov. Andrew Cuomo revealed that hospitalizations in the state of New York have surged to more than 700 on Tuesday, the largest number since July, then announced plans to hold another press briefing beginning at 1500ET.
I will be holding a briefing and making an announcement at 3:00pm ET.

Watch here:https://t.co/Fq5qEEPt23

— Andrew Cuomo (@NYGovCuomo) October 6, 2020
Watch live below:
* * *
Update (1330ET): As we await Tuesday's update on NY's virus data, Bloomberg reminds us that the rate of new cases in NYC is on the cusp of the level where Mayor de Blasio said he would shutter non-essential businesses.
New York City's seven-day average of daily cases is approaching Mayor Bill de Blasio's warning threshold of 550.
The average was 501 on Sunday, up from 338 a week earlier, according to the numbers released yesterday, which reflect cases and data collected over the 24 hours prior. The city is seeing rising positive tests in nine ZIP codes of Brooklyn and Queens. Schools there shut Tuesday, and nonessential businesses may be ordered to close Wednesday if Governor Andrew Cuomo approves de Blasio's proposal.
* * *
Update (1200ET): Much to the chagrin of every armchar "expert" who claimed there would be a link between COVID-19 mortality and political "populism", Belgium has emerged as the country with the second-most deaths per million people, behind only Peru
If you check out deaths per million from Covid you will struggle to find a ready link between a high death rate and 'populism'. The two worst countries are Peru and Belgium. https://t.co/IbJGZWS3KC

— David Quinn (@DavQuinn) October 6, 2020
To try and check a worsening outbreak that has swept across Europe, Belgian PM announced new restrictions on the size of social gatherings, as well as restrictions on bars, restaurants and the catering industry, according to La Libre.
Belgium's worst hot spot is Brussels, where the proportion of people who test positive for coronavirus is nearly twice as high as the national average, based on data from the Sciensano public health institute. Over the last seven days for which data are available, 13.8% of people tested in the capital turned out to be infected with Covid-19, which makes a 3.6% increase compared to the week before, while the national average is of 7.3%. Belgium's three most infected municipalities are all in Brussels, with Molenbeek-Saint-Jean registering an incidence of 770 new cases per 100,000 inhabitants over the last two weeks, followed by Koekelberg (660) and Saint-Josse-ten-Noode (629). The commune of Ganshoren is also in the country's top ten, with an incidence of 614.
With an infection rate that's roughly 2x that of Paris, Brussels is at serious risk of "derailing" the national recovery, according to virologist Marc Van Ranst, who compared the city to Paris. "Tomorrow, Paris will close all bars for two weeks," h said. "The incidence there is of 260 [cases] per 100,000 inhabitants. In Brussels: 472, Liège: 330, Walloon Brabant: 327," per the Brussels Times.
With that, the country announced new social distancing restrictions, including limiting 4 people per table at bars.
Note: Belgium ranks second in the world behind only Peru in terms of deaths/per million people.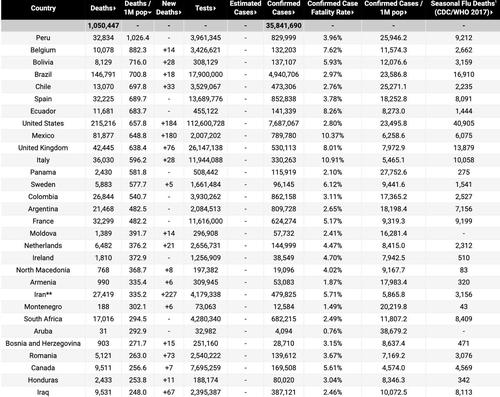 Source: Real Clear Politics
* * *
Schools in 'hot spots' across NYC are closing Tuesday - a day earlier than NYC Mayor Bill de Blasio had hoped - as Gov Cuomo, de Blasio's political arch-rival, makes changes to the mayor's proposal, which was subject to state approval. De Blasio had wanted to shutter all "non-essential" business, in the first rollback of the city's summertime reopening efforts, but Gov. Cuomo wisely staid his hand.
Of course, NY isn't alone, as outbreaks are worsening across the Midwest and other parts of the country, while states like NY and NJ see incipient new outbreaks of their own.
In addition to the public schools in NYC's hot spots, Horace Mann, a private school in the Bronx, has suspended in-person classes for its middle and upper grades for two weeks after the school was alerted to a mini outbreak among its teaching staff.
But, as Bloomberg points out, South Dakota and North Dakota are seeing some of the worst outbreaks relative to their populations.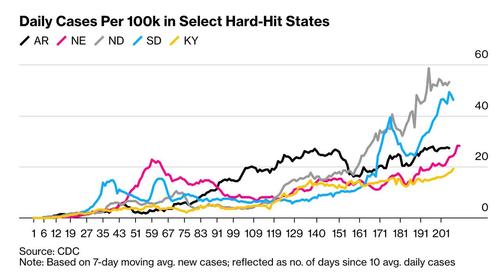 While big states like California, Florida and Texas are seeing cases continue to decline, outside of the Sun Belt, the US outbreak is growing.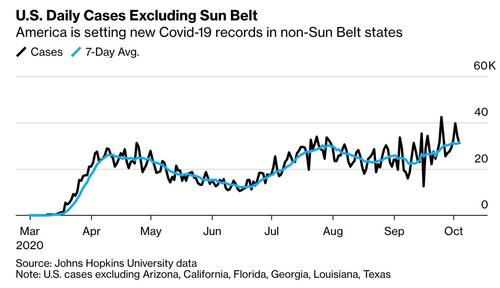 Scientists in the US have long warned of a looming "Twindemic" as the coronavirus mixes with the common cold and the seasonal flu. And in the Midwest, where falling temperatures are starting to send people indoors, many states are seeing the virus arrive in towns and small communities where it has been almost totally absent. In Nebraska, the seven-day average of cases hit a record Saturday, joining Midwestern and Western states including Wisconsin, Montana and the Dakotas in confronting a virus that had eluded them until recently.
"We're in very bad shape, never having achieved any sense of containment, never gotten below 20,000 new confirmed cases per day," said Eric Topol, director of Scripps Research Translational Institute. "Things can only get worse on this course."
Meanwhile, as Trump's return to the White House captivated the country on Monday, the NYT reported - as we mentioned last night - that the administration is once again pressuring the FDA to make changes to its proposed new vaccine guidelines to strip out a section that would essentially rule out the approval of a vaccine before election day.
Despite rising case numbers, Texas Gov Greg Abbott is reportedly preparing to announce another round of rollbacks for the state's COVID-19-related restrictions.
Finally, on the pharmaceutical side, GlaxoSmithKline and VIR have announced that their antibody therapy, which is similar to convalescent plasma and other techniques seeking a 'cure' for COVID-19.
Here's more COVID-19 news from last night and this morning:
Global cases reach 35,485,738. The worldwide death toll has hit 1,044,085 (Source: JHU)
US COVID cases +39,562 (prev. +35,504) and deaths +460 (prev. +690). New York COVID cases +933 (prev. +1,222) and deaths +8 (prev. +14). (Source: Newswires).
Biontech and Pfizer have initiated a rolling submission to the European Medicines Agency for COVID-19 vaccine candidate as the EU scrambles to approve the leading vaccine projects, which also includes AstraZeneca and Oxford (which has also struck a deal for rolling submission of trial data) (Source: AFP).
France COVID cases +5,084 (prev. +12,565) and deaths +69 (prev. +32). (Source: AFP).
Ireland's Cabinet recommended to raise the country's alert level to 3, from, at midnight Tuesday (Source: RTE).
Iranian President Hassan Rouhani reportedly may have contracted COVID-19 (Source: FARS).
China is in talks to have its locally produced COVID-19 vaccines assessed by the World Health Organization, as a step toward making them available for international use, a WHO official says. Hundreds of thousands of essential workers and other groups considered at high risk in China have been given locally developed vaccines even though clinical trials had not been completed, raising safety concerns (Source: Nikkei).
India's latest daily new case count was just 61,267, fewer than the 74,442 a day earlier and the lowest single-day tally since Aug. 25. India has seen a total of 6.69 million. Deaths rose by 884 to 103,569 (Source: Nikkei).