---
Using '1984'-Style Propaganda, Communist Party Claims President Xi Acted To Suppress Virus Earlier Than Previously Believed
Summary:
First COVID-19 death in Europe
More cases reported in Africa
COVID-19 case confirmed on cruise ship offered safe harbor in Cambodia.
"Leaked" speech suggests Xi involved in fighting coronavirus earlier than previously known
More than 200 cases reported aboard 'Diamond Princess'
France confirms 12th case as virus spreads in Europe
* * *
Update (1540ET): Who controls the present, controls the past.
Beijing's whitewashing of the Politburo Standing Committee's stumbles during the early days of the outbreak progressed on Saturday with reports about President Xi claiming in a speech that he issued "secret orders" related to fighting the outbreak on Jan. 7, two weeks before the Party came forward and informed the international community and the rest of the Chinese people.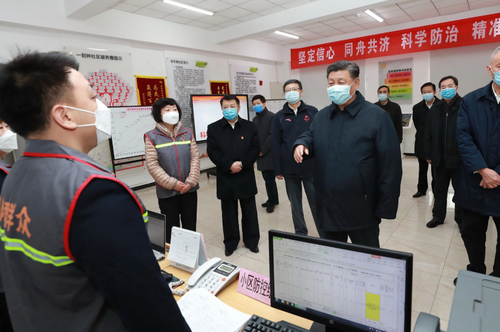 This narrative was picked up by western media outlets, including the New York Times.
According to the report, Xi didn't say anything specific about the orders. There's only the implication that Hubei's leaders, who were fired on Thursday and scapegoated with responsibility for the outbreak, should have known the leadership was paying attention to the outbreak, and they should have taken more aggressive steps.
Per the NYT, Xi "leaked" the speech, which was made to senior party officials, to craft a narrative that President Xi commanded the "People's War" against one of the most ferociously infectious viruses to emerge in modern times.
Ironically, the NYT says the initial reports of the speech were published by "Seeking Truth", a Communist Party "doctrinal journal".
* * *
Remember the cruise ship that was refused entry by four countries, despite having zero confirmed cases of COVID-19? In hindsight, those countries might have had a point.
Because Reuters reports that the first case of coronavirus has been detected among the ship's passengers, who docked in Cambodia on Friday.
Remember when the whole region applauded Cambodia for its heroism in accepting the ship, which was close to running out of food and other essential supplies?
What's more: the patient is an 83-year-old American woman. Health authorities in Malaysia confirmed the infection after the woman tested positive on Saturday.
Wait, but didn't the ship dock in Cambodia? Why is this woman being tested in Malaysia.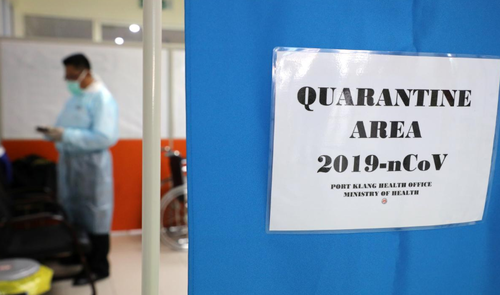 Well, first - yes, it did.
Second, it appears that the Cambodian authorities allowed 144 passengers to fly to Malaysia after disembarking on Friday, apparently without even screening them thoroughly.
According to Reuters, the passengers were tested regularly on board and Cambodia also tested 20 passengers after the ship docked. But it's not clear what kind of tests they were using - swab tests have proved notoriously unreliable.
And clearly, whatever they did, it wasn't thorough enough, because this woman got through.
At some point, the woman's symptoms were noted, she was tested, and is now being quarantined.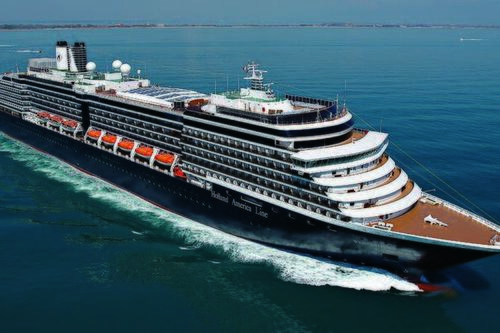 But if there's one thing we've learned about COVID-19, it's that there's never just one case in a group. And Malaysia has already reported dozens of cases.
Also, as we've seen with the 'Diamond Princess' cases, cruises are extremely susceptible to widespread outbreaks, which means there could be dozens of others infected.
The Westerdam was carrying 1,455 passengers and 802 crew, and it spent two weeks at sea.
After reading a story in today's South China Morning Post, we realized that President Xi's immediate economic priority is making sure he can present a believable vision of China having 'contained' the outbreak so that the Chinese people and the global community will accept his government's growth-rate targets laid out in the Party's 'Annual Work Report', which is expected to be released at the next National People's Congress in early March.
Here's SCMP's latest global tally for cases and deaths; it's missing cases in Singapore that were reported earlier Saturday morning.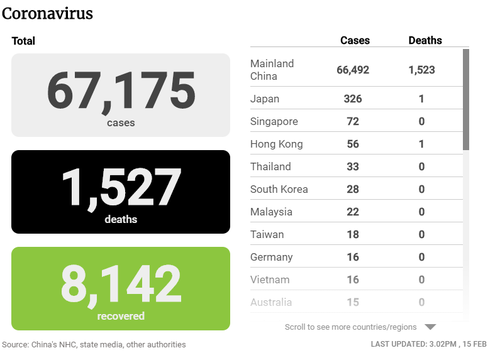 Delaying the release could be construed as a sign of weakness, so we suspect Xi will make sure to pad it with some of China's famously goalseeked stats. Still, like any other form of propaganda, goalseeking is a strategy, and it only works if at least some of the target audience finds it believable.
Elsewhere, there was an interesting COVID-19 develop in North Korea overnight: Yonhap has reportedly confirmed that a North Korean coronavirus patient escaped quarantine and traveled to a public area before being apprehend and...immediately executed. Over in Europe, France on Saturday confirmed a 12th case of the virus, and the sixth confirmed case in Contamines-Montjoie.
Circling back to "Diamond Princess", another 67 people have tested positive on Saturday, as we mentioned earlier, bringing the total above 200.
Some 400 American passengers have been stuck on the ship, and the US government is hoping to evacuate them on Sunday.
The State Department has said it wants to help North Korea deal with the outbreak, though Kim Jong Un and his government continue to insist that there is no outbreak (though of course Kim would probably rather watch 1 million North Koreans suffocate to death from pneumonia before allowing the US to play white knight).
We've already noted some other interesting developments that were reported early Saturday, including the first coronavirus death in Europe, while cases aboard the 'Diamond Princess' spike 30%.