---
Apple & Google Payment Systems Block Russians, Causing Chaos In Moscow Metro System
Authored by Paul Joseph Watson via Summit News,
Russians attempting to use Apple Pay and Google Pay found that their access had been blocked, causing chaos in the Moscow Metro system.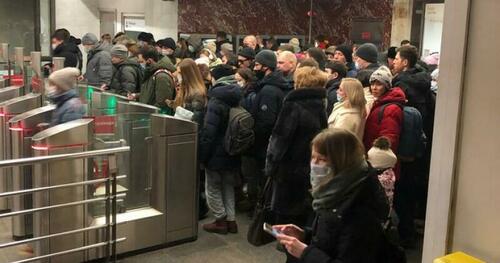 Irish journalist Jason Corcoran tweeted the following image, which shows long queues at the Moscow metro station after both payment systems stopped working for Russians.
"Apple Pay and Google Pay no longer work on Moscow's metro system, leading to long queues as people fumble about for cash," tweeted Corcoran.
Apple Pay and Google Pay no longer work on Moscow's metro system, leading to long queues as people fumble about for cash pic.twitter.com/ezaLZneKiJ

— Jason Corcoran (@jason_corcoran) February 28, 2022
Following heavy economic sanctions imposed on Moscow, people with Russian bank cards are now blocked from using the payment services, including Samsung Pay.
"Customers at a number of banks in Russia can no longer use their bank cards with Google Pay and Apple Pay due to newly-imposed financial sanctions on the country," reports the Verge, noting that such payment methods are less popular in Russia than they are in the west.
"While customers can still use bank cards from these institutions within Russia, they'll no longer work abroad or when making online payments to stores and services belonging to countries that issued sanctions on Russia," states the report.
Wary of the impact sanctions will have on the Russian economy, the country has experienced bank runs, with people rushing to ATMs to withdraw large amounts of cash.
"Giving the keys of our lives to companies like Apple, Google, Facebook, Twitter, Amazon and the digital world is the biggest mistake for mankind," remarked one respondent to the story.
In a related story, domain service company Namecheap has also banned Russians from using their service.
Presumably, the company will also be severing all ties with Saudi customers given Saudi Arabia's bombardment of Yemen.
Or maybe not.
Aside from any argument about the rights and wrongs of the Russia-Ukraine war, the story underscores how allowing Big Tech corporations the power to control payment systems based on moral judgments is a dangerous game.
If these entities continue to seek to create monopolies over sectors of the economy, what happens when such systems become the only available payment option?
Uber already blocks people from ordering a taxi if they have previously refused to wear a face mask in some instances.
In our collective dystopian, social credit score future, what's to stop Apple and Google blocking your ability to pay for something if you voted for the 'wrong' political party or got banned from social media over an 'offensive' post?
*  *  *
Brand new merch now available! Get it at https://www.pjwshop.com/
In the age of mass Silicon Valley censorship It is crucial that we stay in touch. I need you to sign up for my free newsletter here. Support my sponsor – Turbo Force – a supercharged boost of clean energy without the comedown. Get early access, exclusive content and behinds the scenes stuff by following me on Locals.