---
Apple Tumbles Below Key Technical Level As China Broadens iPhone Ban
Apple shares fell in the early premarket hours in New York on another report outlining China's plan to broaden an iPhone ban for certain government departments, state-backed agencies, and firms as the tech war with the US progressively worsens. 
Beijing plans to broaden iPhone restrictions to a number of state-owned companies and other government-affiliated entities, according to Bloomberg, citing sources who requested anonymity due to the delicate nature of the topic.
"Beijing intends to extend that restriction far more broadly to a plethora of state-owned enterprises and other government-controlled organizations," the people said. 
The report builds on Wednesday's Wall Street Journal story of how iPhone "restrictions are the latest step in Beijing's campaign to reduce reliance on overseas technology." 
Apple shares were down 2.71% at 0625 ET during premarket hours in New York, breaking down below its 100DMA...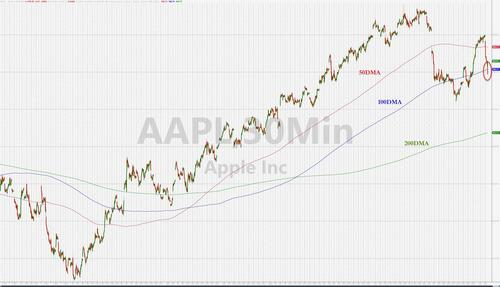 Trading action on Wednesday recorded the largest daily loss in a month over the WSJ's report. European chip-makers, including Apple supplier STMicroelectronics NV, also dropped on Thursday.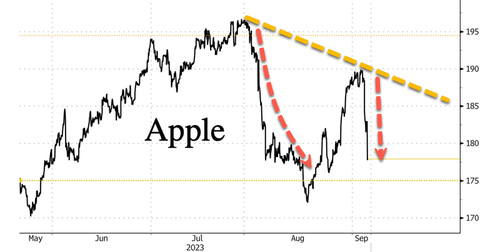 It's unclear how many government agencies and state-owned firms were impacted by the new restrictions, but what's clear is that Beijing's campaign to cut reliance on Western technology is full steam ahead - and could erode Apple's market share in one of its largest markets where 19% of total revenue ($74 billion) is derived from. 
Additionally, China grew faster by revenue than Europe, implying continued prospects for growth for Apple beyond saturated Western markets.
Although Apple is widely popular in China, it faces challenges on several fronts, as Bloomberg reporets, citing the same anonymous sopurces, that state firms or organizations would likely ban Apple devices from the workplace, while others could entirely ban employees from owning these devices. 
Beijing purging Western devices from government officials at work and critical state-run companies suggests this is a move to revive Huawei's smartphone businesses, which launched a new smartphone powered by an advanced 7-nanometer processor chip, a sign that US efforts to crush China's semiconductor industry via sanctions is failing. 
Martin Yang of investment bank Oppenheimer told the Wall Street Journal:
 "The government ban and the new Huawei phone will be material events for the iPhone."
Of course, long-time bulls like Wedbush Securities' Daniel Ives think the effect of an "iPhone ban is way overblown" as it would affect less than 500,000 iPhones of the roughly 45 million he expects to be sold in the country over the next 12 months.
"Despite the loud noise Apple has seen massive share gains in China smartphone market," Ives, who has an overweight rating on the stock, wrote in a note. 
Indeed it has Daniel... in the past.
Loading...