---
Arab Leaders Bring Syria's Assad Back 'In From The Cold', Angering US
Egyptian Foreign Minister Sameh Shoukry arrived in Damascus on Monday to meet with President Bashar al-Assad and express his country's solidarity with Syria following the devastating earthquake, signifying continued warming of relations between the Syrian government and regional states.
The visit to Syria represents the first by a high-level Egyptian official since the start of the US-backed war in 2011. Upon his arrival at Damascus International Airport, Shoukry was received by Syria's Foreign Minister, Faisal Mekdad.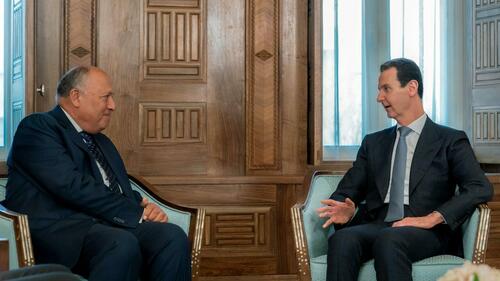 A day earlier, the Egyptian Foreign Ministry had announced in a statement "that the visit aims to convey a message of solidarity from Egypt to Syria and its brotherly people after the disaster," according to the state-affiliated Syrian news outlet, SANA. Shoukry is also scheduled to visit Turkey following his visit to Syria.
A day after the quake, on February 7, Egyptian President Abdel Fattah al-Sisi held a phone conversation with Assad, expressing his solidarity and "his sincere condolences" in what was "the first official exchange" between the two presidents. Cairo was also among the countries that provided Syria with humanitarian relief aid through the Syrian Arab Red Crescent (SARC).
Egypt severed diplomatic relations with Damascus and announced its support for the opposition in 2013, during the presidency of the Muslim Brotherhood-affiliated Muhammad Morsi, who was overthrown that year in a military coup led by Sisi.
Ties were restored the same year following Sisi's coup. However, relations were never fully mended, and Damascus remains excluded from the Cairo-based Arab League after it was suspended in 2011. In recent years, Jordan and the UAE, two backers of the extremist insurgency in Syria, have restored their relations with the Syrian government.
Since the earthquake, Arab states have embraced Syria. Tunisia has expressed its intention to restore diplomatic ties, and even Saudi Arabia – who actively supported extremist groups with the aim of overthrowing the government – has expressed the need to 'end the status quo' regarding enmity with Damascus.
The US and UK are trying to thwart normalization efforts with Arab capitals...
While Arab leaders seek to normalise relations with him Assad has been actively rebuilding chemical weapons in Syria
-
Statement by Ambassador Barbara Woodward at the Security Council meeting on Syriahttps://t.co/TUyk0iiCmG

— Rashad Ali (@rashadzali1) February 27, 2023
On Sunday, an Iraqi-led delegation of the Union of Arab Parliaments visited Syria along with a number of other Arab parliamentary leaders to express support for the Syrian people and call on all Arab countries to adopt a lasting decision for Syria's reintegration into the region.
Syria's gradual return to the regional fold has been much to the dismay of Washington, as it has continued to condemn any normalization with Syria throughout the aftermath of the earthquake.
Western media has blatantly attempted to politicize the disaster by referring to the earthquake as a 'boon' for Assad.
Loading...