---
Sun Belt Cases Slow To Lowest Level Since June; Germany Issues New Travel Warning: Live Updates
Summary:
California cases, hospitalizations decline
US adds 0.6% cases
 Germany issues travel warning for Paris area
Florida, Arizona see new cases fall to lowest levels in months
NY to allow some high school sports to start late next month
Ardern extends Auckland lockdown by 4 days
India reports 61k+ new cases
South Korea reports 266 new cases, highest since March
China reports 16 new 'imported' cases
Victoria reports 116 new cases
* * *
Update (1440ET): Here are some coronavirus updates from Monday afternoon in the US.
Coronavirus cases in the US increased 0.6% as compared with the same time Sunday to 5.72 million, according to data collected by Johns Hopkins University and Bloomberg News.
The increase was smaller than the average daily gain of 0.8% over the past week; deaths climbed by 0.2% to 176,991.
Arizona reported no new COVID-19 deaths for the second time in a week. New cases rose by 311 to 198,414, a 0.2% increase compared with the 0.3% average from the prior seven days. The death toll remained at 4,771.
In keeping with the trend of falling cases across the Sun Belt, California reported 4,946 new cases on Monday, a 0.7% increase and smaller than the 14-day average of 7,622, along with 18 additional deaths, compared with its two week daily average of 128, but those figures tend to be lower on Mondays because of delays in reporting over the weekend.
Hospitalizations from the virus decreased 2.1% to 4,467 patients, the state's smallest tally since late June, as hospitalizations decline from Florida to Texas and beyond.
Finally, the average rate of positive tests in the Golden State over the past 14 days inched up to 6.5% from 6.4%.
Germany on Monday issued a new travel warning about Paris and the surrounding area, the latest in a string of moves by European countries to monitor and manage travel restrictions as clusters reemerge across the Continent.
* * *
Update (1200ET): Here's a roundup of COVID-19 news from the morning session as the Nasdaq and S&P 5000 hit new record highs. First, Gov. Andrew Cuomo announced that certain highschool sports like Football would be cancelled, but other "light contact" team sports will be allowed to begin on Sept. 21.
Today I'm issuing five Executive Orders to make sure every vote counts this November:

✅Redesign envelopes to eliminate confusion about where to sign absentee ballots

✅BOEs must send a mailing to voters with deadlines & instructions for getting absentee ballots

(1/3)

— Andrew Cuomo (@NYGovCuomo) August 24, 2020
✅ All BOEs must take steps to be ready to start counting votes ASAP

✅ All BOEs must report staffing plans and any staffing needs to ensure a fair, complete and accurate vote

✅ Extend the 'temporary illness' option to elections not administered by the BOE

(2/3)

— Andrew Cuomo (@NYGovCuomo) August 24, 2020
I signed legislation last week allowing all voters to request absentee ballots if they are concerned about COVID.

No need to wait: You can request an absentee ballot today.

Everyone should be able to exercise the fundamental right to vote without risking their health.

(3/3)

— Andrew Cuomo (@NYGovCuomo) August 24, 2020
Florida on Monday added more than 2,200 new coronavirus cases Monday, its smallest single-day climb since June 14, as the state continues to post its smallest increases in new cases, deaths and hospitalizations in months.
The 2,258 new COVID-19 cases reported Monday brought Florida's total to 602,829, according to the latest report from the Department of Health.

Deaths confirmed by the state increased by 72, with 10,397 Floridians dying from COVID-related causes to-date. Another 137 non-residents have died in the state.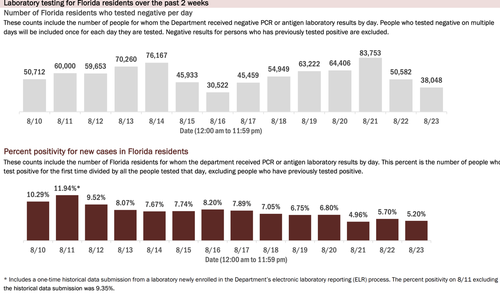 Meanwhile, the percentage of all tests coming back positive in the new report was 8.28%, coming in under 10% for the fifth day in a row, which also hasn't happened since mid-June.
Miami-Dade County hasreported six straight days of sub-10% positivity rates for new cases.  Its tally recently climbed to 152,612 cases, an increase of 626 since Sunday, along with 2,253 COVID-related deaths, 10 more since Sunday.
Arizona also posted its latest daily data, reporting just 311 new cases, bringing its total to 198,414.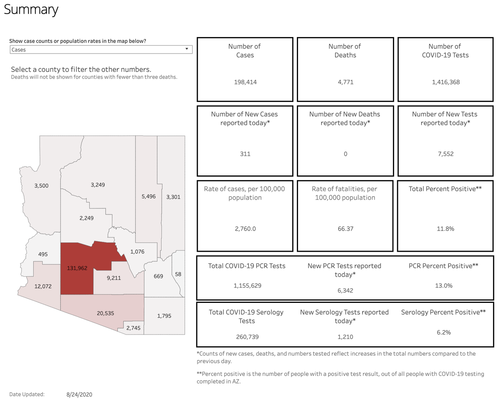 The state also reported zero new deaths, the second consecutive Monday where no new tests were reported.
The rolling seven-day average for newly reported cases declined Wednesday to 652.29, the lowest since June 2. The 7-day average of newly reported deaths ticked up to 37.86, the second-lowest level since July 8.
Arizona's confirmed or suspected COVID-19 inpatients declined to 908, the lowest level since May 26. The number of COVID-19 patients in ICU beds increased by 16 to 345, the second-fewest since May 25.
* * *
Perhaps the biggest COVID-19-related story in the anglosphere overnight was an announcement by New Zealand PM Jacinda Ardern, who announced a 4-day extension to Auckland's strict lockdown, which will now end on Aug. 30, instead of Aug. 26.  Speaking to reporters in Wellington (New Zealand's capital city), Ardern said Auckland would leave the lockdown at midnight on the 30th.
"These extra four days are believed necessary to allow us to move down a level in Auckland, and stay down," Ardern said. Auckland is currently at Level 3 COVID alert, though the outbreak in the country has almost certainly been contained due to the country's overwhelming response, which drove an economy that was recovering nicely from a previous lockdown back into precarious closure.
Economists at Westpac Banking have estimated the Auckland lockdown will reduce GDP by roughly NZ$300 million ($196 million) per week, according to Bloomberg.
"We've made a decision around a four-day increase versus the potential that you come out prematurely without the full confidence that we have the cluster and the full perimeter of that cluster well understood," Ardern said. "You then run the risk of going into another transmission cycle. The idea of yo-yo-ing is very, very unsettling for an economy and comes with a high price."
Auckland is on track to shift to level 2 on Aug. 31, allowing schools, restaurants and hotels, retail and other businesses to reopen, although gatherings will still most likely be limited.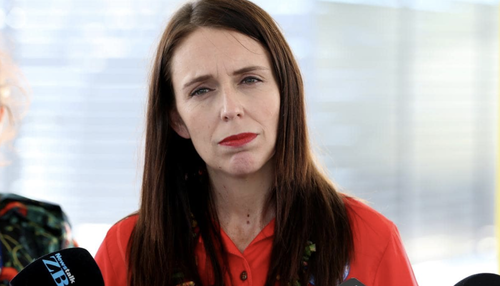 The remainder of New Zealand will remain at level 2, with a further review of all settings to be made by Sept. 6, Ardern said.
Furthermore, the government plans to mandate face masks on public transport, including taxis and ride-sharing services like Uber, in areas that are in level 2 or higher. The new regulation is effective beginning Aug. 31.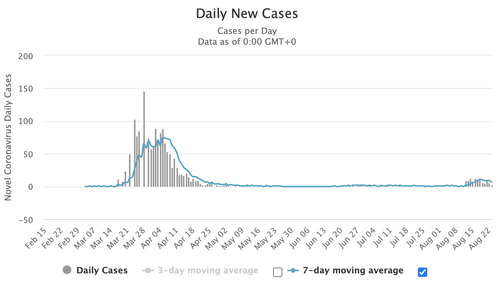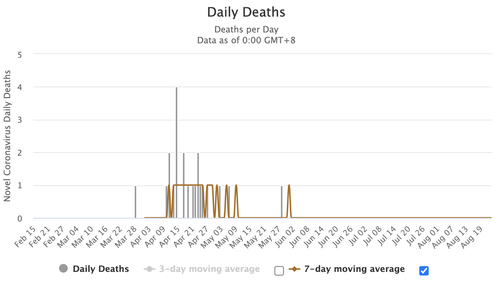 Source: Worldometer
The Auckland cluster has increased to 101 cases, while confounding New Zealand's contact tracing army.
"This is a contained cluster, but it is our biggest one," Ardern said. "That means the tail will be long, and the cases will keep coming for a while to come. But we can manage that. What we need to do though, is put ourselves in the best long-term position to manage it successfully, and in the most contained way we can."
In other news, India reported 61,408 cases in the last 24 hours, down from 69,239 the previous day and bringing the country total to 3.1 million. Fatalities have risen to 57,542, up 836 since Sunday morning.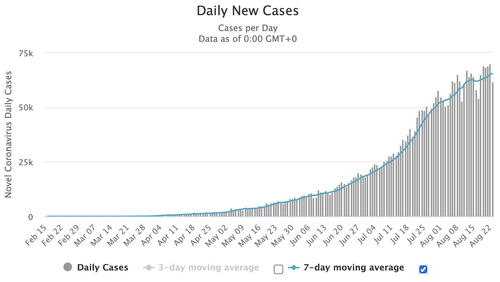 Source: Worldometer
Seoul requires face masks for both indoor and outdoor public spaces for the first time, as the country battles a surge in cases. In May, the city government had ordered that masks be worn on public transport and taxis, but the latest spike has officials worried that the country may need to impose its highest level of social distancing.
South Korea reported 266 new cases as of midnight Sunday, continuing more than a week of triple-digit daily increases.
China reported 16 new cases for Sunday, all of which were imported, health authorities said. That's larger than the 12 new cases reported in the day prior, while marking the eighth consecutive day of no reported cases of local transmission. The total number of confirmed cases now stands at 84,967, while the death toll remains unchanged at 4,634.
Australia's state of Victoria reported 116 cases, it's lowest daily rise in new infections in seven weeks, fueling optimism that a second wave in the land down under is finally subsiding. Sadly, Victoria also reports 15 deaths from the virus in the past 24 hours.
Globally, both cases...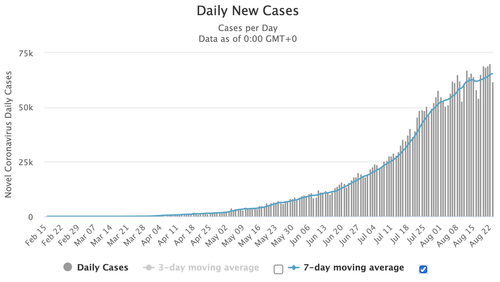 Source: Worldometer
...and deaths...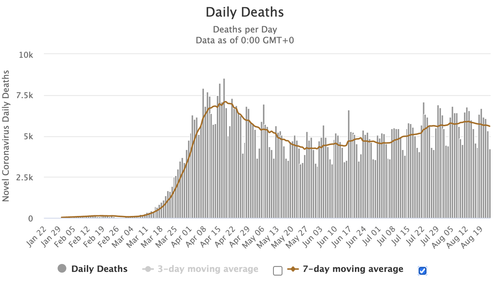 Source: Worldometer
...have declined overnight.