---
Armenian President Says Turkey's Erdogan Creating "Another Syria In The Caucasus"
President Armen Sarkissian has charged that Turkey is creating "another Syria in the Caucasus" through its military and diplomatic support for Azerbaijan in the war for the autonomous ethnic Armenian breakaway region of Nagorno-Karabakh.
"If we don't act now internationally, stopping Turkey . . . with the perspective of making this region a new Syria . . . then everyone will be hit," he said to the Financial Times in a new interview.
He further urged an international effort to stop the aggression which he said was fueled by Turkey, which he called "the bully of the region".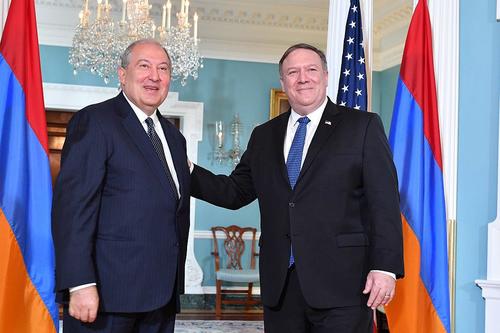 "We need more effort to stop this," Presdient Sarkissian said. "And the focus of the efforts should be Turkey. The moment Turkey is taken out of the equation, we will be closer to a ceasefire and returning to the negotiation table."
"What is a Nato member state doing in Azerbaijan helping to fight Nagorno-Karabakh? Explain to me," he questioned. "That completely redefines the role of Nato."
Turkish President Erodgan has been vocal in supporting Azerbaijan as Turkey's "brother country" since hostilities started late last month, and which has since taken hundreds of lives on both sides, military and civilian. But it's also widely believed Turkey is sending limited airpower in the form of F-16 jets and drones, for use against the Armenian military.
There's also the issue of Turkey transferring hundreds of Syrian militants from Islamist factions who had previously been warring against Assad, which has been covered widely in Western press, such as in The Guardian, since the start of the latest fighting.
Azerbaijani forces destroy 10 more Armenian tanks https://t.co/XgD6uWL0Fd pic.twitter.com/cHu9Etszcj

— ANADOLU AGENCY (ENG) (@anadoluagency) October 8, 2020

Sarkissian addressed this hugely controversial issue in the interview with FT: 
"When the fighting stops, will the [militants] stay," asked Mr Sarkissian. "It is a threat not only to Armenia but the whole Caucasus, and it is a threat to Russia . . . they can have a dramatic impact on the countries of Central Asia and dramatic impact on the north of Iran."
As for the still disputed Turkish F-16 question, Armenia last week accused Turkey of shooting down an Armenian jet over its airspace, something both Ankara and Azerbaijan vehemently denied.
Satellite images confirm Turkish F-16 fighters secretly deployed to Azerbaijan:https://t.co/nuVuE2MP4P

— The War Zone (@thewarzonewire) October 8, 2020
However, satellite imagery showed a par of Turkish F-16 jets parked at an airbase in Baku, after which Azerbaijani President Ilham Aliyev was forced to admit the presence. He merely claimed they were there for routine "training" exercises and not to engage in any hostilities. 
Interestingly, Syria's President Bashar Assad weighed in on the issue of Turkish intervention in Nagorno-Karabakh, saying Erdogan was supporting terrorists from Libya to Syria to the Caucasus.
Assad blamed Turkish intervention for heightening the conflict in a series of statements this week, some of which were featured in televised interviews:
October 8, 2020
Given that Russia and Turkey find themselves on opposite sides of the Caucuses conflict, paralleling the wars in Syria and Libya, the potential for this to explode into a broader regional war remains significant.