---
Pakistan's Army Polices Capital As Provinces Urge Military Help Against Protests
Update(1625ET): Not only is the Pakistani army now overseeing security in the capital as protests have spiraled out of control due to the arrest and detention of former prime minister Imran Khan, but increasingly desperate officials are urging military deployment to at least three other provinces to restore order.
The Washington Post reports in the evening (local time): "Tensions mounted further in the evening hours as Pakistan's government appeared to have approved deploying the military in Islamabad, potentially pulling the country's powerful but often deliberately opaque army into the center of the conflict."
Authorities have further urged citizens to stay in their homes during the evening hours, resulting in an eerie 'calm before the storm' of more protests. "The streets of Islamabad — usually bustling with motorbikes and pedestrians — were largely empty and many businesses remained shuttered," WaPo continues. "Throughout the day, Pakistani authorities had secured military and government compounds by blocking roads with shipping containers, while police officers deployed tear gas against protesters on the capital's main airport access road."
Protests and clashes on military bases increasing in Pakistan pic.twitter.com/DGLti014qV

— Khaleej Mag (@KhaleejMag) May 10, 2023
The army is now warning it will take "stern action" to prevent acts of terrorism, vandalism, and threats to police or military. Simultaneously Prime Minister Sharif blasted the protests in a scathing speech:
Prime Minister Shehbaz Sharif said in a speech Wednesday night that protesters are committing an "act of terrorism" by damaging public and private property.

"Such a spectacle has never been witnessed in the last 75 years. The people were made hostages in their vehicles, patients were taken out of the ambulances and, later, those vehicles were torched."
Pakistan is on the verge of civil war - Large and violent protests across Pakistan against Imran Khan's arrest. Army is out of garrisons in Islamabad. pic.twitter.com/0we80hL6jH

— Ashok Swain (@ashoswai) May 10, 2023
* * *
Regional media is reporting that unrest and protests are continuing to escalate across Pakistan, on the second day following the dramatic arrest of former Pakistani Prime Minister Imran Khan by an anti-corruption agency - all of this coming amid a national pressure-cooker of the cash-strapped nation attempting to avoid a default.
"The protests have escalated not just in the federal capital, but also in other parts of the country," Al Jazeera correspondent Bin Javaid reports Wednesday. There are emerging, though unverified, reports of armed clashes between Khan supporters and security services.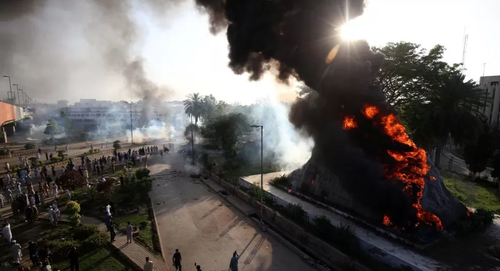 "We are hearing reports that at least seven people belonging to the Pakistan Tahreek-e-Insaf (PTI) have been killed in various cities. We have been seeing pictures of protesters opening fire on security forces and the security forces retaliating," he added.
The mayhem is likely to continue over at least the next week, given an Islamabad court has ruled Khan and be held and questioned for eight days. A judge has handed him over to the National Accountability Bureau.
As The Associated Press reviews, "Khan has denounced the cases against him, which include corruption and terrorism charges, as a politically motivated plot by his successor, Prime Minister Shahbaz Sharif, to keep him from returning to power in the next elections which are to be held later this year." Khan has for much of the lasts year been engaged in marches and rallies nationwide, campaigning against Sharif while also raising eyebrows by demanding early elections.
Despite arrests of several top leaders of Imran Khan's party, protests in Pakistan against Imran Khan's arrest are becoming bigger and more violent! pic.twitter.com/uuGaOYAXAq

— Ashok Swain (@ashoswai) May 10, 2023
Meanwhile, growing reports like the following have been coming from different regions, amid a slew of local videos showing clashes with police and military, and even national media buildings being burned to the ground: 
At least four people have been killed amid protests, according to Lady Reading Hospital (LRH) in Peshawar, the capital of the northwestern province of Khyber Pakhtunkhwa.

The bodies bore gunshot wounds, LRH spokesperson Muhammad Asim said in a statement. More than 25 people were injured, he said, adding, the emergency department of LRH was on high alert.
The day prior, the prime minister's residence in Lahore was attacked by a mob, and demonstrators stormed the main gates of the national military's headquarters in the city of Rawalpindi just outside Islamabad.
Residences of military commanders are also coming under threat: 
By morning, police said some 2,000 protesters still surrounded the fire-damaged residence in Lahore of Lt. Gen. Salman Fayyaz Ghani, a top regional commander. They chanted slogans at the military, including "Khan is our red line and you have crossed it." Ghani and his family members were moved to a safer place when the mob on Tuesday first attacked their sprawling house.
The military has been slow to address specific instances of violence against its facilities, perhaps while holding out hope for de-escalation. There have been reports of hundreds or possibly thousands of arrests made. Pro-Khan protests have also been popping up in Western capitals with a large Pakistani presence, such as London and Toronto.
The army has issued a fresh Wednesday statement condemning the outbreak of protests on May 9 as "a dark chapter" in the country's history.
The army condemned what it called "organized attacks" against military installations. "What the eternal enemy of the country could achieve for the last seventy-five years, this group, disguised in a political cloak, has done just for sheer lust of power," the statement said.
Loading...