---
Italy Reports Largest Jump In Deaths, Disney Halts Production On All Live-Action Films: Virus Updates
Update (1520ET): With President Trump more than 20 minutes late for his 3pm presser intended to restore confidence in the markets and the public, an anonymously sourced report from the Daily Beast is claiming that Ivanka Trump worked from home on Friday after interacting with an Australian official who was later diagnosed with the coronavirus.
Ivanka Trump stayed home on Friday after being exposed to an Australian official who tested positive for coronavirus, according to reports. https://t.co/h9PuItIjgf

— The Daily Beast (@thedailybeast) March 13, 2020
*  *  *
Update (1500ET): While we await President Trump's big announcement, looks like we're just getting some bad news out of New Jersey.
After New York Gov. Cuomo declared that he would be keeping schools open especially in NYC, New Jersey Gov. Phil Murphy announced 50 new confirmed cases, and said that he would most likely be closing all schools in the state, following in the footsteps of at least 5 other states.
*  *  *
Update (1415ET): France has reported another spate of coronavirus deaths...
FRANCE REPORTS 79 CORONAVIRUS DEATHS, FROM 61 ON THURSDAY
...As has Saudi Arabia..
SAUDI ARABIA DETECTS NEW 24 CASES OF CORONAVIRUS, BRINGING THE TOTAL TO 86 IN THE KINGDOM - STATE NEWS AGENCY SPA
...Texas Gov. Abbott has declared a state of disaster.
TEXAS GOVERNOR ABBOTT DECLARES STATE OF DISASTER
*  *  *
Update (1350ET): As states from New York to Maryland to Ohio active the national guard to help with the virus response, the Pentagon said it expects to have 1,000 troops on the ground in various states by the end of the day Friday.
National Guard expects to have 1,000 troops on duty by end of the day in various states...all state activated: Nat Guard announces.

— Barbara Starr (@barbarastarrcnn) March 13, 2020
Meanwhile, in one of the biggest hits to the entertainment industry reported so far, Disney has announced that it's halting the production of all its live-action films over coronavirus concerns - though it stipulated that no members of the cast or crew have been infected.
Via CNBC:
"While there have been no confirmed cases of COVID-19 on our productions, after considering the current environment and the best interests of our cast and crew, we have made the decision to pause production on some of our live-action films for a short time. We will continue to assess the situation and restart as soon as feasible," the company said in a statement.
Impacted films include: "The Little Mermaid," "Shang-Chi and the Legend of the Ten Rings," "Home Alone," "The Last Duel," "Nightmare Alley," as well as "Peter Pan & Wendy" and "Shrunk."
Across the US, more cases are being reported on Friday. New York State is now the coronavirus-case leader in the US as the number of cases jumped 30% overnight to 421. The governor also revealed that his daughter is now under "precautionary" quarantine.
"How could I protect my daughter? Why didn't I protect my daughter? Because it's impossible. It's impossible."
Earlier, Cuomo announced that New York will begin its first "drive-thru" testing center in New Rochelle, still the largest cluster in the state. He also said he has no plans to close schools.
The CDC hasn't yet updated its national figures, but at last count, but across the US, there have been 41 confirmed deaths and 1,701 confirmed infections, with many more of both likely still untested.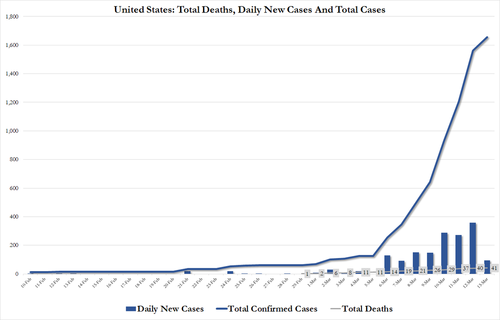 Alabama confirmed its first case a little over an hour ago, bringing the virus to 28 states and Washington DC, as well as Puerto Rico and many of the US's other territories.
President Trump is speaking at 3pmET, where he may declare a national emergency, while Nancy Pelosi goes on at 2pm.
*  *  *
Update (1340ET): For at least the second time in the last week or so, Italy has reported its largest single-day jump in deaths since the country's coronavirus crisis kicked into overdrive at the end of last month. Officials reported on Friday that the country had counted 250 deaths on Thursday, bringing its total to 1,266
The number of new confirmed infections soared by more than 2,500 to 17,660.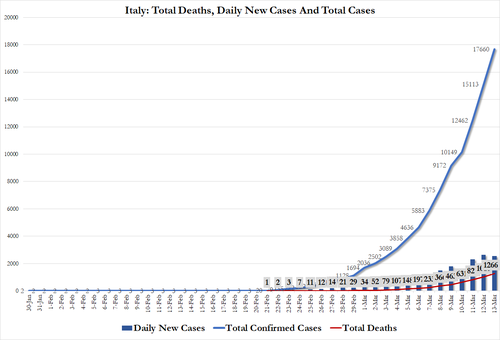 Italy also reported 181 new recoveries and 175 new cases in serious condition, for a total of 1,439 recovered and 1,328 in serious condition.
It's beginning to seem like each day, Italy's outbreak is breaking new grim records. The outcome has been in some cases almost unfathomably tragic, as we reported earlier.
Offering a critical moment of levity, a clip of Italians singing songs in their windows has gone viral on social media.
Italians in lockdown all over Italy are keeping each other company by singing, dancing and playing music from the balconies. A thread to celebrate the resilience of ordinary people. This is Salerno: pic.twitter.com/3aOchqdEpn

— Leonardo Carella (@leonardocarella) March 13, 2020
While one man has found a creative way to implement 'social distancing'.
This man in Italy got creative with his social distancing 👀 pic.twitter.com/fCqmGHTJvS

— NowThis (@nowthisnews) March 13, 2020
As China recovers and Italy falters, a team of doctors from China arrived in Italy earlier to help with the outbreak as China tries to return the favor of western aid. They've reportedly brought respirators and other medical equipment to aid in the effort.
🇨🇳✌️🇮🇹

Nine medical experts, mostly from SW #China's Sichuan, arrived in #Italy with 31 tons of supplies.

In 2008, Italy sent 14 doctors who helped treat some 900 patients after a massive earthquake hit Sichuan. "We, people from Sichuan, want to return the favor".#coronavirus pic.twitter.com/u87keOhrvg

— CoronaVirus Updates🦠 (@COVID19Update) March 13, 2020
Though their crises have faded from view somewhat as the focus this week has been mostly on Italy, and now Spain to a lesser degree. Germany had 3,059 confirmed cases and six deaths as of its latest release...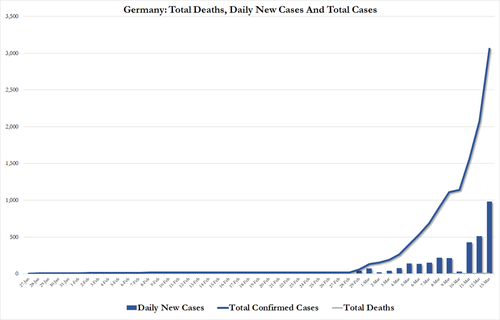 ...and France had 2,882 cases, and 61 deaths.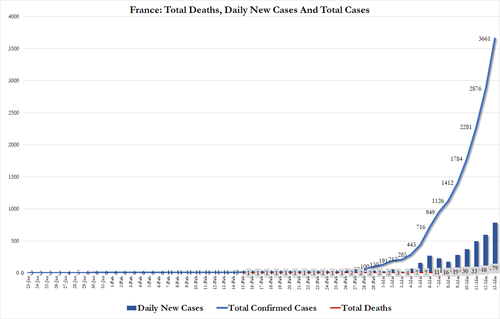 *  *  *
Update (1310ET): Organizers of the London Marathon have cancelled the race, which was scheduled to be held on April 26.
That's six weeks out, though given it's such a large event, it's understandable.
During a noon press conference, Canadian PM Justin Trudeau promised to help Canadians with a large fiscal stimulus package, and he insisted he understood the financial stresses of everyday Canadians while promising to help them with child-care and other expenses.
*  *  *
Update (1215ET): Los Angeles Unified School District, which, with 600,000 students, is the second-largest district in the country behind NYC, has cancelled school for two weeks because of the coronavirus. A few miles south, the San Diego Unified School District (student pop: 120k+) has also decided to shutter schools. The decisions were announced in a joint statement
The #LAUSD- @sdschools joint statement does not say when schools might re-open. pic.twitter.com/8ej8z8m1CW

— Kyle Stokes (@kystokes) March 13, 2020
On the political front, now that Joe Biden is safely ahead in the delegate count, Louisiana on Friday decided to delay next month's primary
Next month's Louisiana Primary has been postponed, according to WAFB-TV, the CBS affiliate in Baton Rouge. @Louisiana_sos Kyle Ardoin is set to speak at 11:30 to discuss the COVID-19 impact on elections in the state https://t.co/OKURaZ07of

— Brad Cesak (@bradcesak) March 13, 2020
During Friday's press conference, WHO Director-General Dr. Tedros Adhanom Ghebreyesus said that Europe is now the unquestioned epicenter of the coronavirus outbreak. Notably, Dr. Tedros made this statement on the same day that his home country, Ethiopia, reported its first case, along with two other African economic powerhouses, Kenya, and Ghana. We can't help but wonder, once the outbreaks in Europe and the US start to peter out, might Africa be next? Dr. Tedros said Europe has earned this position because it has "more reported cases than the rest of the world combined, apart from China."
NEW: WHO director-General says that Europe has become the epicenter of the COVID-19 pandemic, "with more reported cases than the rest of the world combined, apart from China." https://t.co/kGtP4bA84J pic.twitter.com/gFYo2wyR8u

— ABC News (@ABC) March 13, 2020
If you're interested, watch the entire daily briefing below:
Media briefing on #COVID19 with @DrTedros. #coronavirus https://t.co/7c1xCs0SJs

— World Health Organization (WHO) (@WHO) March 13, 2020
Over in mainland China, 15 new coronavirus cases were recorded on Thursday, continuing a weeks long trend of falling numbers. It's becoming increasingly clear that, even if China's numbers were never really trustworthy to begin with, the infections are slowing.
Of those, six were allegedly imported from overseas, giving China more grist to justify its own travel restrictions.
Hubei province, where the coronavirus pandemic began back in December, reported only 8 cases, its lowest number since the very beginning of the outbreak in December and early January.
Meanwhile, as more states temporarily ban large events, Massachusetts just announced that it is prohibiting gatherings of 250 people or more due to the virus's spread.
In France, the workers at the Louvre have voted to close the museum again, this time indefinitely, until the outbreak subsides.
*  *  *
Update (1140ET):  Economists with RBC declared earlier that a recession is coming later this year for Canada as the country suffers from the "one-two punch" of supply/demand shock and falling oil prices, projecting that the pace of GDP growth will slip to just 0.8 percent in the first quarter.
And as the country's PM enters quarantine and awaits test results (which he might announce at a press conference set to start in 15), Bloomberg reports that Finance Minister Bill Morneau has hinted at fiscal stimulus measures to complement the billions of Canadian dollars in liquidity that the central bank is injecting into the system.
Meanwhile, NYC declared that it's preparing to set up its first "drive-thru" coronavirus testing facility, following in the footsteps of the Mayo Clinic in Minnesota.
*  *  *
Update (1120ET): It looks like we've just learned what President Trump plans to announce at this afternoon's press conference. Media reports are claiming that the White House is planning to declare a national emergency.
Dozens of cities and states have already declared emergency status to open up access to more money that can be used to fight the virus.
But Trump's declaration would invoke the Robert T. Stafford Disaster Relief and Emergency Assistance Act - more commonly known as "the Stafford " - and use it to speed up the government response.
The G-7 has just confirmed that it plans to hold a video conference on Monday to discuss a coordinated response between all of its leaders.
This morning, the EU declared that it believes it's "very likely" that 2020 growth could be "below zero". Given that Italy is the Continent's worst-hit economy, EU Commissioner Urusula von der Leyen, confronting her first official crisis as the head of one of several committees of bureaucrats in charge of the trade bloc, said the commission stands ready to help Italy with whatever it needs.
VIDEO: 🇪🇺🇮🇹 President Ursula von der Leyen says the European Commission is "absolutely ready" to help Italy with "whatever is necessary" to overcome the challenge of the #coronavirus pic.twitter.com/6UESyzReO5

— AFP news agency (@AFP) March 13, 2020
*  *  *
Update (1105ET): Clearly eager to make up for Wednesday night's disastrous performance in the Oval Office, President Trump has announced plans to hold another press conference at 3 pmET.
I will be having a news conference today at 3:00 P.M., The White House. Topic: CoronaVirus!

— Donald J. Trump (@realDonaldTrump) March 13, 2020
After Trump's last performance, some are  pushing for the White House to make Dr. Fauci the official federal government spokesman on all things crisis related.
.@repmarkpocan's charge for #COVID19 response.
"4. Please re-read Point 3." pic.twitter.com/C6KT4vzpMp

— Meg Tirrell (@megtirrell) March 13, 2020
Canadian PM Justin Trudeau will hold a press conference at noon, presumably to discuss the situation with his wife and the fact that he likely has also contracted the virus, as people infecting their spouses has been a common occurrence during the outbreak, especially during the early days.
Of course, no matter what Trump does at this point, his critics will simply question why he didn't do it sooner.
This morning, the EU declared that its official growth projections for 2020 would
*  *  *
Update (1030ET): A flashing-red headline from BBG just declared that Spain is announcing a national state of emergency over the outbreak, as the number of confirmed cases in Madrid soars amid a rash of deaths.
Socialist Spanish PM Pedro Sanchez said that he isn't ruling out the possibility that there will be more than "100,000 cases of coronavirus in Spain" as early as next week.
Trudeau plans to address the nation at noon ET, presumably to discuss the situation with him and his wife. In the mean time, the Canadian Parliament has been suspended for the time being.
Brazil's government denied these rumors last night, but reports have persisted, and now the Guardian is reporting that Brazilian President Jair Bolsonaro has tested positive for Covid-19. His communications secretary tested positive earlier this week, raising questions about whether President Trump and VP Pence were exposed.
However, Bolsonaro's son has denied the reports that his father tested positive, and is claiming that the results haven't yet been released.
Switzerland is reportedly planning to reintroduce "checks" at all borders, after blocking Italians from entering earlier this week, as infections inside the country has started to accelerate.
*  *  *
Update (1022ET): The most prestigious golf tournament in America has just postponed play because of the coronavirus outbreak.
The 2020 Masters Tournament has been postponed due to "ever-increasing risks associated with the widespread coronavirus," Augusta National Golf Club announced.
"Respecting the health and well-being of everyone associated with these events and the citizens of the Augusta community, the 2020 Masters Tournament, the Augusta National Women's Amateur and the Drive, Chip and Putt National Finals have been postponed," Chairman Fred Ridley said in a statement.
Statement from Chairman Ridley:

"Considering the latest information and expert analysis, we have decided at this time to postpone @TheMasters, @anwagolf and @DriveChipPutt National Finals."

Full details at https://t.co/FX2AN1MLsY pic.twitter.com/Z2DjS5TYdG

— The Masters (@TheMasters) March 13, 2020
The tournament was initially scheduled for April 9-12. It's not clear when play will begin.
The Boston Marathon has also been postponed until Sept. 14, according to a statement from its organizers.
*  *  *
It's been another crazy morning around the world as more sports leagues suspended play and governments - most notably Germany  - pledged to whip out their credit cards and spend whatever might be necessary to soften the economic blow, a chorus of reassurance that has helped to drive markets back to limit-up.
Following reports last night that Arsenal's manager and a Chelsea player had both tested positive for the virus, the Premier League decided during an emergency meeting Friday morning that it would suspend play. Now, the Champions League, Premier League and Europa League have all been suspended because of the virus.
Indian Public health authorities confirmed the first virus-related death in the world's second-most populous country on Friday. Fewer than 100 cases have been confirmed across the country, and dozens who came into contact with the man have been quarantined. But the government's inability to safely quarantine and treat the now-deceased patient was hardly encouraging.
After closing its border with Italy, Austria has cancelled international flights to/from Spain, France and Italy and is reportedly weighing a wider border closure. Nearby, the Czech Republic is planning to close its borders, and people won't be allowed to leave the country. In the Balkans, Slovakia has closed its borders completely.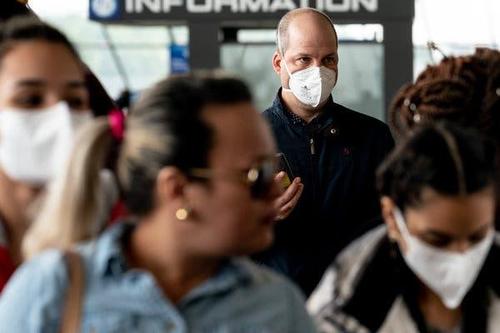 The FDA has launched a 24/7 hotline for patients worried about their infections status. In Washington, President Trump and VP Mike Pence have both decided not to be tested, in accordance with their physicians' advice since neither are showing symptoms, despite both having come into contact with the infected or potentially infected.
After we reported yesterday that Trump shook hands and ate dinner with a Brazilian official who turned out to be infected, the Washington Post reports that an Australian government minister who just tested positive for the virus met with Ivanka Trump and AG William Barr, as well as a handful of other Washington officials.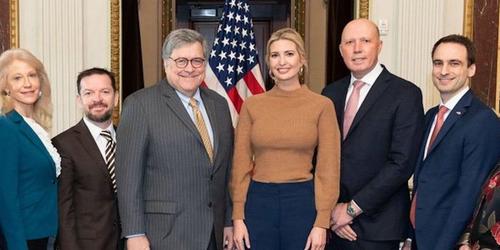 In a statement, Aussie Minister Peter Dutton said that he woke up on Friday morning "with a temperature and sore throat" and was "subsequently tested for COVID-19." Dutton was advised by Queensland Health that his tests returned positive on Friday afternoon. Dutton had met with Trump, Barr, Counselor to the President Kellyanne Conway and Director of the Domestic Policy Council Joe Grogan in Washington a week ago when Aussie PM Scott Morrison visited the White House for the first time.
As individuals try to gauge their infection risk, scientists have found that the coronavirus can stay infectious for days on some surfaces. Researchers have also now confirmed that the coronavirus can be contagious in the body before symptoms appear.
Across the US, nearly every state has diagnosed at least one case of the virus, while more than 1,600 cases of the virus are being treated across the US, including at least one patient in nearly every state and the District of Columbia. At least 41 deaths have been reported in the country as public life appears to be grinding to a halt.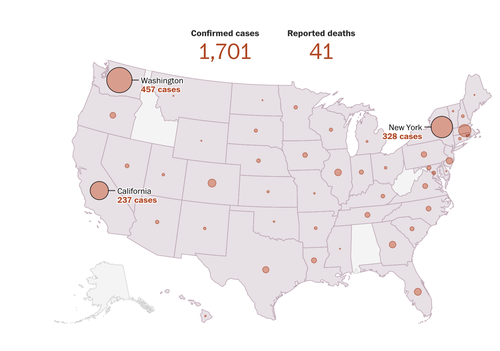 Washington DC has joined Seattle and Houston in closing its schools, while Michigan, Mexico and Oregon followed Maryland and Ohio by shuttering their schools. These closures will take effect Monday, and last until the end of March, or beginning on April.
"We are going to do what we have to do. We are in a crisis," Ohio Gov. Mike DeWine said. Closures in Ohio will begin at the close of classes Monday and run through at least April 3, DeWine said. "It may be a lot longer."
"This is a necessary step to protect our kids, our families, and our overall public health," said Michigan Gov. Gretchen Whitmer in a statement released on Friday.
In New Mexico, Ryan Stewart, the state's public education secretary, described the closures as a "proactive measure" to limit the potential community spread of the virus.
And while Oregon had worked hard to keep schools open, student absences and issues with staff have made it "impossible to functionally operate schools," Gov. Kate Brown.
Kentucky stopped short of a mandatory order and "recommended" that schools should be closed. In California, Sacramento and San Francisco have also closed schools.
Meanwhile, back in China, all 42 Apple stores have reopened.
After Trump's "misstatements" on Wednesday helped trigger one of the worst trading sessions on Wall Street since the crisis, the White House announced a series of steps on Friday aimed at boosting the availability of coronavirus testing, one of the most heavily-criticized aspects of the government's response.
According to WSJ, a new, high-speed coronavirus test has been granted emergency approval by the FDA in a desperate attempt to expand testing capacity for the pathogen.
To facilitate testing, the FDA has created a 24-hour emergency hotline for laboratories having difficulty getting materials or finding other impediments to running tests, according to announcements early on Friday. The FDA has also authorized more private labs in NY State to conduct the tests, per CNN.
Officials also announced they would be doling out nearly $1.3 million in federal money to two companies trying to develop rapid Covid-19 tests that could have accurate results within an hour.
In Italy - not Iran - the president of the Medical Guild of Varese, Roberto Stella, has died of coronavirus at the age of 67. Stella died on Tuesday in Como, Italy, after being hospitalized following his diagnosis. He's the first high-level public health official in Italy to succumb to the virus.
In a statement, Italy's National Federation of Doctors and General Practitioners mourned Stella's death. They added that they hope the government will take notice of the dangers Italian doctors and nurses are facing.
"He was the example of the capability and hard work of family doctors," Silvestro Scotti, national secretary of the federation, said about Stella.
Spain has emerged as the strongest contender for 2nd-worst outbreak in Europe in what was until recently a three-way contest with France and Germany. Last week's International Women's Day March helped expedite the outbreak, according to city officials in Madrid, who are begging Spain's federal government for some assistance.
In Boston, the JFK Presidential Library and Museum is closing immediately after two employees attended a conference last week where other attendees had confirmed cases of coronavirus, it said in a statement.
One of the largest livestock exhibitions and rodeos in the world will close early due to novel coronavirus fears, according to Houston city officials, who announced Friday that the city's major Livestock Show and Rodeo will close earlier. It had been scheduled to run until March 22.