---
Australia Blasts China's Taiwan Drills As "Disproportionate & Destabilizing" - Warns Of Miscalculation
The United States' closest regional partner and member of the "Five Eyes" intelligence-sharing relationship Australia on Friday condemned China's "destabilizing" actions in holding live fire drills surrounding Taiwan, most importantly the launching of ballistic missiles over the island.
"These exercises are disproportionate and destabilizing," Australian Foreign Minister Penny Wong said in a statement on Friday. "This is a serious matter for the region, including for our close strategic partner, Japan," she added in reference to the "Quad" group, which in addition to the US, Australia and Japan includes the large economy of India.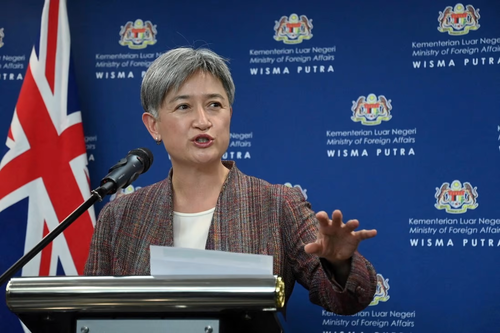 While also condemning the largest PLA exercises in recent history, Canberra's foreign minister highlighted that the launching of mid-range missiles into waters off Taiwan is "disproportionate," and urged for "restraint and de-escalation" on the part of Beijing.
"Australia is deeply concerned about the launch of ballistic missiles by China into waters around Taiwan's coastline," Wong said. She further echoed Thursday words of White House NSC spokesman John Kirby which warned of the possibility of "miscalculation".
"Australia shares the region's concerns about this escalating military activity, especially the risks of miscalculation," she said. The day prior, Kirby stressed in a White House briefing, "One of the things that's troublesome about exercises like this or missile launches like this is the risk of calculation, the risk of a mistake that could actually lead to some sort of conflict."
This after announcing that the USS Ronald Reagan carrier strike group will stay in waters near Taiwan for longer than expected in response to the Chinese PLA drills.
Video: The #PLA Eastern Theater Command Air Force on Fri continued drills around Taiwan island with fighters, bombers, early warning aircraft and electronic recon aircraft. Pilots could visually confirm Taiwan's coastline and the Central Mountain Range. pic.twitter.com/QsFaqgRYyP

— Global Times (@globaltimesnews) August 5, 2022
Importantly, the Australian top diplomat further underscored that Canberra won't back a "unilateral change of status quo" across the Taiwan Strait and that it remains committed to the Once China principle.
However, China has been questioning the commitment of the US and its allies, particularly given US weapons transfers to Taiwan, which Washington has stressed are "defensive" and don't constitute a threat to the mainland.
Loading...